Police Innovation Platform
Making innovation projects accessible and attractive to maximise their potential.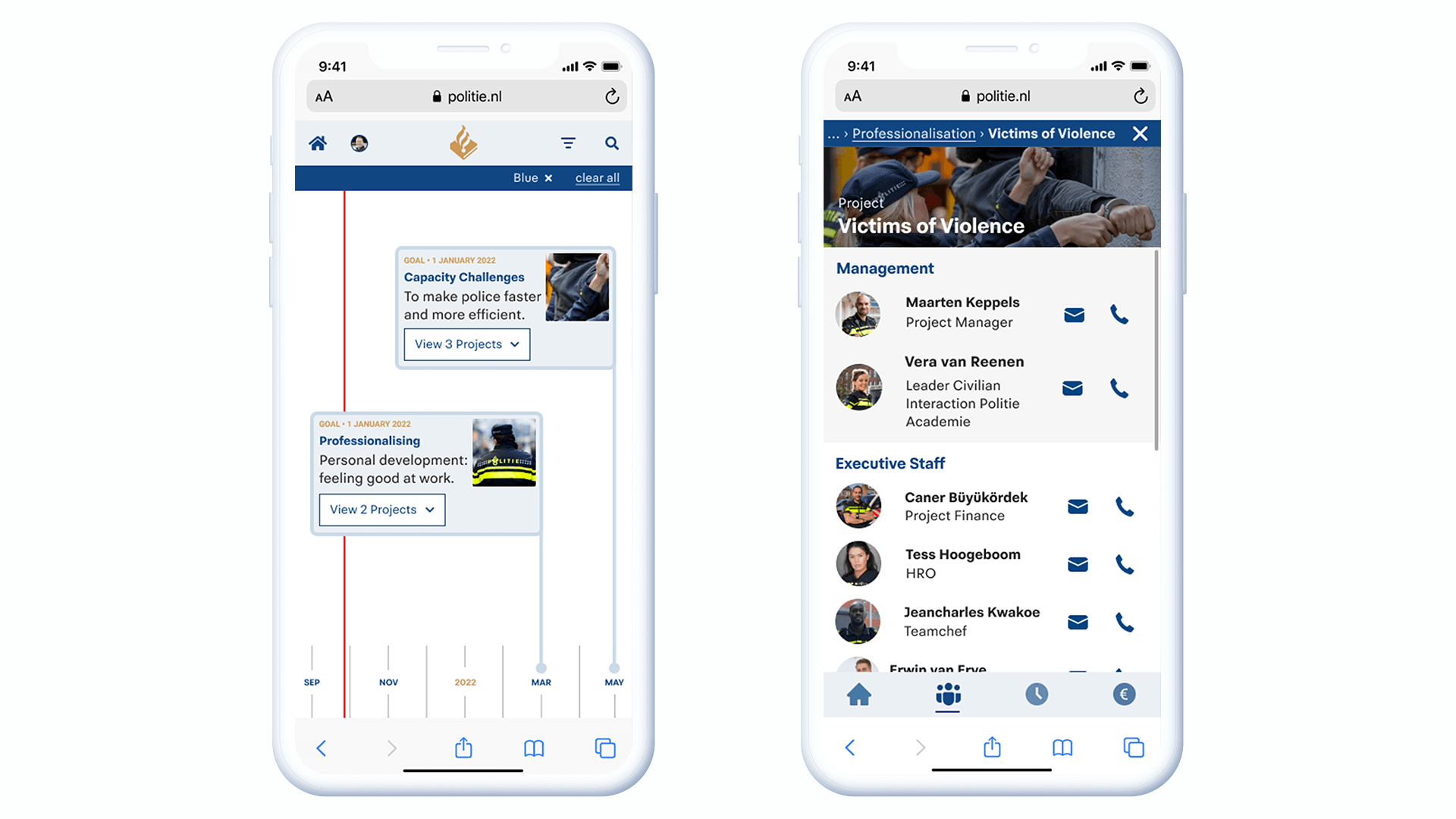 In a time where it's easier to steal your grandma's data than her purse, the Dutch Police needs to keep innovating. High-level innovation projects require high-level tools. Because, let's be honest, when talking about innovation, spreadsheets won't do it anymore.
Many exciting innovation projects are currently running within the Dutch Police. These vary widely in topics: from aiming for more cultural inclusivity to crime-catching drones. All projects have one thing in common: they contribute to a theme. A theme is like a goal with a deadline that the Police reaches by completing its related projects. However, these projects usually stay within their unit, which isolates them, preventing relevant findings from being shared with the rest of the organisation.
Another problem is that not everyone is keen to innovate. Innovation struggles with a bad image within the Dutch Police. We often heard feedback such as '"It costs money and is risky; I don't see how it benefits my job." This left us with the question: how can we make innovation accessible and attractive?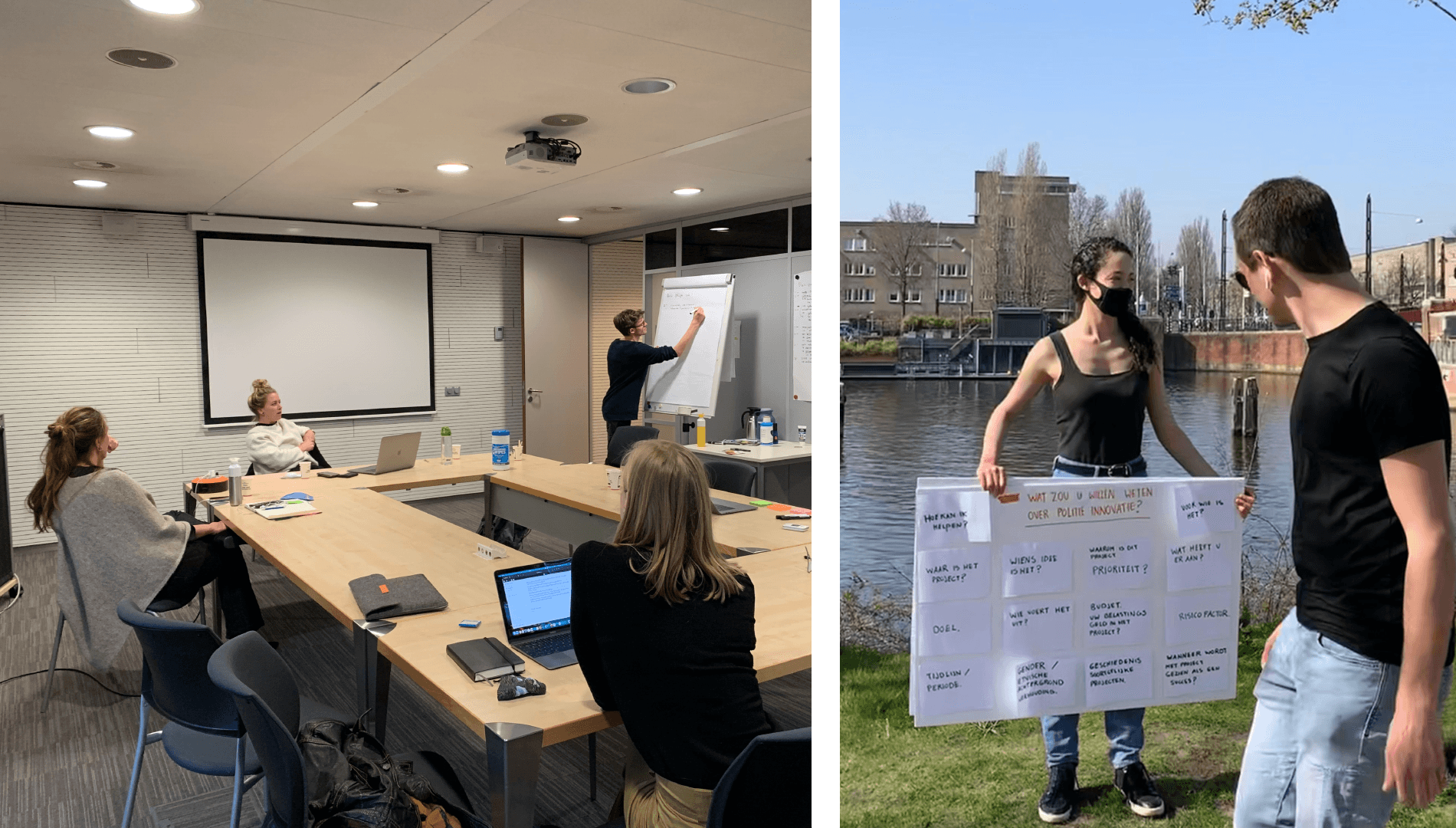 Designing
To understand the context of our brief and the organisation itself, we situated ourselves with our stakeholders and users. This allowed us to define what direction is necessary for our research and determine the problem correctly.
Since innovation and its purpose was still conceptual, we conducted stakeholder interviews. By often asking for feedback and going through many iterations, we narrowed our scope and solved the problem space effectively.
Through user testing, situated and participatory design methods, we managed to define precise audiences for our solution, allowing us to target them specifically and create a holistic solution that the organisation can use.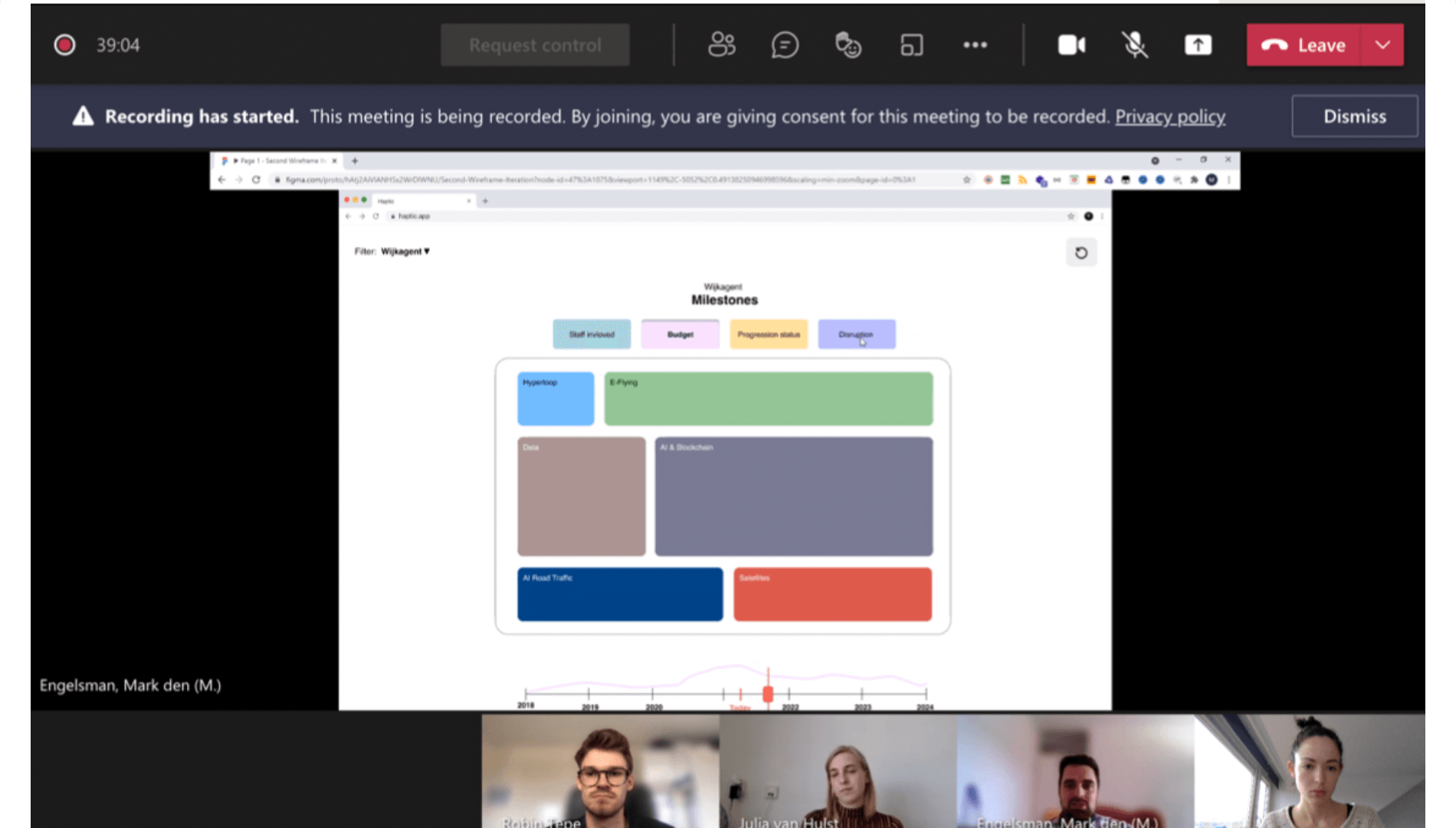 The Platform
The result is an interactive platform that makes the status of innovation tangible with the help of storytelling and by visualising the progress of innovation and its effects over time.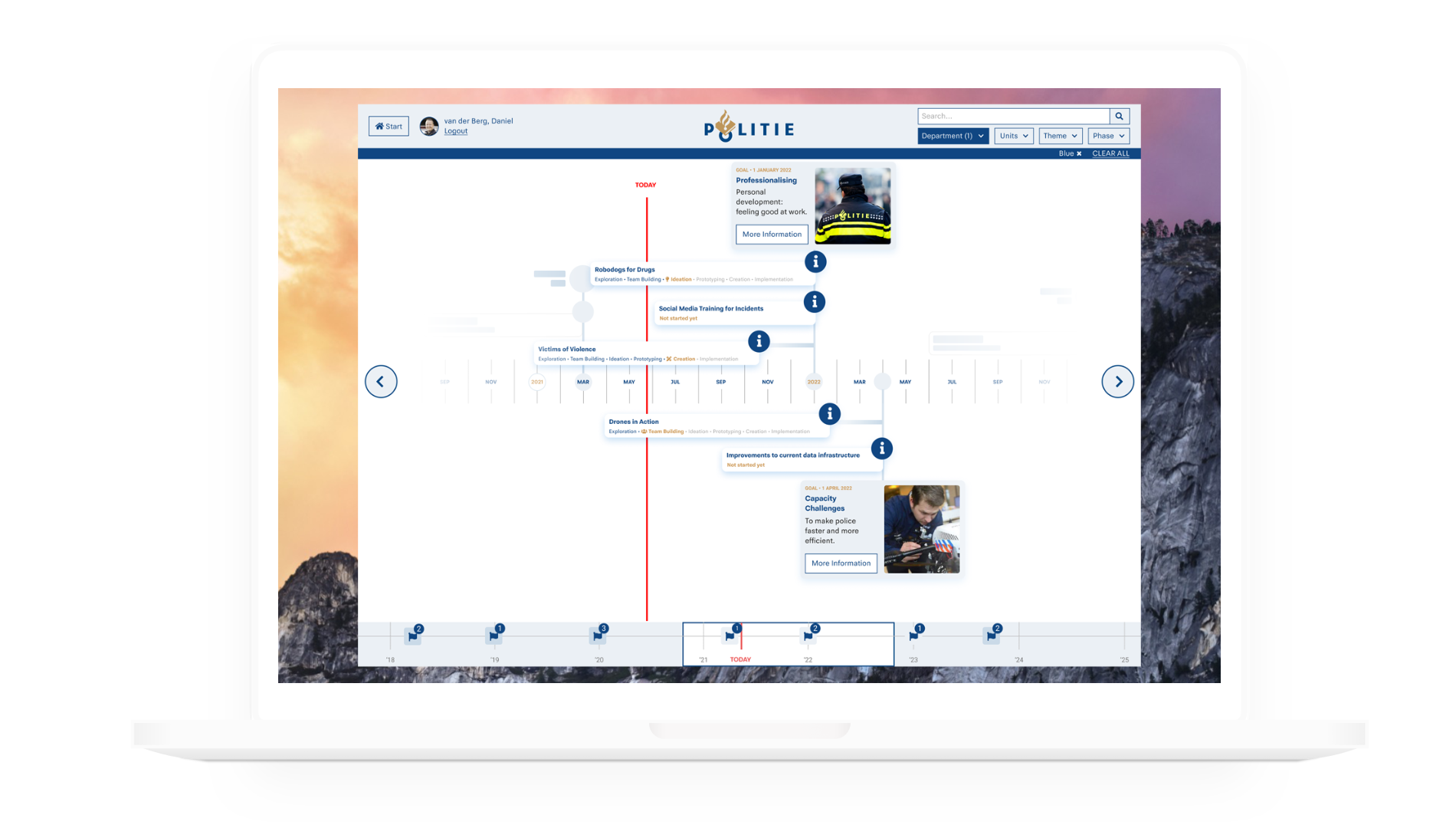 For managers, we offer basic functionalities for strategic decision making, such as the designated budget for a particular project or goal and how much is spent.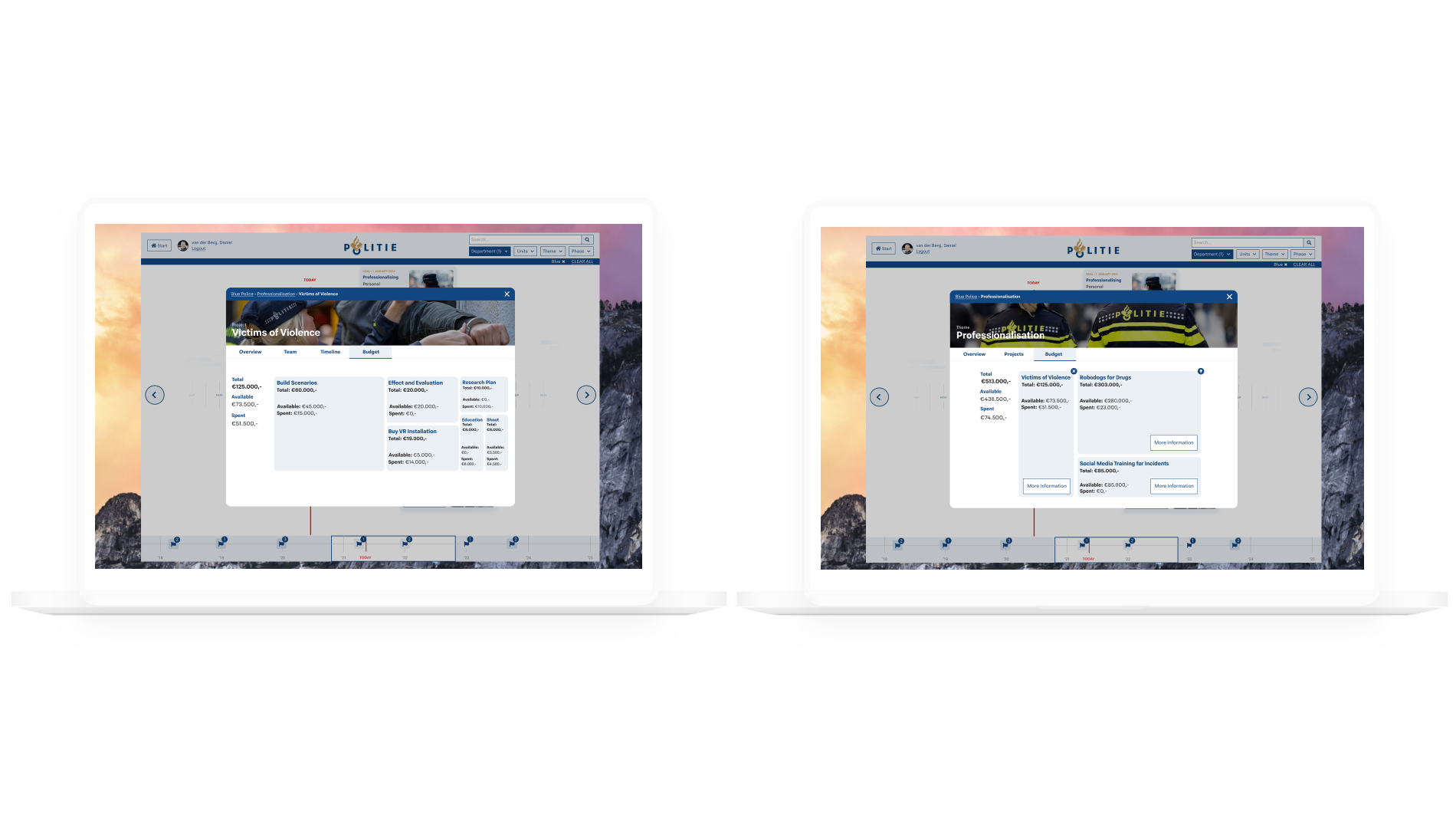 For the staff of the Dutch Police, we present the progress and context of innovation. Through success metrics, project goals and timeframe of a project, officers know what they can expect from a project and when they can use it in their workflows.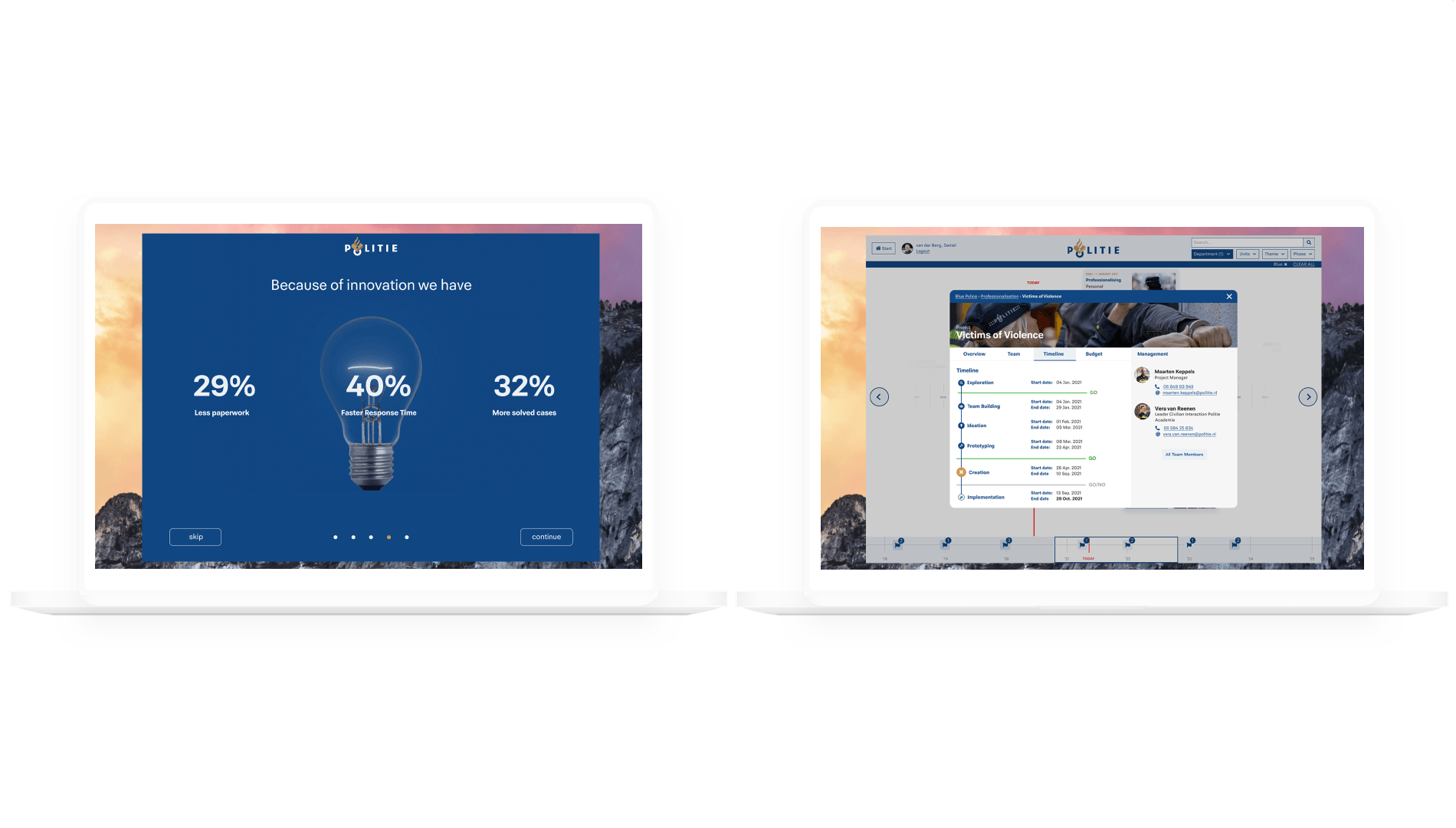 For the officers on the street, a mobile version of the platform is more convenient.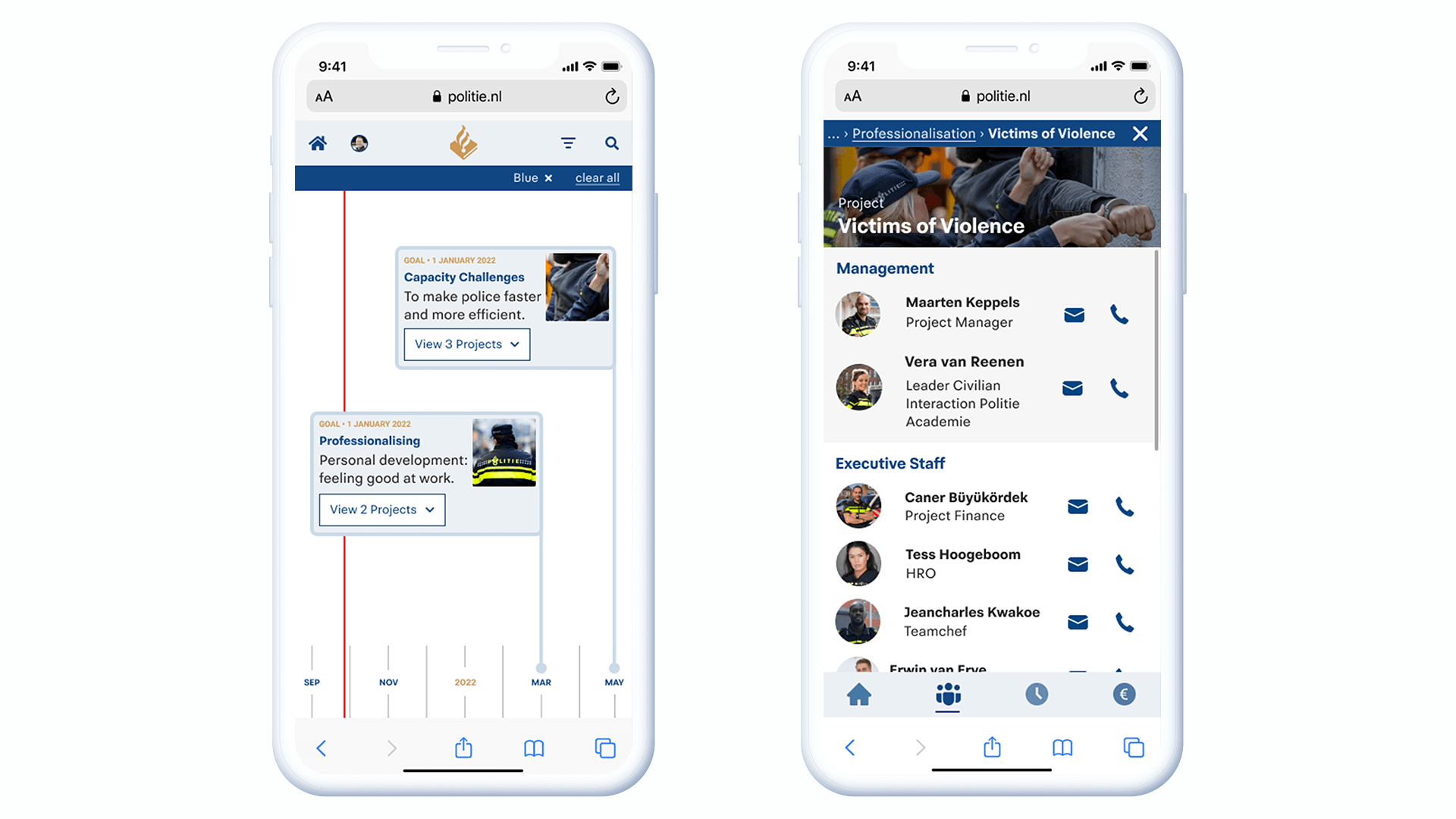 For civilians, we offer a way to get in touch with the Police on how innovation makes their neighbourhoods safer. To avoid sharing relevant information with civilians with criminal intents, the Police has the possibility to curate the visibility of the platform's content.
Looking Ahead
As we hand over our findings and advice to the Dutch Police, we think it important to elaborate further on the visual relationship between themes and projects, to make the structure clearer. Additionally, we find it essential for the innovation team to interpret the success of their efforts effectively. Therefore, we think it important to formulate a way to measure results so that the Dutch Police can make future decisions based on past work successes.