PLUS supermarket
Strengthening the local character of the PLUS brand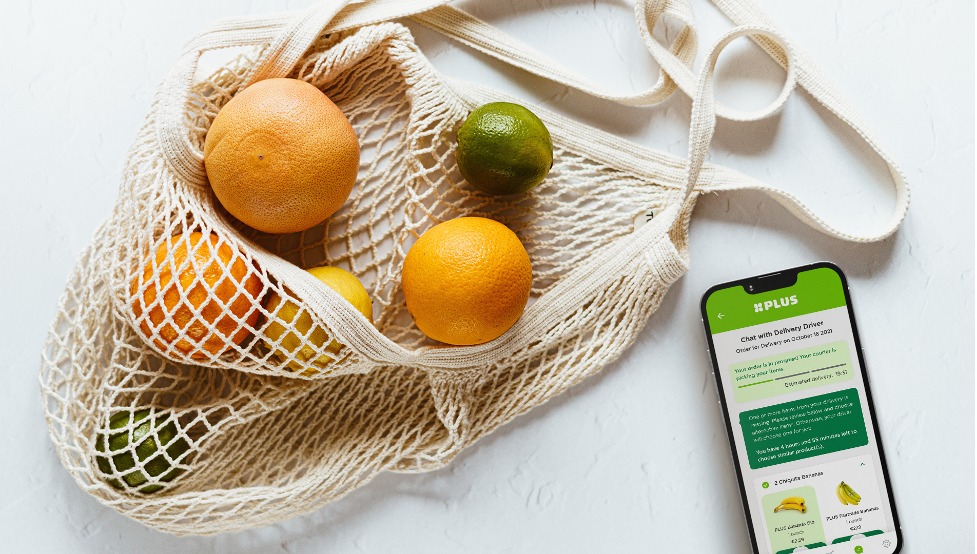 Client:

PLUS Supermarket (via Energize Marketing Agency)

Team:

Disciplines:

Concept, Product Design, Experience Design

Schoolyear:

2021 - 2022
Since the COVID-19 pandemic, online grocery shopping has become essential in people's lives. In the Netherlands alone, the online grocery market turnover increased by 65% in 2020. Supermarkets face pressure to provide a digital shopping experience that parallels in-person shopping. PLUS is a unique supermarket that must overcome this issue. Our task was to enhance PLUS's digital platforms and boost the brand online.
When customers order their groceries from PLUS, the goods come directly from the stores in their neighborhood. Unlike their competitors, PLUS is a cooperative business, where 300 entrepreneurs each run their own supermarket. When it comes to e-commerce, this is particularly challenging because their facilities are decentralized. This means that each branch is responsible for its own deliveries. To make things more complex, each store also offers local products that are unique to that location, which are loved by the community around the store. These are handpicked by the entrepreneurs who manage the store.
During our research we realized that the communication in the current digital platforms needed improvement, especially to prepare for an increase in online orders. A key insight was that the relationship between PLUS stores and their customers is really personal. For example, when a product from an order is out of stock, the delivery person will call the customer to ask what similar product they can replace it with. Meanwhile, ordinary supermarkets do not offer alternatives.
The Challenge
We were focused on two main challenges. First, the local products are different in every store and they rotate on a regular basis, and updating the latest product selection online requires significant effort. As a result, the online product offering does not reflect the specialized goods that are offered at the stores. The other problem arises during the ordering process: communication issues often occur between the employees and customers. Aside from phone calls, there is no other way for them to reach each other. We also had to keep in mind the local footprint of our solution since PLUS was named Most Responsible Supermarket in The Netherlands for the 7th consecutive year.
Gaining Insights
We started by identifying the stakeholders and their needs. We conducted several interviews and site visits at PLUS stores to get a personal understanding of the experience each user group faces. By gaining knowledge about the experience of customers, entrepreneurs, and delivery persons, we were able to map out a user journey for each of them. We looked at these user journeys in parallel next to each other to also see where interactions and points of communication occur between the users. From these explorations, we developed findings which informed our direction. We found that customers need a more accessible and efficient way to reach their store, in case questions about their order come up. Entrepreneurs need a way to advertise their local goods in the e-commerce space and delivery people need a more efficient way to manage orders and any questions that arise while fulfilling them.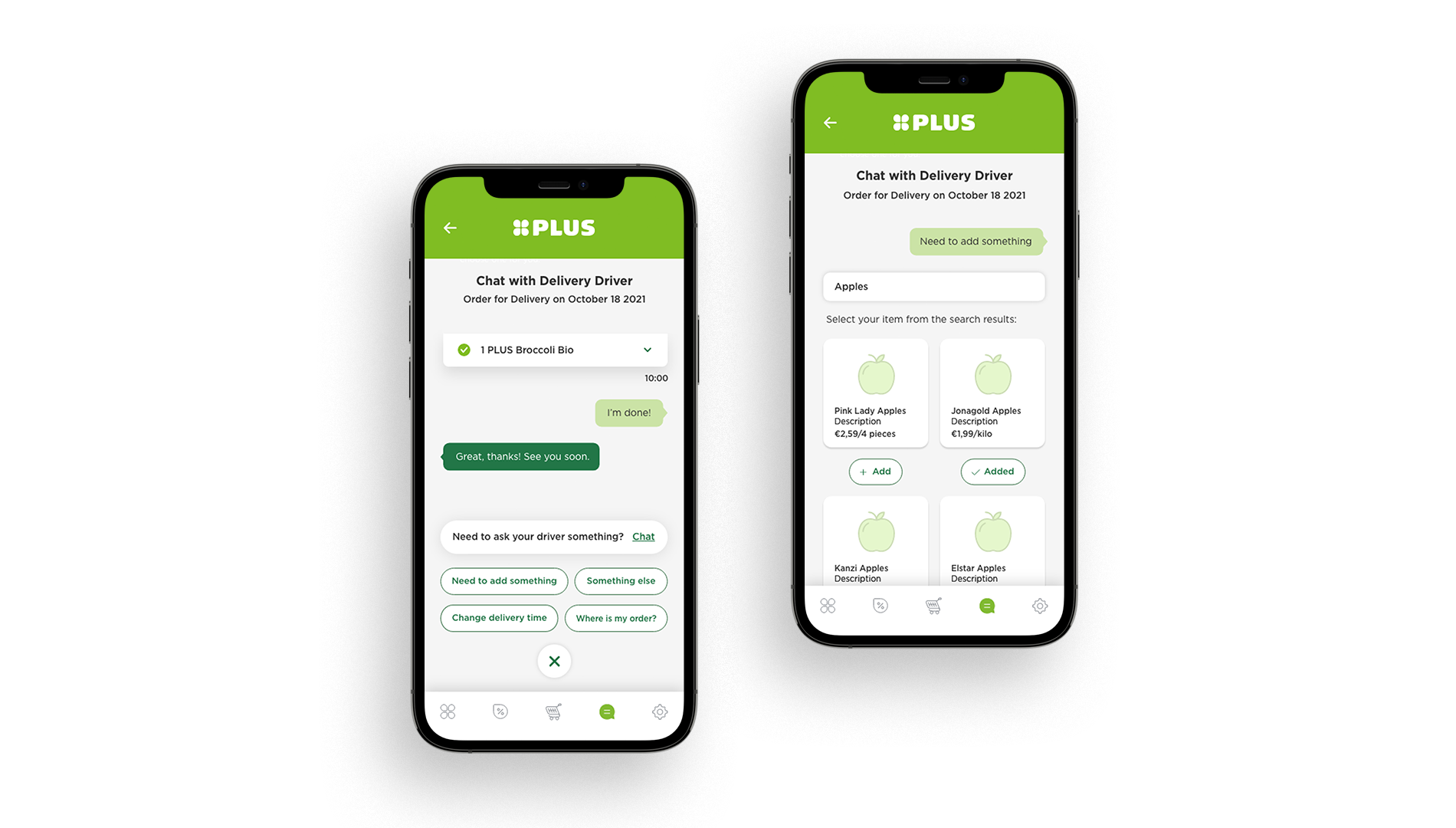 Improving Communication
We added a chat function to the mobile application, where customers can communicate with delivery persons about their order. They can also independently make selections for replacement items at a time that is convenient for them. To quicken this process, we added an AI-powered feature, so that when customers search for alternatives, suggested options will pop up based on user input. This saves the employees time that they would have had to spend calling customers to get clarification on various order issues.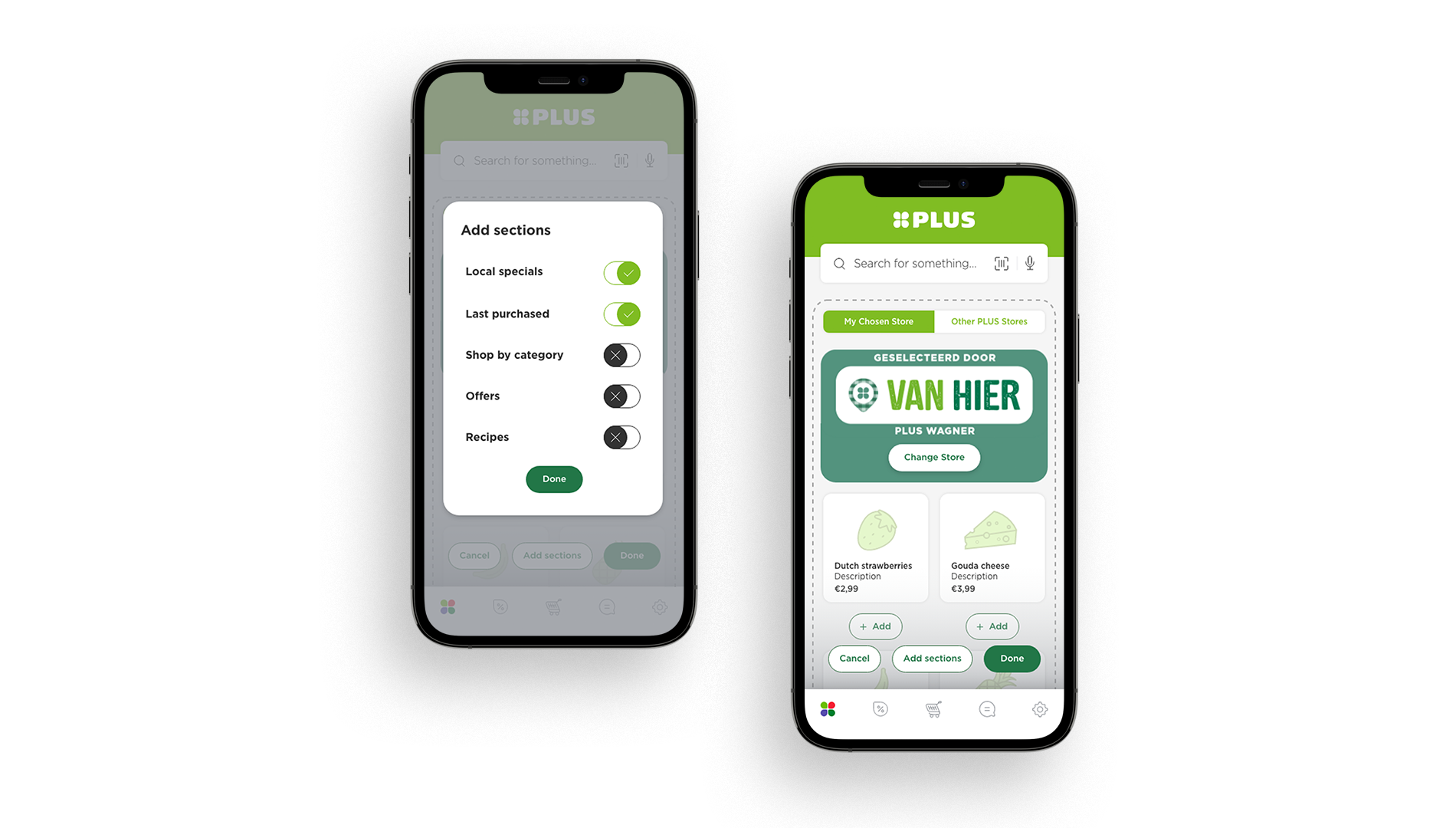 Putting Customization at the Core
A personal experience is at the core of the PLUS brand. To mirror this effect online, we added a feature where customers have the freedom to completely personalize the layout of shopping sections. This increases the ease of use and allows customers to easily navigate through the app and find their favorite items quickly.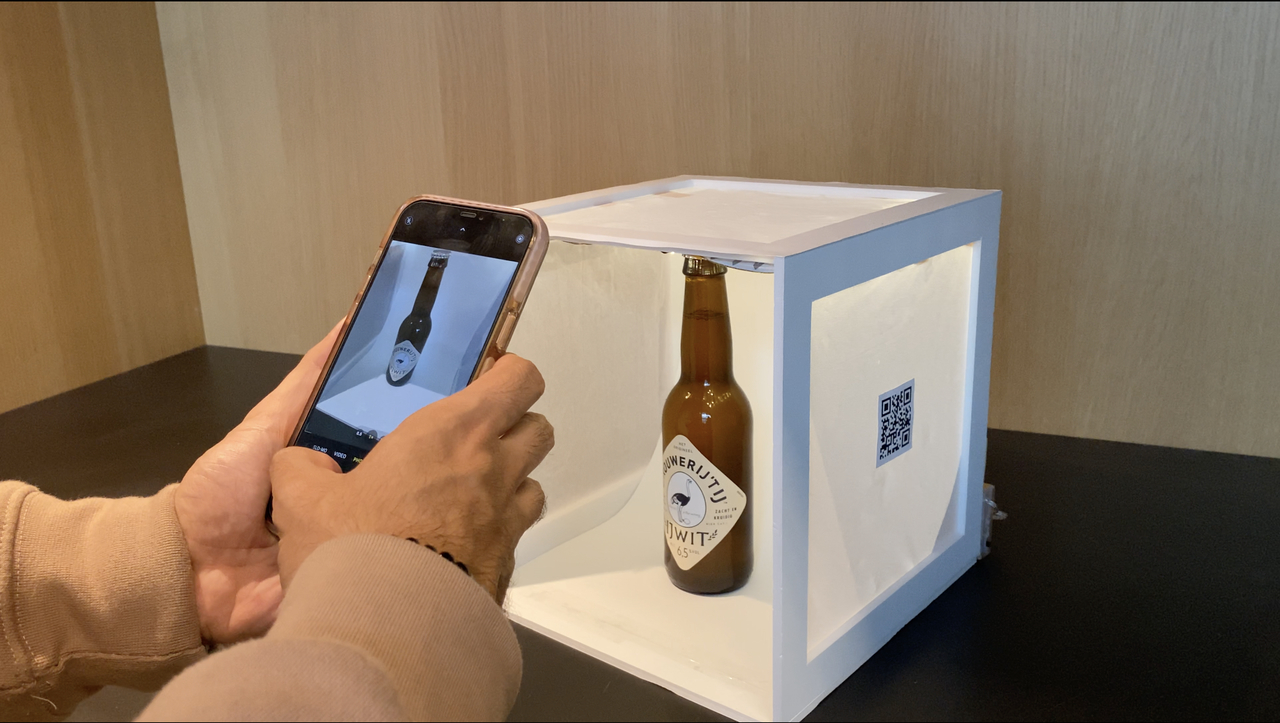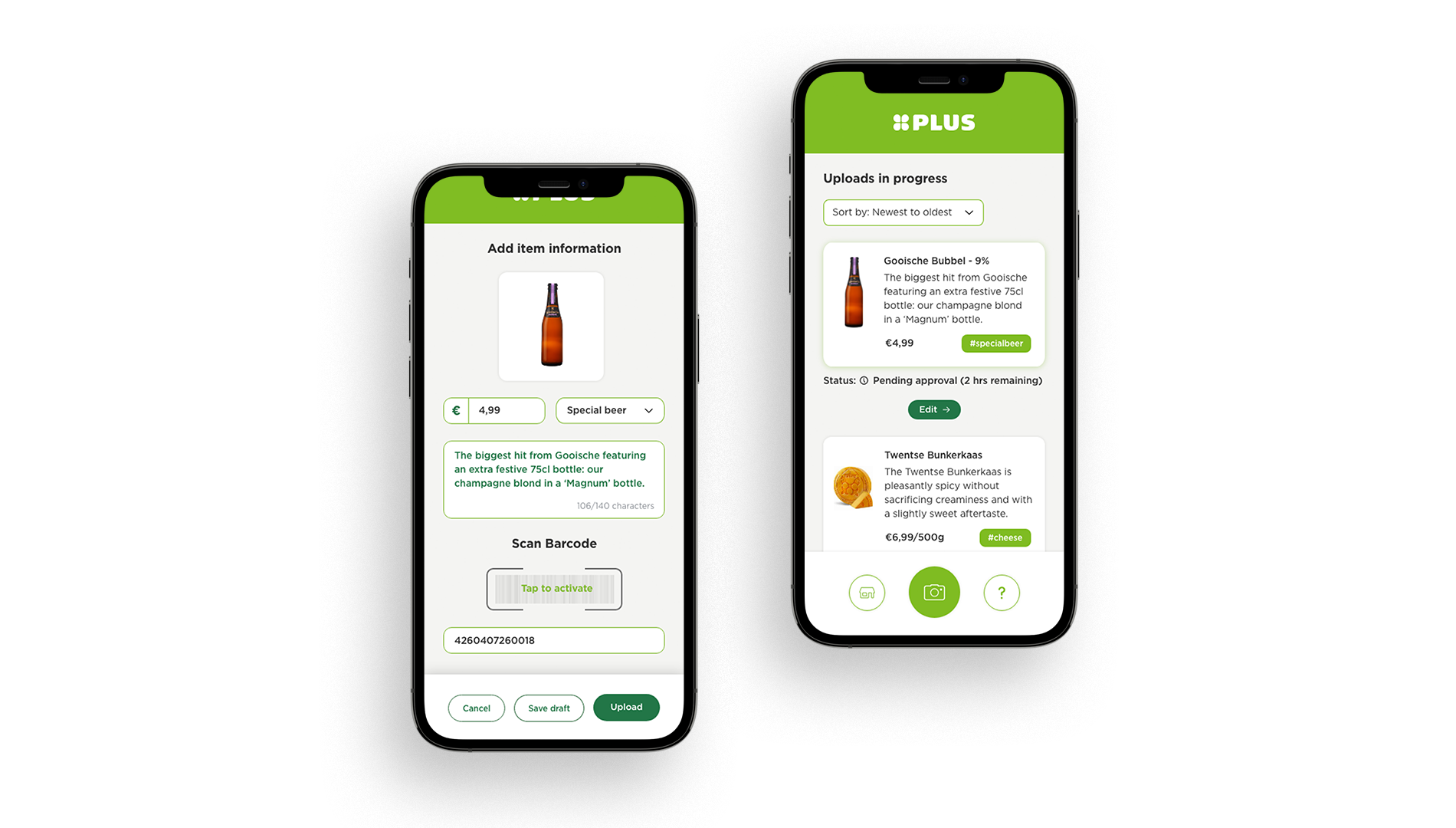 Promoting Local Goods
We designed a portable lightbox in which entrepreneurs can photograph local goods. To upload these photos we created a new section in the PLUS app for the employees and entrepreneurs. Here they can also add a product description and other properties that are necessary. With these two features, entrepreneurs can easily publish local goods online so that they are available for purchase.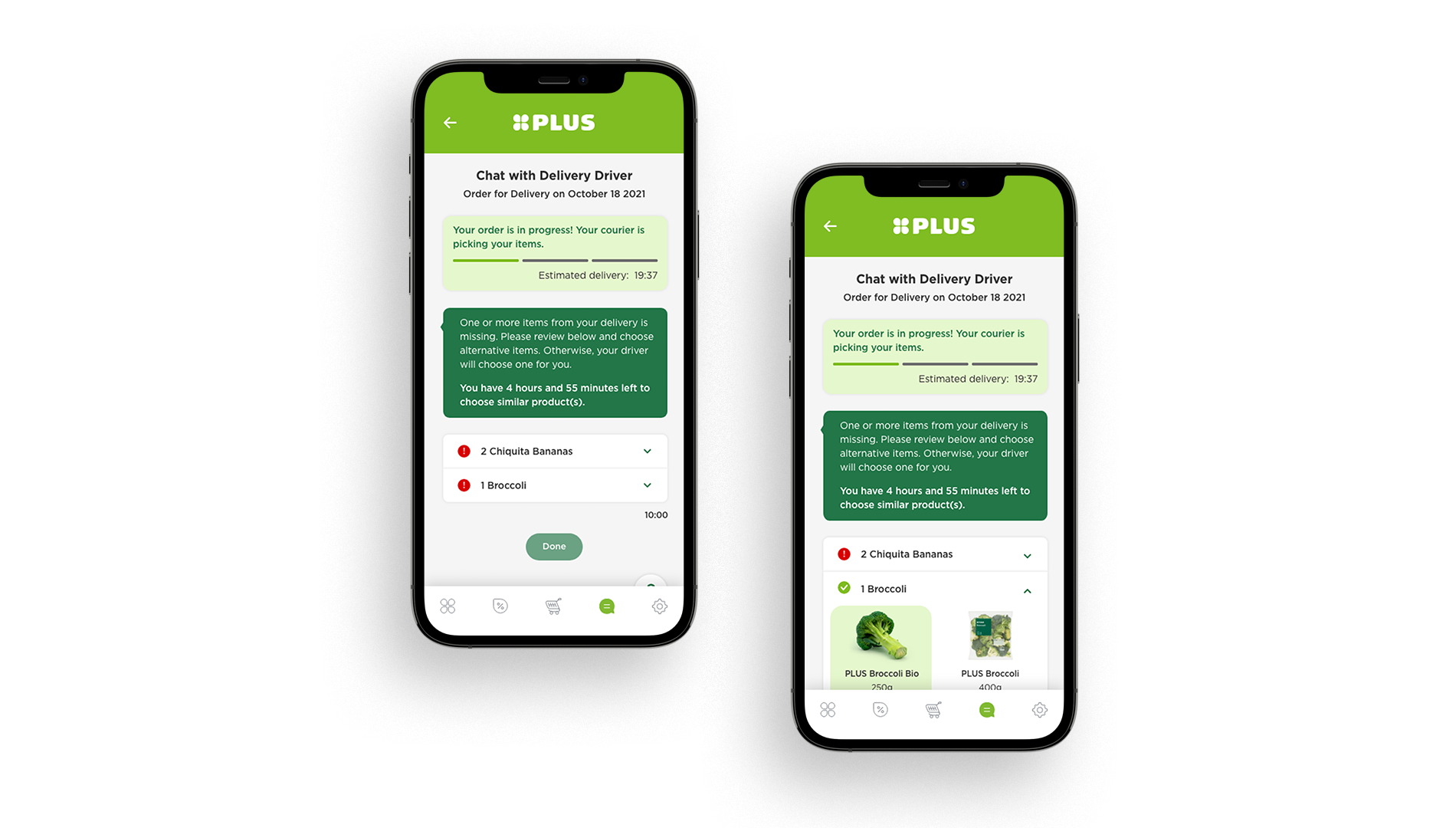 Streamlining Order Management
Giving delivery persons access to an organized view of their orders to be fulfilled was essential. In this simple overview they can also spot items that are out of stock. They can manage issues with orders, and by navigating to the chat function for each order, they can serve each customer in a personal way. With these features, the employees are able to structure their day and plan deliveries in an efficient manner.
Looking Ahead
By adding a personal approach, we reflected the values of the physical PLUS stores in the digital space. The features we implemented are future-proof and make sure that PLUS is equipped to grow their business online. With these new features we hope PLUS maintains their position in the top 3 supermarkets in The Netherlands.