Dims
Making new Amsterdammers self-reliant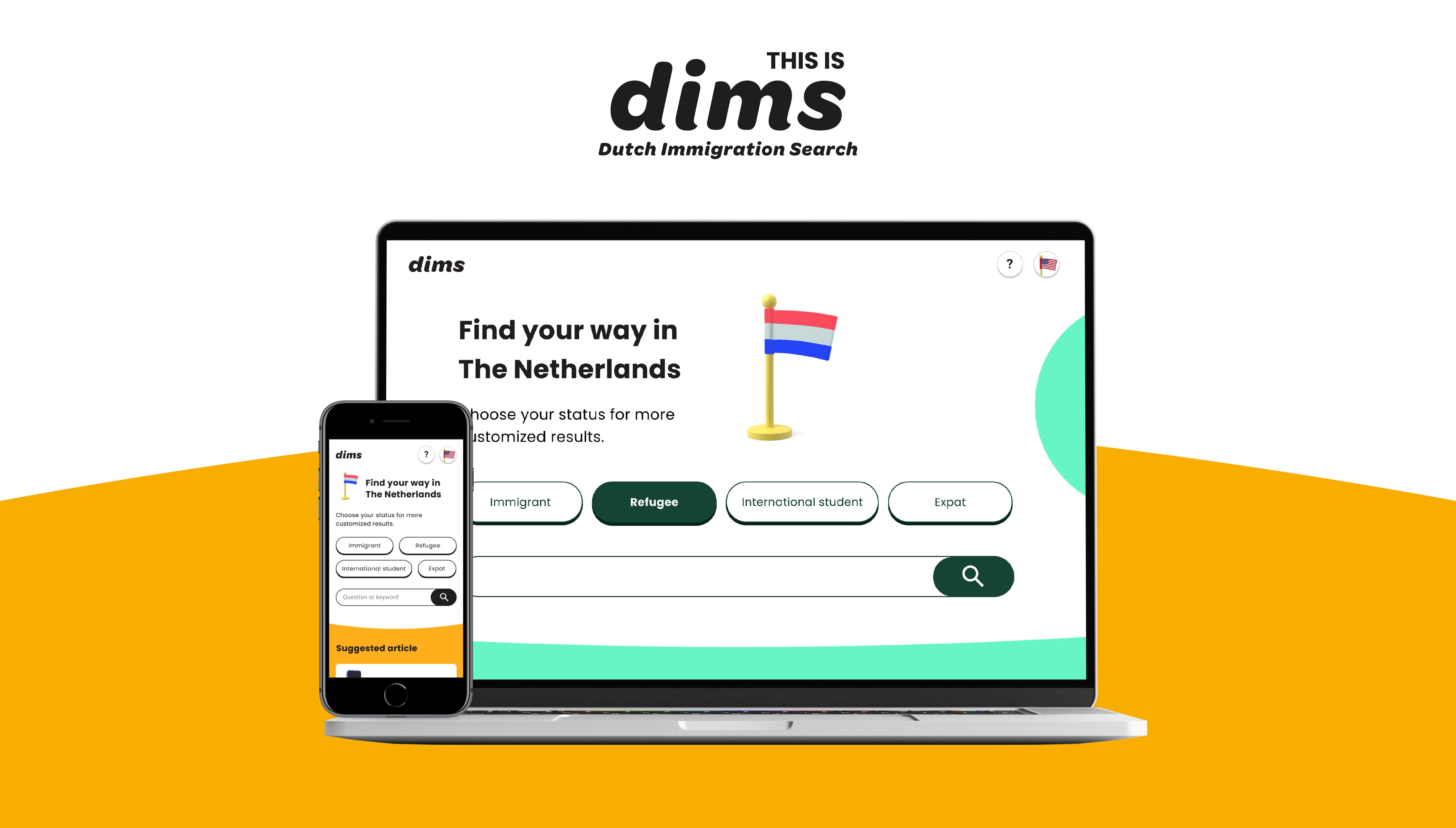 Client:

Amsterdam Public Library (OBA)

Team:

Disciplines:

Concept, UX/UI, Visual Design

Schoolyear:

2021 - 2022
Every year, 80.000 people arrive in The Netherlands to build a new life. With the war in Ukraine, this number raised by an extra 62.260. With no network and a language barrier, it's vital to guide these people in their integration process. The Amsterdam Public Library (OBA) is here to help with that, to make knowledge and culture accessible to all Amsterdammers.
Many affairs are handled digitally in The Netherlands. This can be hard for many digitally unskilled people, such as elderly and low-income families with limited financial means for devices such as laptops. It's even more complicated if you lack resources such as equipment, a network to rely on, and struggle with a language barrier. Our task was to think of a solution to bridge this digital divide.
Research
Our research proved that being digital illiterate combined with integrating into The Netherlands is difficult since governmental and municipality websites aren't designed from this perspective - featuring user interfaces which are too complex, making information difficult to find. To make matters worse, the information new Amsterdammers need to access is mostly only in Dutch and scattered all over the web.
Another key insight is that building a network helps with the integration process. Amsterdam has many organizations, like OBA, that offer help ranging from digital affairs to language classes.
Overall, we were facing two main challenges. First, how to give digitally illiterate newcomers around Amsterdam simple access to trustworthy information regarding the integration process. Since this information is mainly available in Dutch, it can be difficult for non-Dutch speakers to find these reliable sources. And secondly, how to guide immigrants to the organizations that offer help around Amsterdam. Right now, it's hard to know these organizations exist since they all operate individually.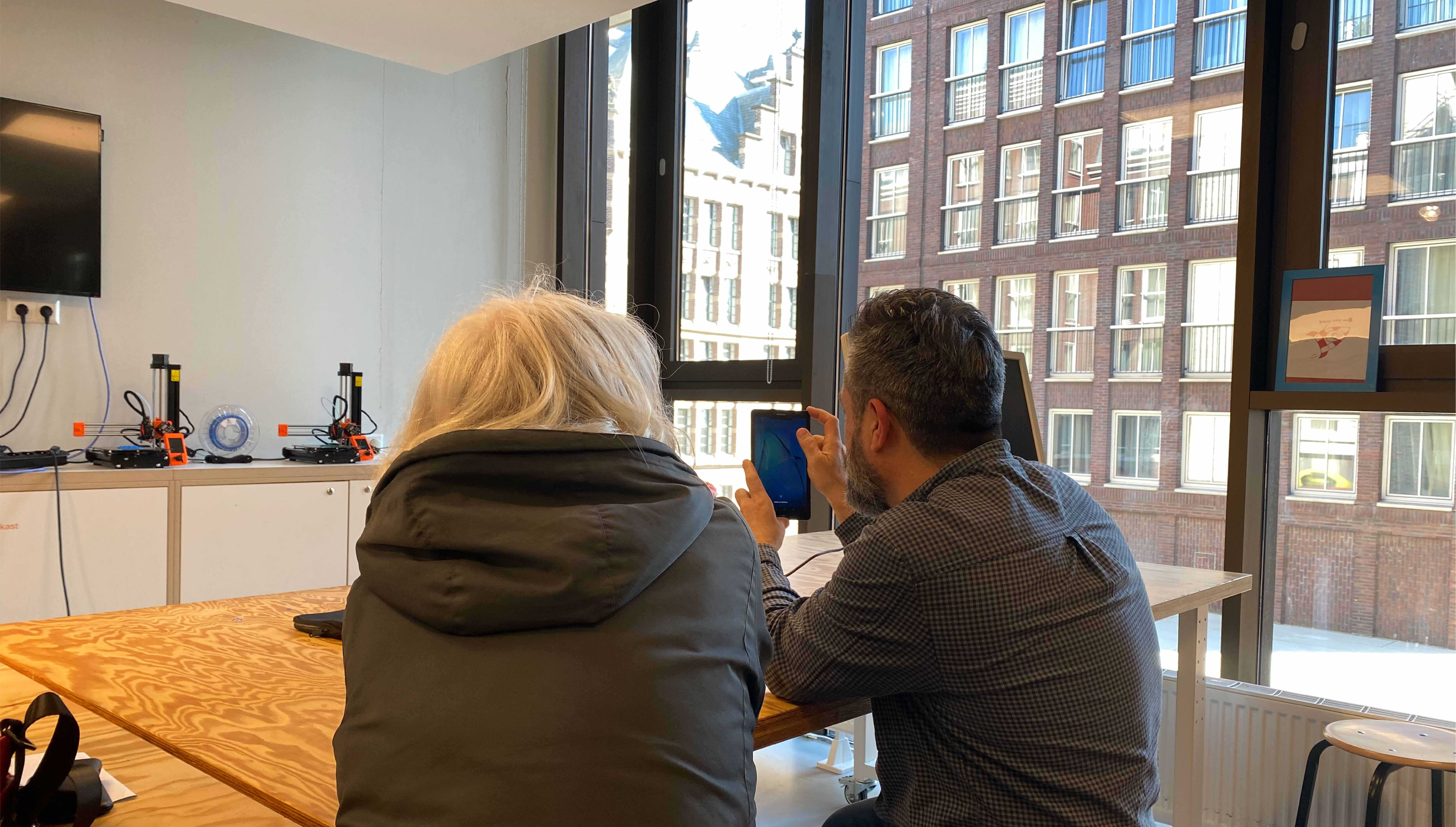 Creating self-reliance
Due to observations and interviews with Vluchtelingenwerk (an organization supporting refugees in The Netherlands), we learnt that our target audience needs a lot of guidance to follow the extensive protocols to integrate into the Dutch system. For example, you need to have a GP whom you require to consult first instead of visiting a hospital without an appointment. We found that there is no structured overview of what they need to arrange first. This doesn't correspond with the feeling of self-reliance, which The Netherlands encourages among its citizens and residents.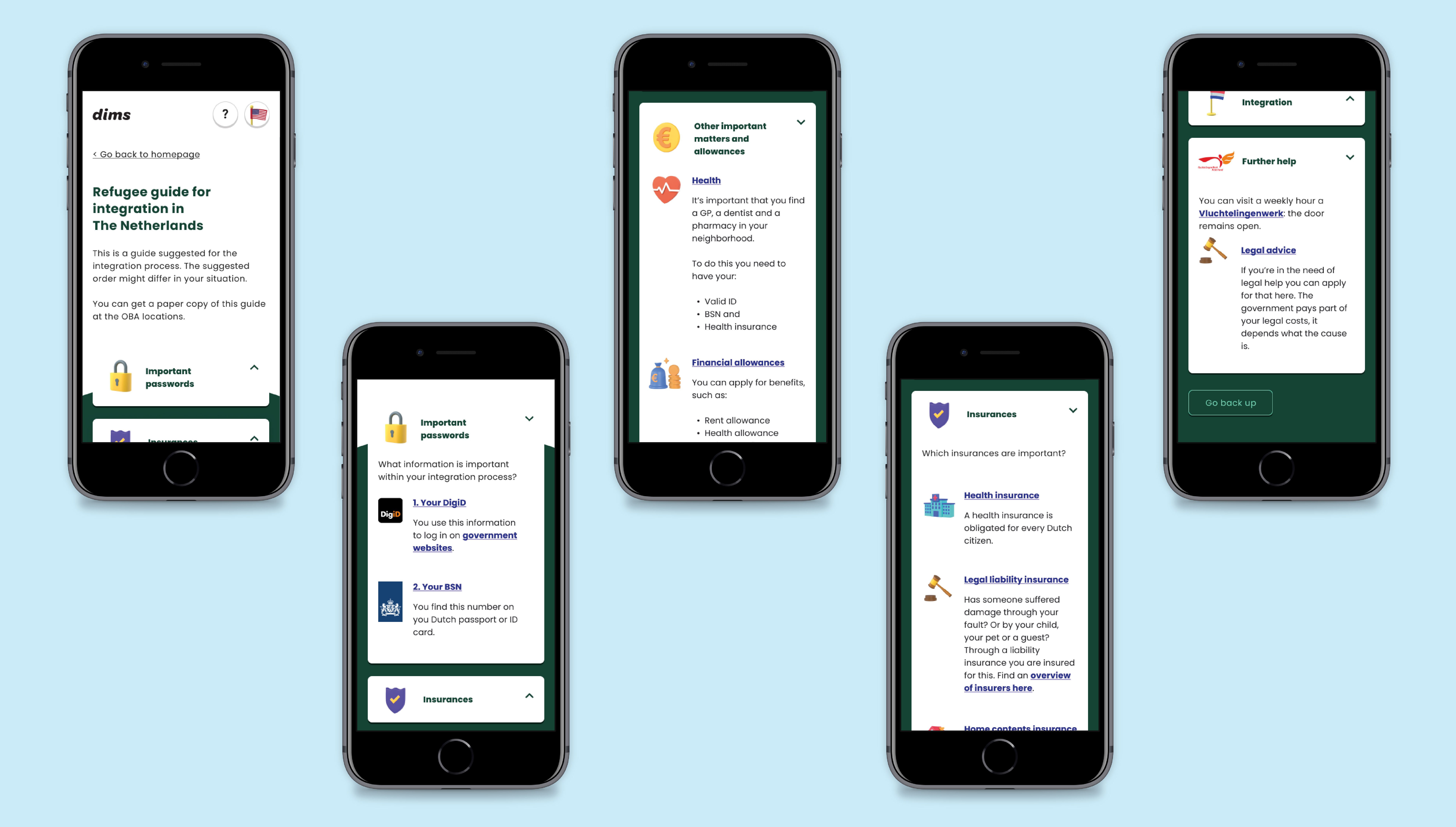 Step-by-step guide for integration
We produced a step-by-step guide as a first prototype that shows what needs to be arranged during integration. It also provides guidance to the organizations out there. This guide is written in the native languages of our target audience. During our project, we worked with Arabic and Turkish-speaking participants.
Choosing the correct design conventions
Testing proved that the content is valuable. However, the framework isn't suited since everyone needs customized information. Also, the design is very content-heavy and therefore dependent on the organizations who create these helpful articles. Furthermore, the design conventions we used weren't suited for our users. For example, they don't understand how the hamburger menu works. This is something we needed to research better. And finally, there are already many helpful websites that can help these people.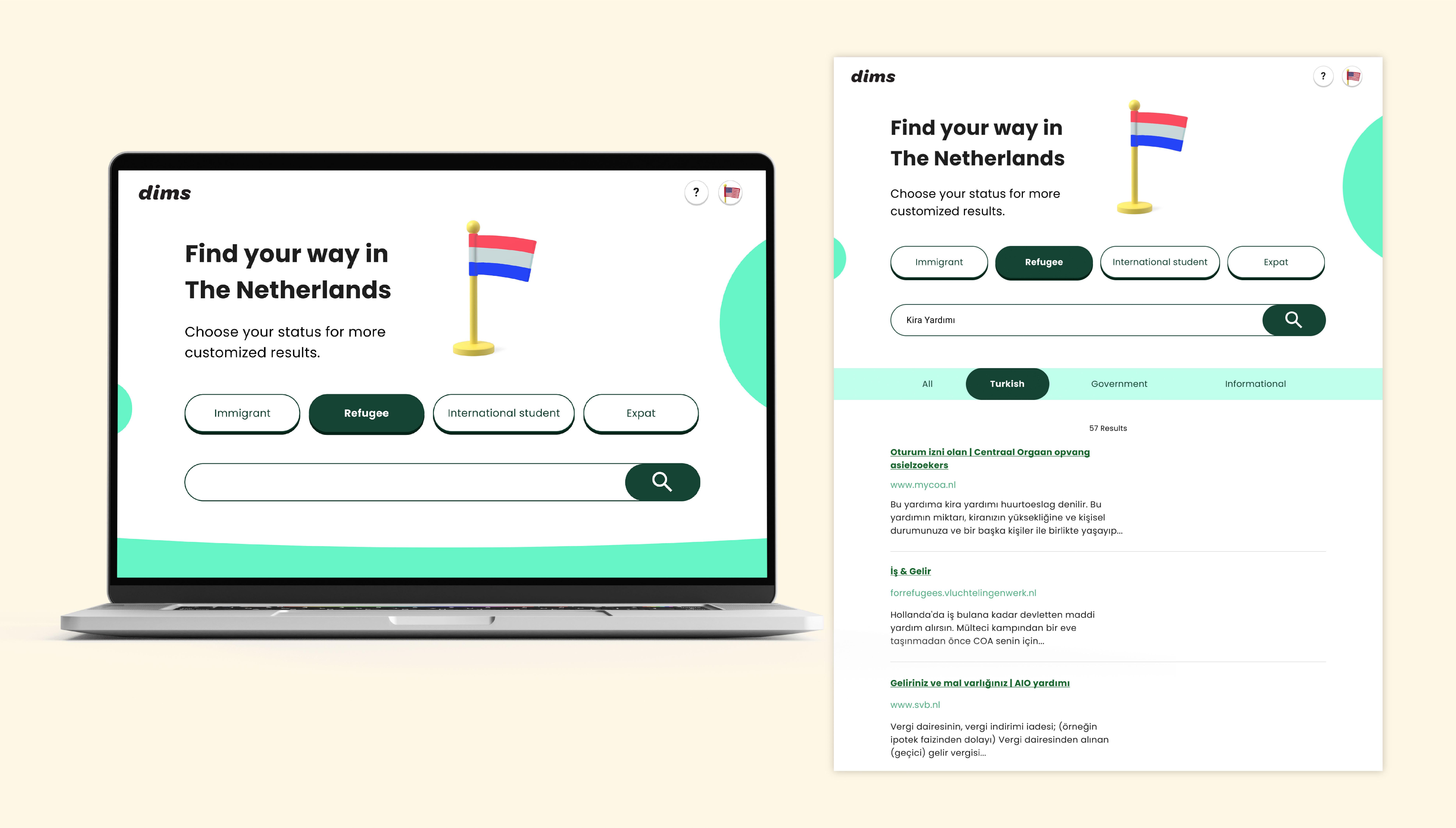 Reliable results
We also noticed that these people use Google a lot. The iteration phase inspired us to develop a new prototype with a search engine at its core. We implemented a translation feature in the search bar that allows people to search for information about integrating in their native language. For example, normally if you would like to find official information on rental allowance in The Netherlands, you'd have to search for it using the Dutch word 'huurtoeslag'. But, in this solution, you can search in your own native language and all the articles with reliable information on 'huurtoeslag' will be shown. Additionally, the information in Dutch will be translated to your language. We curate the websites that pop up in the results to ensure reliability.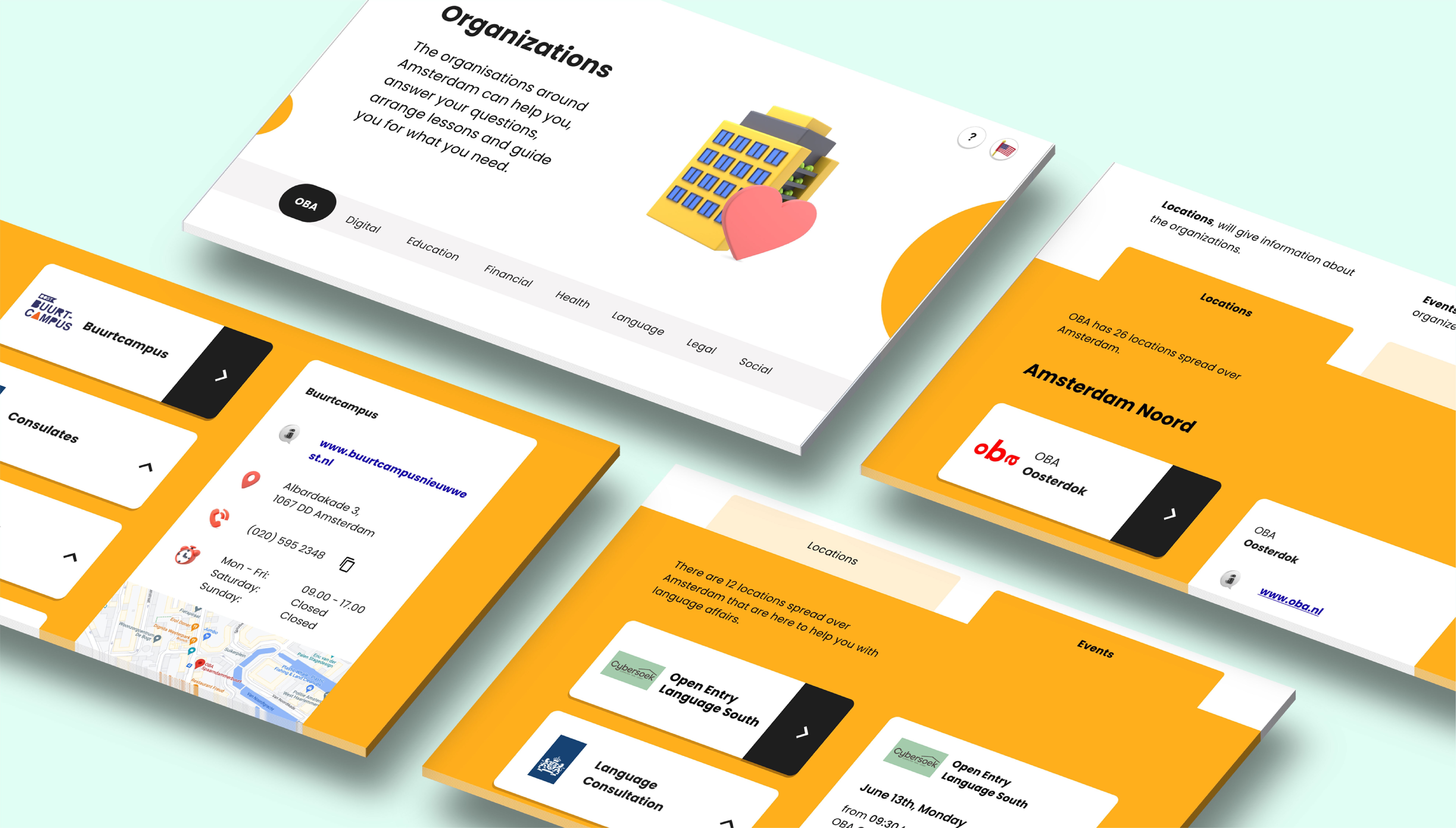 Designing for digital illiterate users
The content of the step-by-step guide is valuable, and the participants are pleased with the information in their native language. An iteration led us to enclose the altered guide as a suggested article available on the website. Another important feature we implemented was providing guidance to all the organizations around Amsterdam and their events. To better assist our digitally illiterate target audience, we designed a help button. This includes animated information on how features on each page work. Testing proved that using the correct conventions is crucial for a good user experience. For digitally illiterate people, it's essential that they can relate to what they see. Instead of abstract line icons, we try to mimic the physical world by using 3D icons. In addition, we colour-coded the user groups, so they understand better which content applies to them.
Awareness of digital illiteracy
With this solution, we hope to raise more awareness on digital illiteracy and inaccessibility and that it can lead to better and more mindful designs from government and municipalities' websites, so digital illiteracy and language barriers will be taken more into account. With this design, we aim to make new Amsterdammers more self-reliant.