The Lost Magic of Dagon
Smart therapy game for children with Cerebral Palsy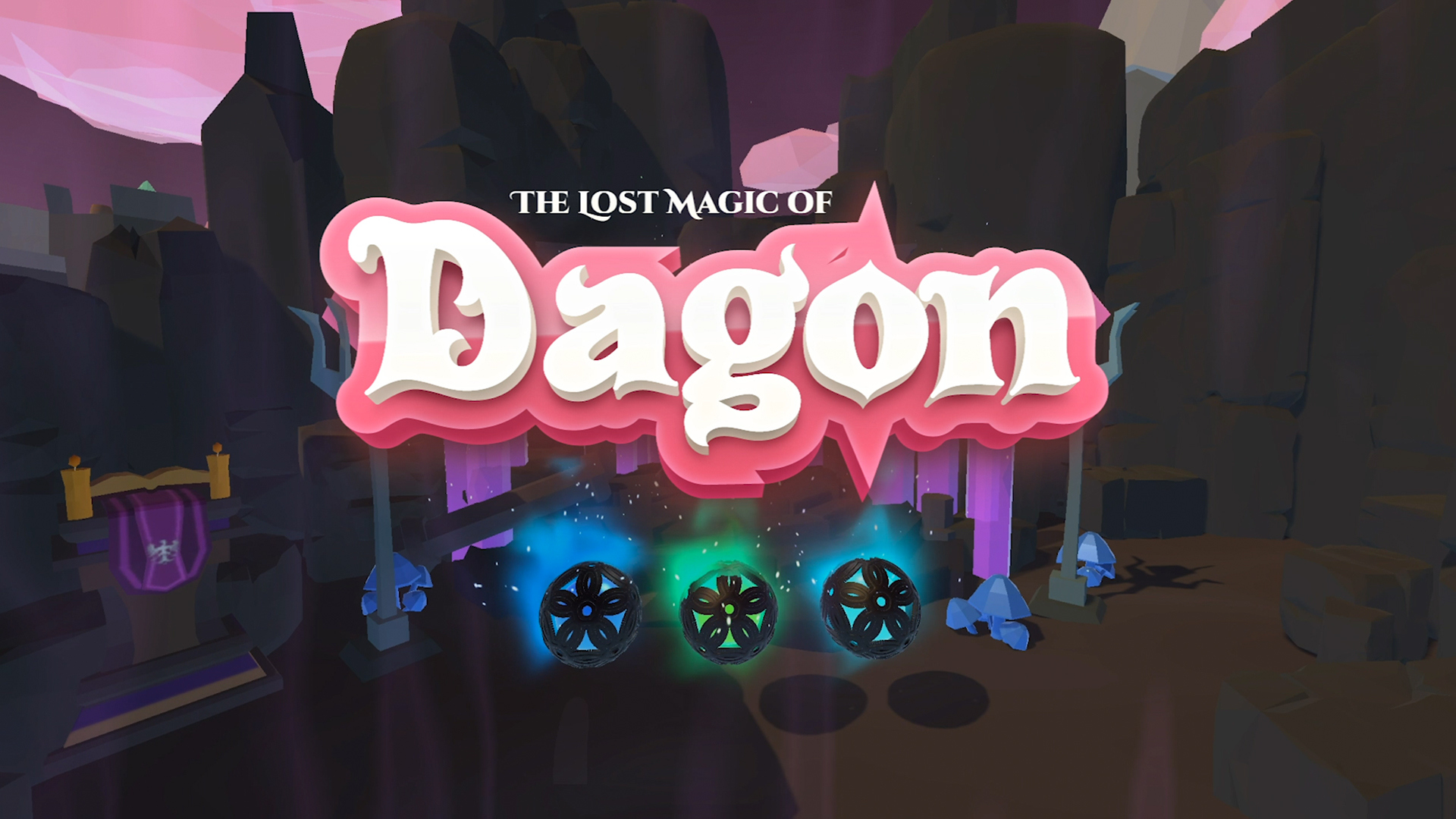 Client:

HvA

Team:

Disciplines:

Game Design, Interaction Design, 3D

Schoolyear:
The Lost Magic of Dagon is a smart occupational therapy game for children with Cerebral Palsy, who must exercise their hands routinely to improve their ability of performing everyday tasks. Dagon is an imaginary world of lost magic, where e children play as the hero who is on a mission to restore it.
Cerebral Palsy is the most common motor disability in children, causing stiff muscles in their hands.​ It is difficult for them to perform everyday tasks, like cutting food or buttoning their clothes. To get better at these things, they need to exercise these movements with occupational therapy​, but current therapy solutions are boring and tedious for them.
We were challenged to create a design artifact for self-physical therapy at home that could keep children motivated in doing their exercises. In other words, we were asked to make therapy fun.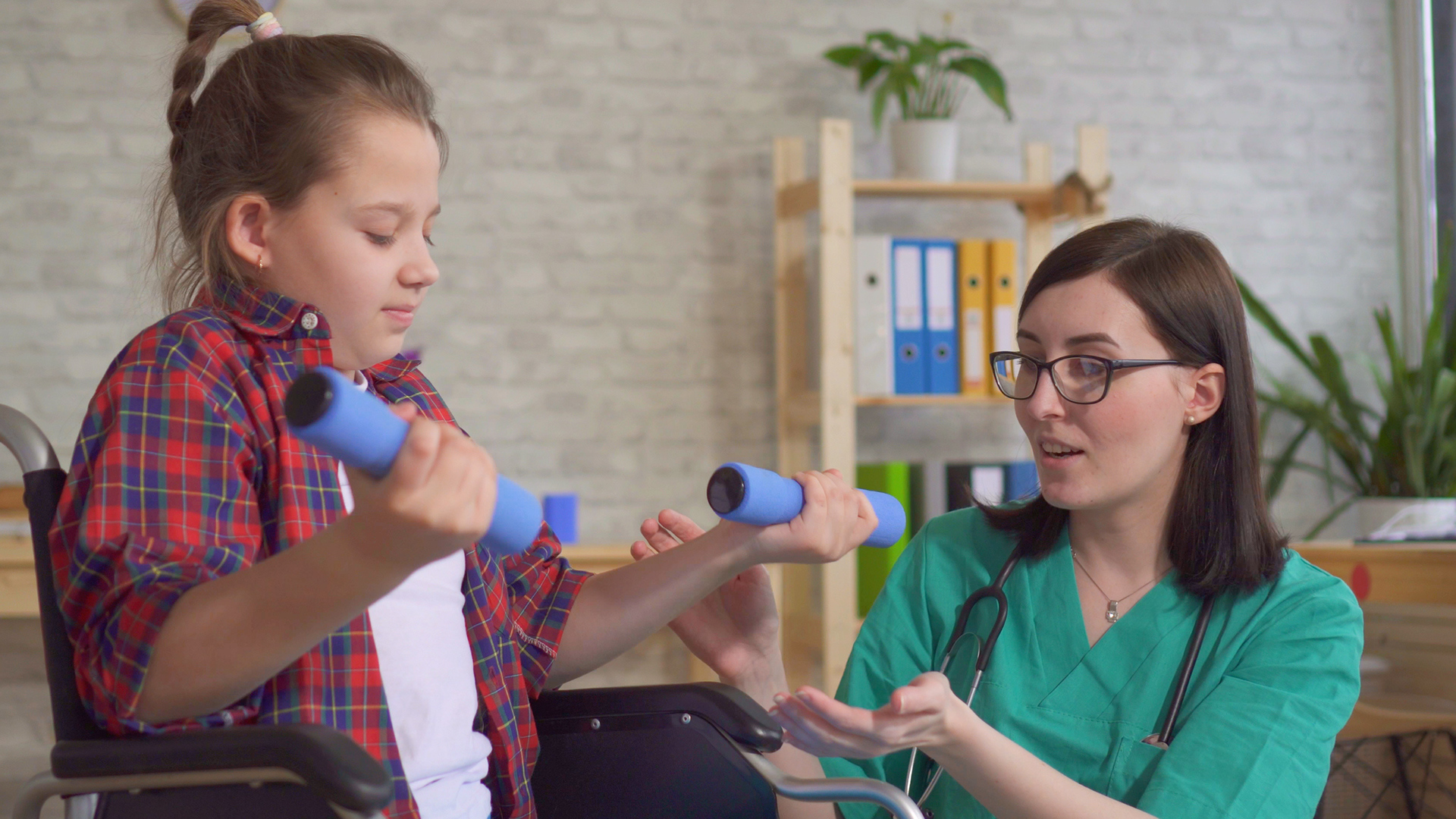 Research
Right from the start we faced a challenge: how do we conduct research during a pandemic which prevents us from meeting our users?​
We watched movies of children with Cerebral Palsy, checked which smart toys currently exist for them, interviewed adults who had Cerebral Palsy as children​, caregivers of individuals with Cerebral Palsy, and parents of children in our age group​. We sent surveys to parents and deployed a drawing exercise in Oosterpark to discover the interests of children.
We found similarity between the responses of children and their parents:they like video games that tell a story. They also like fighting, fantasies, and mainly – magic.​ So, we chose this to be our leading subject.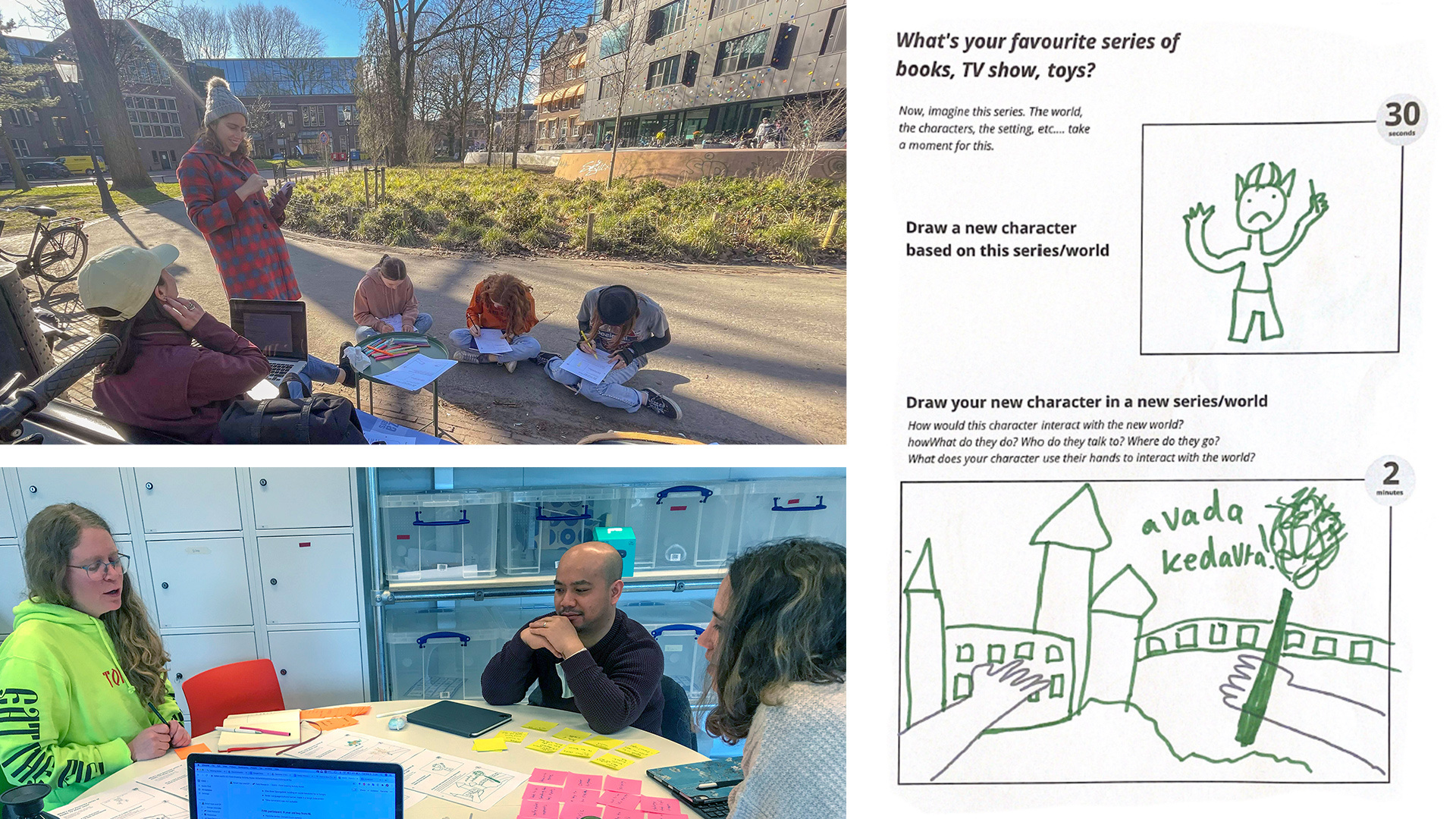 Analysing the materials from our research helped us empathise with our users. Children who have Cerebral Palsy really want to connect with their peers, so we focused on helping them do this by improving their ability in everyday tasks. This shaped our measurable design goal: how might we create a scaffolded game that encourages children with Cerebral Palsy to practice therapeutic hand exercises everyday?
Welcome to Dagon
To answer this, we created a world of lost magic which empowers the children's hands. Dagon is a fantasy world with a stimulating low poly game aesthetic, encouraging play and exploration. We established a story and rules, and transformed our game mechanics into game tasks using Unity.
The children play as the hero, Vesper, who must cast spells to collect magic orbs to restore the village of Dagon. As Vesper, they perform magic tasks to reach the orbs, such as turning a crystal ball, or placing magic gems, which engage hand movements that are part of their therapy.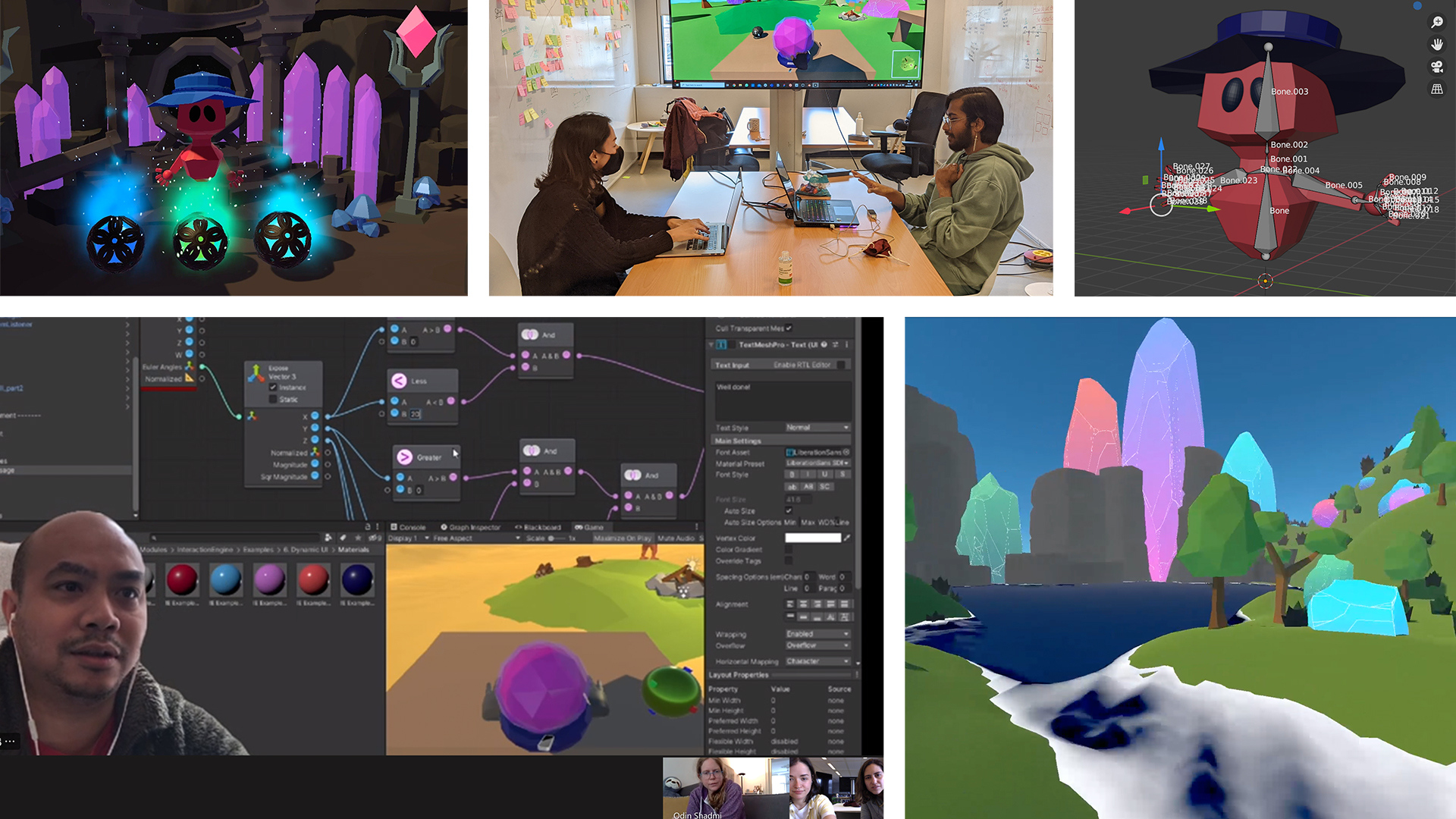 We focussed on two hand movements that the children need to practice, and capture their exact movements by using LEAP Motion, a hand-tracking device. We determined that the LEAP provided the best opportunity for success after evaluating other technologies and reading a study which proved its effectiveness in therapy for children with Cerebral Palsy (1).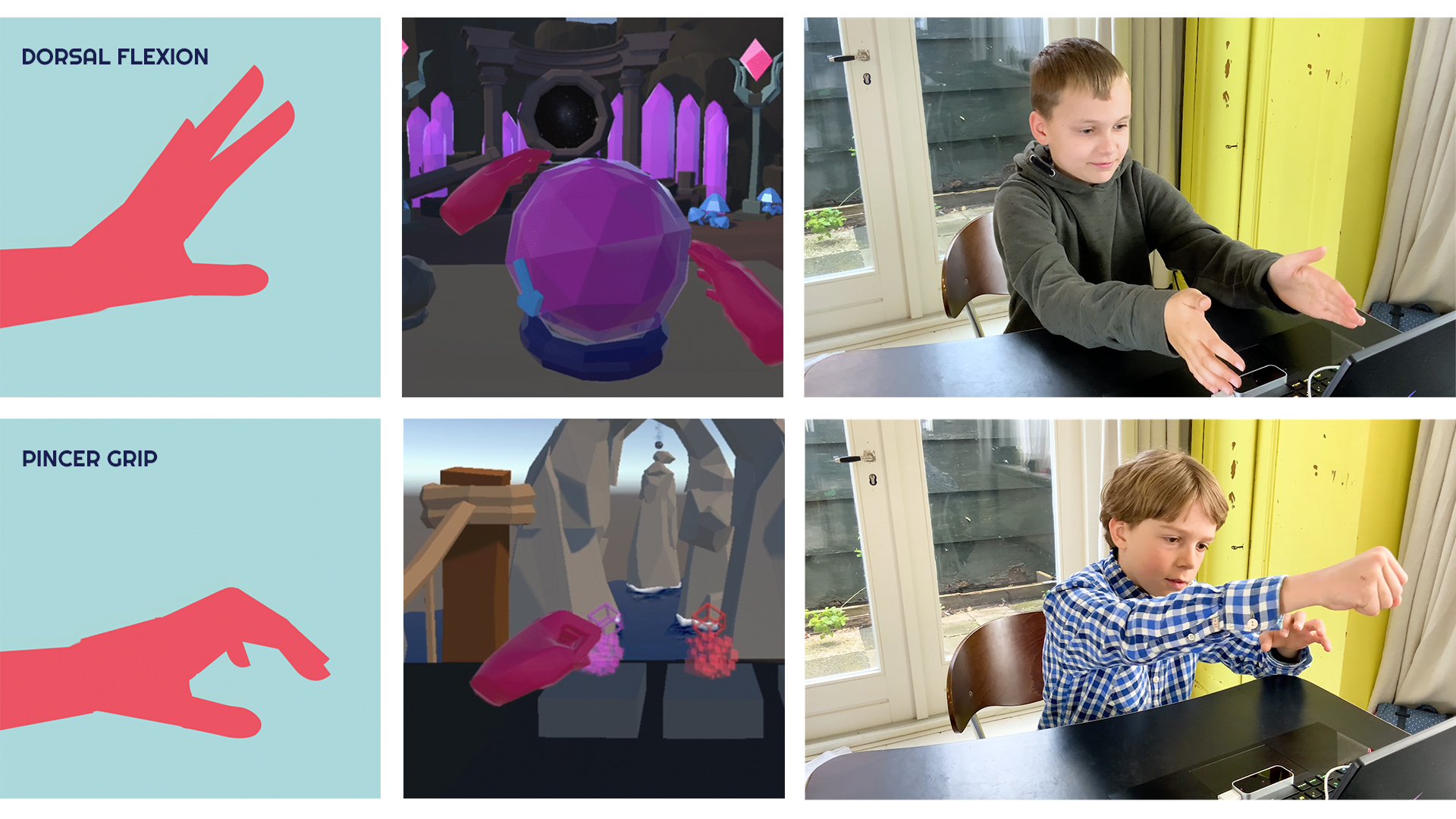 How do we know if this works?
First, we tested the two game tasks with students from our programme and applied their feedback.​ We added more instructions, changed the distracting game background, and adjusted the ball rotation that was too hard.​
Then, we tested our game with children in our target age group, thinking that if they manage to master the technology and enjoy the game, then so will our users.
From testing with the kids and our process, these are the main things we've learned:
Children aged 8-12 really like magic​;
They can master the LEAP Motion​ easily, and love using their hands to interact;
Quest-based stories create adherence​;
Children learn through games and are motivated by winning them.
We are thankful for the opportunity to dive into the world of these children, and hope that our game will contribute to finding creative therapy solutions for them.