Sustainable Widget System
Climate change threatens both the planet and its people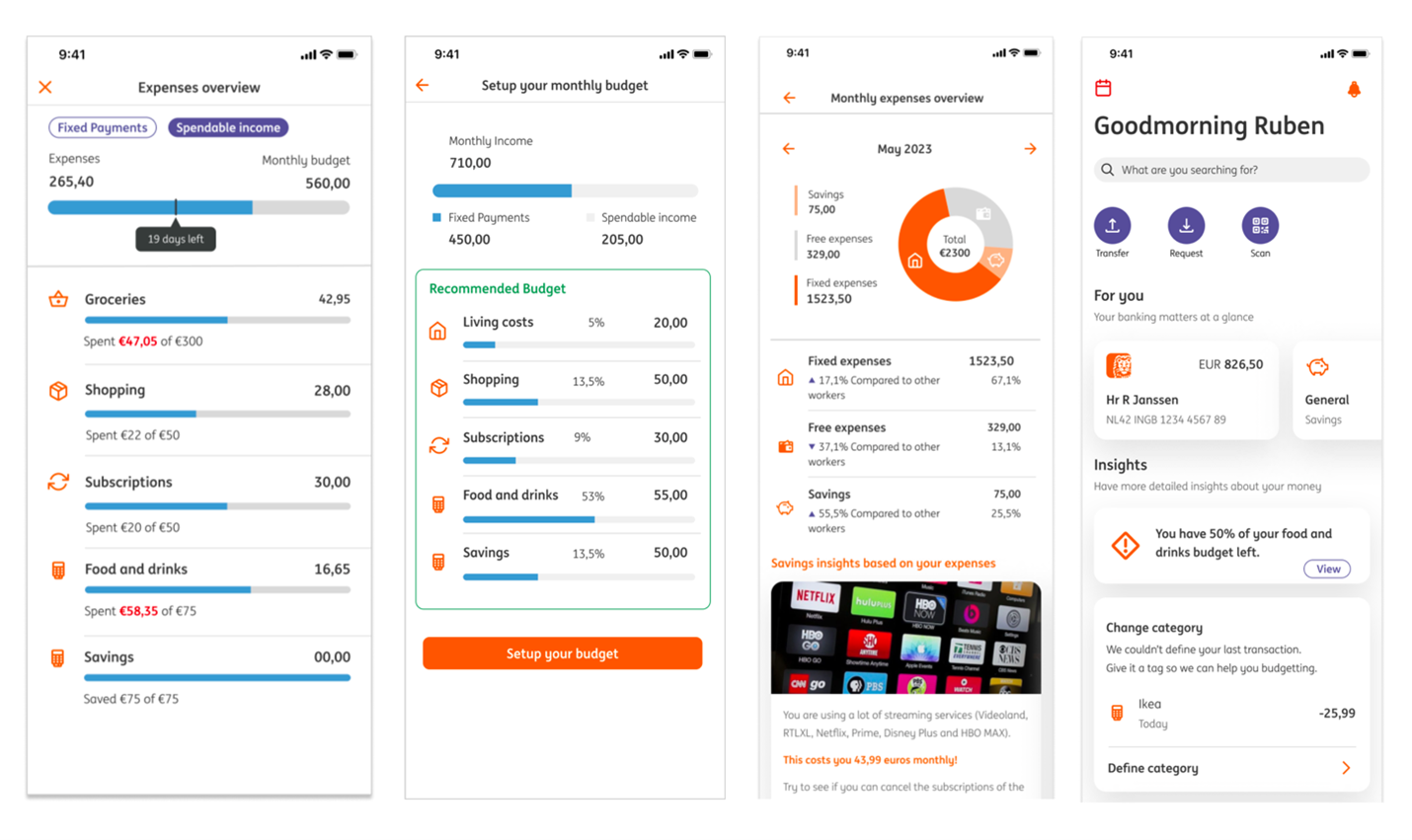 Client:

ING, Inês Henrique Lopes, Filip Mishevski, Freek Plak | Partner agency: Hike One

Team:

Jelle Rijpkema, Mercy Oluokun, Nicole de Haan, Jasper Boot

Disciplines:

UX/UI, Prototype testing, Usability testing

Schoolyear:

2022 - 2023
ING aims to be a banking leader in building a sustainable future. With more than 37 million customers in 11 countries, its business activities significantly influence and impact communities and the environment. The brief states ING wants to lead by example and play its full part in the social and low-carbon transformation necessary to achieve a sustainable future. They hope to engage their customers to do the same.

With nearly 5.5 million customers using the ING mobile banking app on a regular basis (7.7 million logins a day), ING has a wide reach. The briefing for this project: how might ING facilitate behavioural change to achieve financial and environmental sustainability among its customers using various widgets – tiny, snackable, actionable, timely pieces of content that sit on the user's home screen, engage them, and guide them into further sustainable action.
The elephant in the room: nudging
We might trust banks with our money, but do we want them to tell us how to behave? People don't like to be patronized. Do they like to be 'advised' and 'nudged for good'?

Nudging, some argue, is fundamentally weird and in some cases, counterproductive. It's easier to guilt-trip individuals to take responsibility for their actions than to tackle systemic problems. Focusing on individual behaviour and responsibility, adopting a so called 'i-frame', might distract from finding the hard-needed systemic solutions ('s-frame'). That explains why nudging appeals to both corporations and policymakers, and why customers and citizens stumble upon carbon footprint calculators as if the real problem could be computed. 'Goed bezig!' we say in Dutch. Environmental impact next to zero.
In the area of sustainability, the promise of a (digital) nudge might shine too brightly – consuming is still consuming, even if you reward a sustainable walk to a pickup place to collect the product with planet points to spend in a shop. If, however, the real problem is not individual but systemic, then 'nudges are at best limited and, at worst, a harmful diversion'. From an ethical perspective, designers could ask themselves if they want to take part in i-frame-narratives, designing this kind of technology, or rather challenge their clients.
The team, aware of this dilemma and backed by research, cleverly steered the brief into the direction of financial sustainability (and not environmental).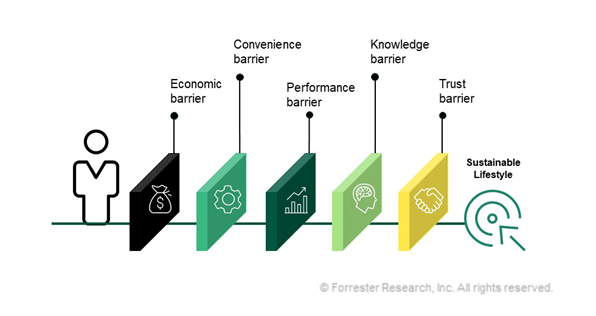 Design solution: widget system for financial sustainability
To encourage people, including those who already act 'green', to act more sustainable, several barriers need to be overcome, including a trust barrier. Interviewees expressed trust in their bank for financial advice but not for environmental sustainability. What do banks actually know about sustainability? They feel that their bank isn't sustainable and lacks expertise in the field.
Financial Health Levels
Individuals who are more financial healthy tend to lead more sustainable lives. The team decided not to target individuals who struggle to make ends meet, or who are stressed about their financial situation. Their design solution is intended for workers and students at the "day to day" and "resilience" levels. Financial Health Widgets might assist these customers in moving up one level by helping them save money and budget effectively.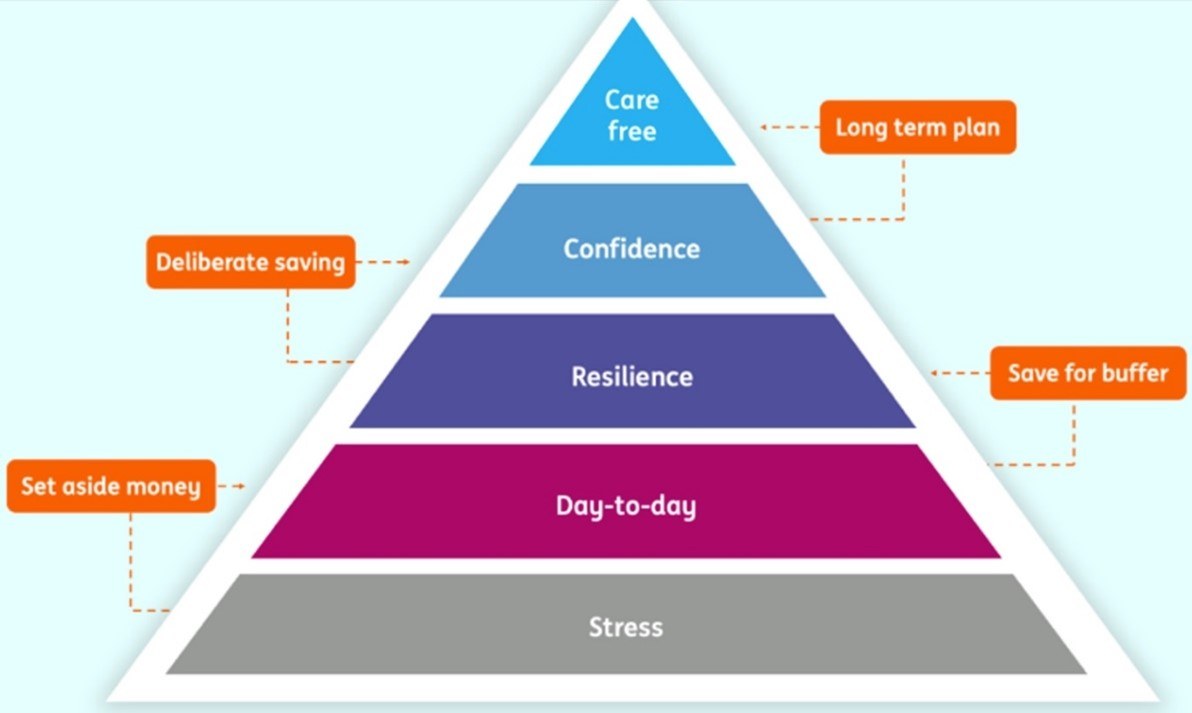 The team devised a self-management system where ING customers can set a budget, monitor their expenses and receive notifications regarding the budgeting process and the prevention of financial errors. These notifications include reminders when users exceed their budgets or when they are owed money by someone. Users expressed concerns about the app providing budgeting advice or displaying insights. They sought clarification on the basis of this information and who or what recommends the budget—whether it is an individual, a community, an AI, or some magical system.
Afterlife
After refining the widget system, through user testing and expert reviews, part of the team focused on enhancing usability and personalization. They aimed to make the app more user-friendly, relevant and actionable. Another team member concentrated on visual design, iterating in greater detail on the widgets and creating variations. The project may not save the planet, but undoubtedly provokes reflection. Being aware of where your money goes increases your mindfulness and may lead to different choices.