A visit to Emma
Immerse into a speculative climate future
Client:

Visual Methodologies

Team:

Disciplines:

Speculative Design, Storytelling, Interaction Design

Schoolyear:

2021 - 2022
According to author Amitav Ghosh (2016) the climate crisis is not only a planetary crisis but also "a crisis of the imagination". All those figures and numbers about our future are scary and devastating. Imagining living in a future with all these catastrophes is hard. But we must, because "how do we move forward to a future that we cannot imagine?" (Johnson, 2020)
Our client, Visual Methodologies, is exploring new methods to engage the public with climate change issues and is researching Climate Fiction (Cli-Fi) representation on social media. Their challenge for us was to create a tool that engages people in imagining the future of climate change.
Cli-Fi shows how the world can look in the future with the implications of climate change. Fiction can open up the imagination of what will come.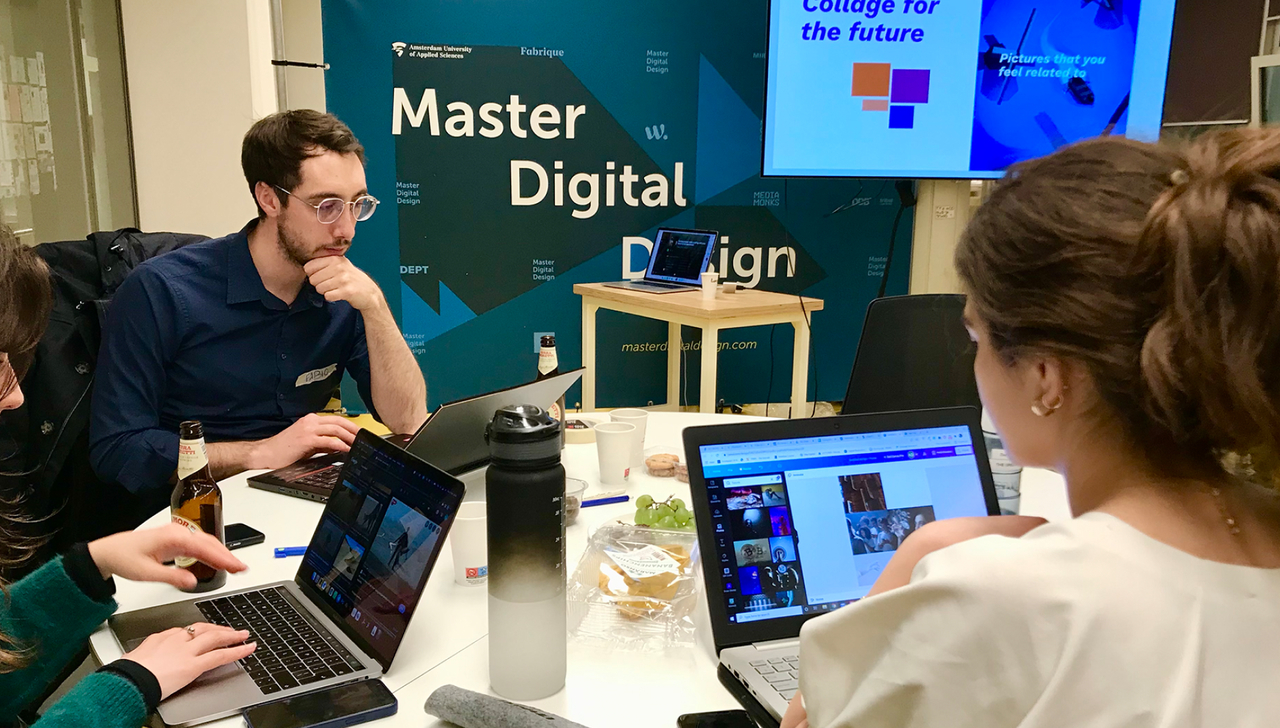 Getting the imaginary juices flowing
Firstly, we researched how people debate and get involved with different climate issues with our target group: we created and led a workshop with storytelling exercises to see which was the most appealing.
Then, with the final desk research, we concluded that people need concrete situations and relatable stories to experience their future. With this in mind, we created a climate fiction story in the form of an exhibition, so that the visitor could dive into a speculative climate future and let their imagination work from there. We exhibited on 28th and 29th of May at 4bid Gallery Amsterdam.
Welcome to Emma's
The event opened up the imagination of the visitors. They could share their thoughts and place themselves in the situation. Ultimately, as a last step in the exhibition, the visitors could leave some notes and speculate further on what could be their future affected by climate change. Our expo is called "A Visit To Emma", an apartment-shaped exhibition in 2070, with physical and digital artefacts.

At the entrance, visitors got a card with a flooding warning. Given that, in the future, water levels fluctuate, they are not safe on ground and first floor levels. So, they are advised to go to Emma's apartment, which is on a higher floor.
Visitors start the exhibition at the street in which Emma lives. Here, they are faced with political posters and advertisement which provide context to the times Emma is living. Visitors can activate posters with AR so that they can get more information. Billboard news also display the latest info: latest flooding, climate immigrants, and species disappearing as a consequence.

A whole new world
Entering Emma's apartment, an overview of different artefacts tells this future story. You can see how Emma lives, works, and eats in her living room. Since the bees are almost extinct, the Netherlands has started a pollination programme to support the harvests dependent on pollination. Emma is one such expert and her practice kit is next to her sofa.

The MealMachine with the Cubeline and the spices let the visitor think about what food and dining can mean in the future. The National Water Checker lets the visitor imagine how we could track their drinking water use in the future. The indoor garden works on salty water: a solution to use less drinking water and produce own vegetables.

The window view, projected on the wall, shows the water level and how the city has changed. The Feed is a new online newspaper on her laptop to give visitors insights and more ground to speculate on. Lastly, a digital report shows data on air pollution, water levels, and weather to be constantly updated.

White boxes create Emma's furniture, and it is possible to know her better thanks to some pictures, art and notes written by short story writer Mitchell Samuël Gordon. All the artefacts have a digital component and are created thanks to speculation above current research.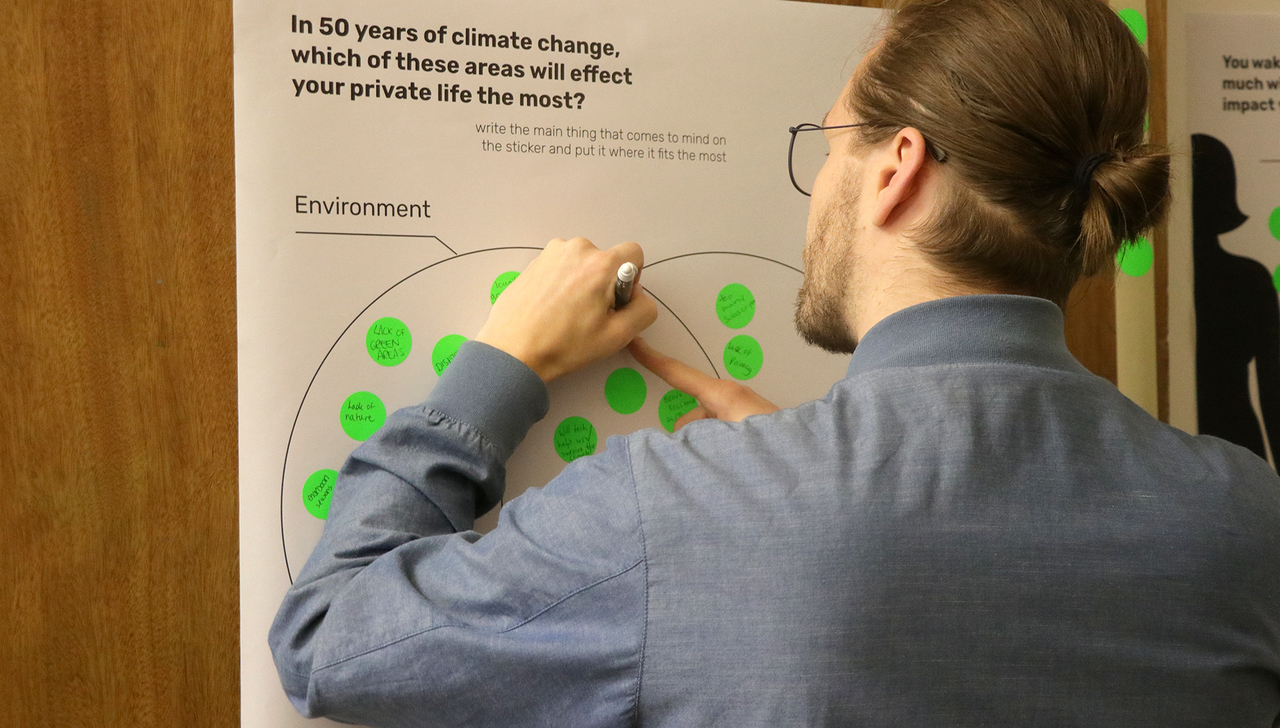 Back to the present
Visitors' reactions were positive. They felt that the expo made them think more about their future and suggested it was a conversation starter. Moreover, they could walk out of the exhibition and share their thoughts on our feedback posters. We created them with open and closed questions as an open space for discussion and to start imagining further on. We are ambitious to do this exhibition at a climate and design fair to give more people the possibility to imagine life with the upcoming climate change.