VR LGBTQIA+ Museum
VR experience that focuses on gender diversity and LGBTQIA+ community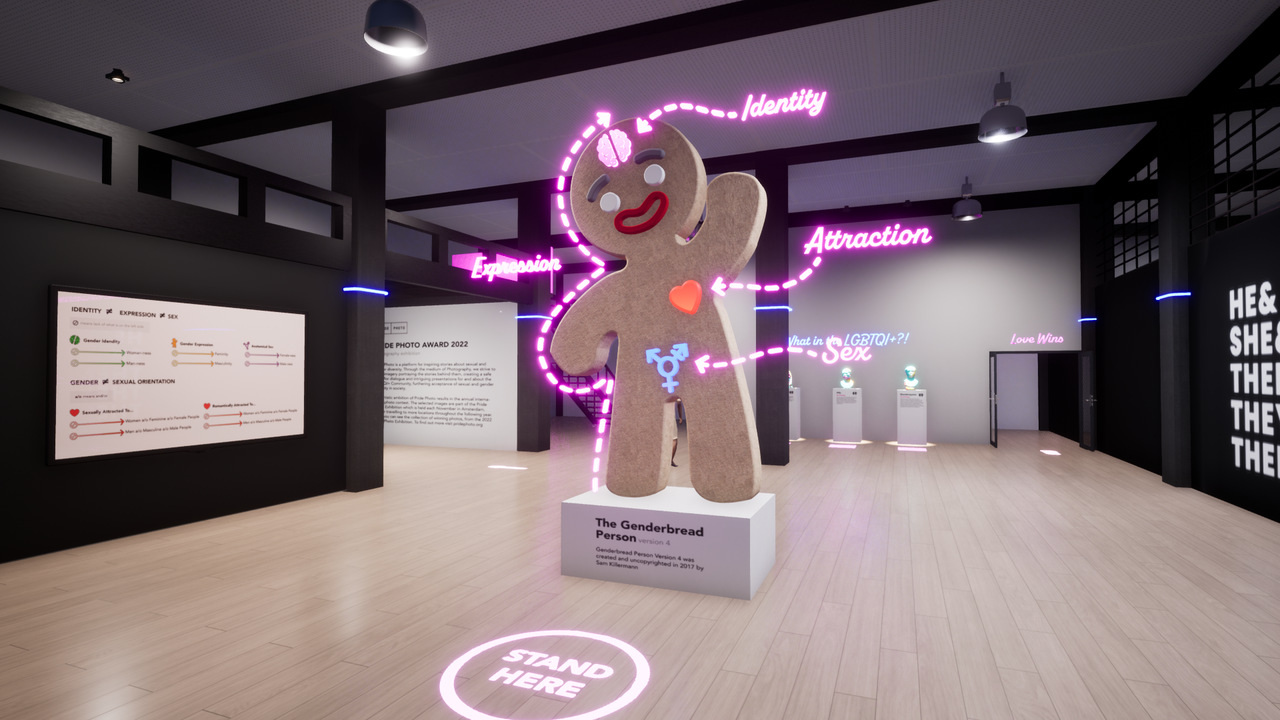 Client:

Civic Interaction Design

Team:

Disciplines:

UX/UI, 3D

Schoolyear:

2021 - 2022
While the western world has become more open to learn about the LGBTQIA+ community, there is still a lot of work to be done in fighting stereotypes and discrimination. Too many brands and businesses appropriate of the rainbow flag during Pride month without really understanding its meaning or the struggle of many activists throughout history in the fight for LGBTQIA+ rights. Our VR Museum wants to contribute to the education of the public and make knowledge about the community more accessible.
Our brief came from a research project called VR for Diversity, which explores the use of interactive features in virtual reality and how these aspects may alter the medium's impact on its audience. We were asked to focus on the LGBTQIA+ community.
Many paths to one goal
At first it was hard to connect these two complex topics - LGBTQIA+ community and VR. We conducted numerous interviews with members of the HvA Pride community and gathered a lot of insights, but the topic remained very confusing, especially in relation to virtual reality.
The community is diverse and people express themselves differently, often resulting in contrasting opinions and experiences. Because of that, we couldn't pinpoint a common ground to start with. On top of that, some organisations have worked for decades in helping to tackle issues the community endures with little to no success.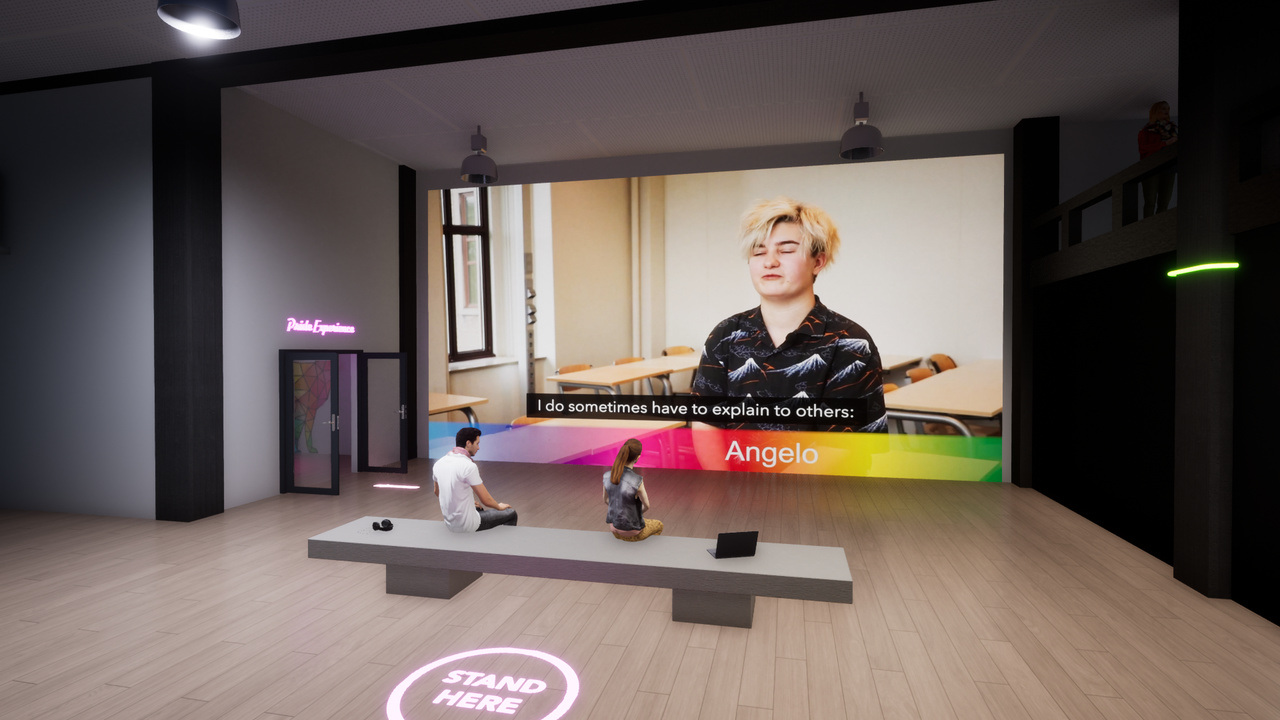 The world's first VR LGBTQIA+ Museum
Based on our research, we created a VR experience which involves a museum/exhibition space, in which users can be educated instead of trying to produce empathy. We can't expect to use the VR technology to magically provide an answer to the problems of the community, but by using this interactive technology people can scratch the surface and inform themselves more about the topic.
Visitors are exposed to photographs from and about the community, learn about the different LGBTQIA+ flags, key historical moments, and they can even experience a bit of the Amsterdam Pride.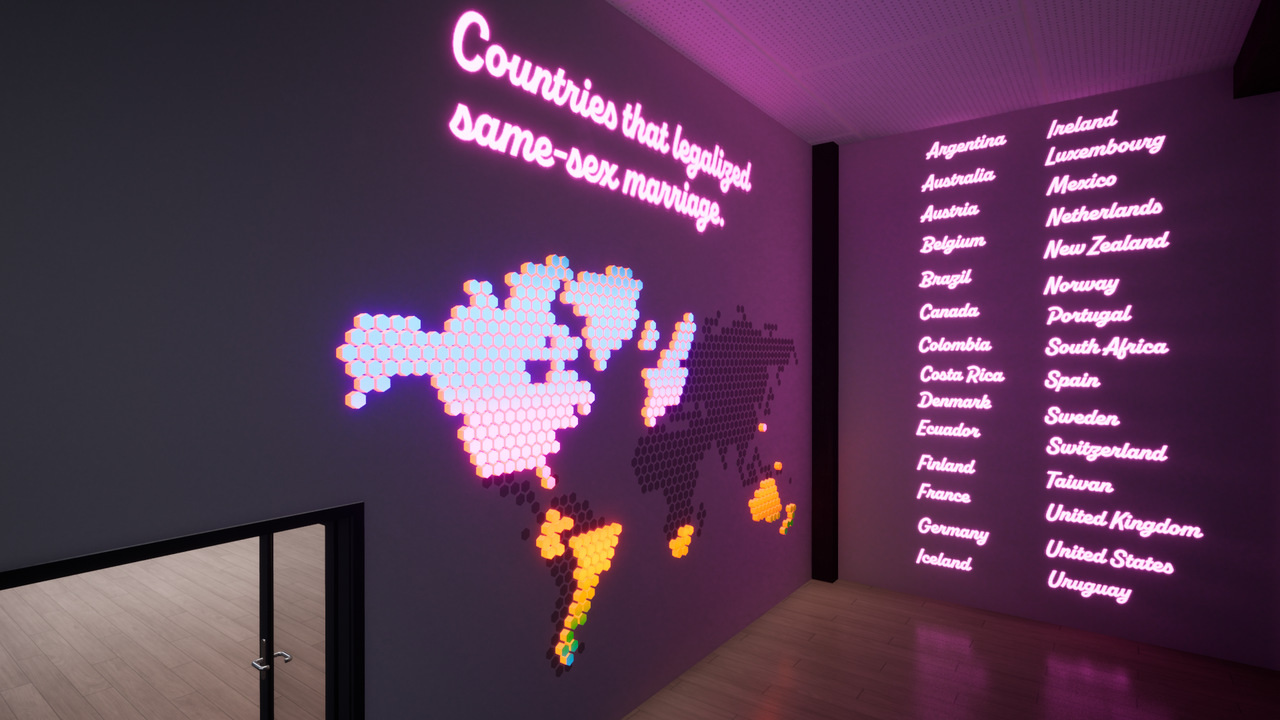 The museum can easily be exported to a file and used in different locations around the world, making its reach much larger than a physical museum ever could.
After completing the project, the museum will have its opening during Amsterdam Pride 2022, where it will be accessible at multiple locations across the city thanks to the organisation of Queer Currents.
Ignorance creates prejudice, which is a burden that muddles the past and endangers the future. Education can combat and reduce the malignancy of prejudice, ultimately making the world a better place.