The Last Drop
On a mission to drink well and reduce waste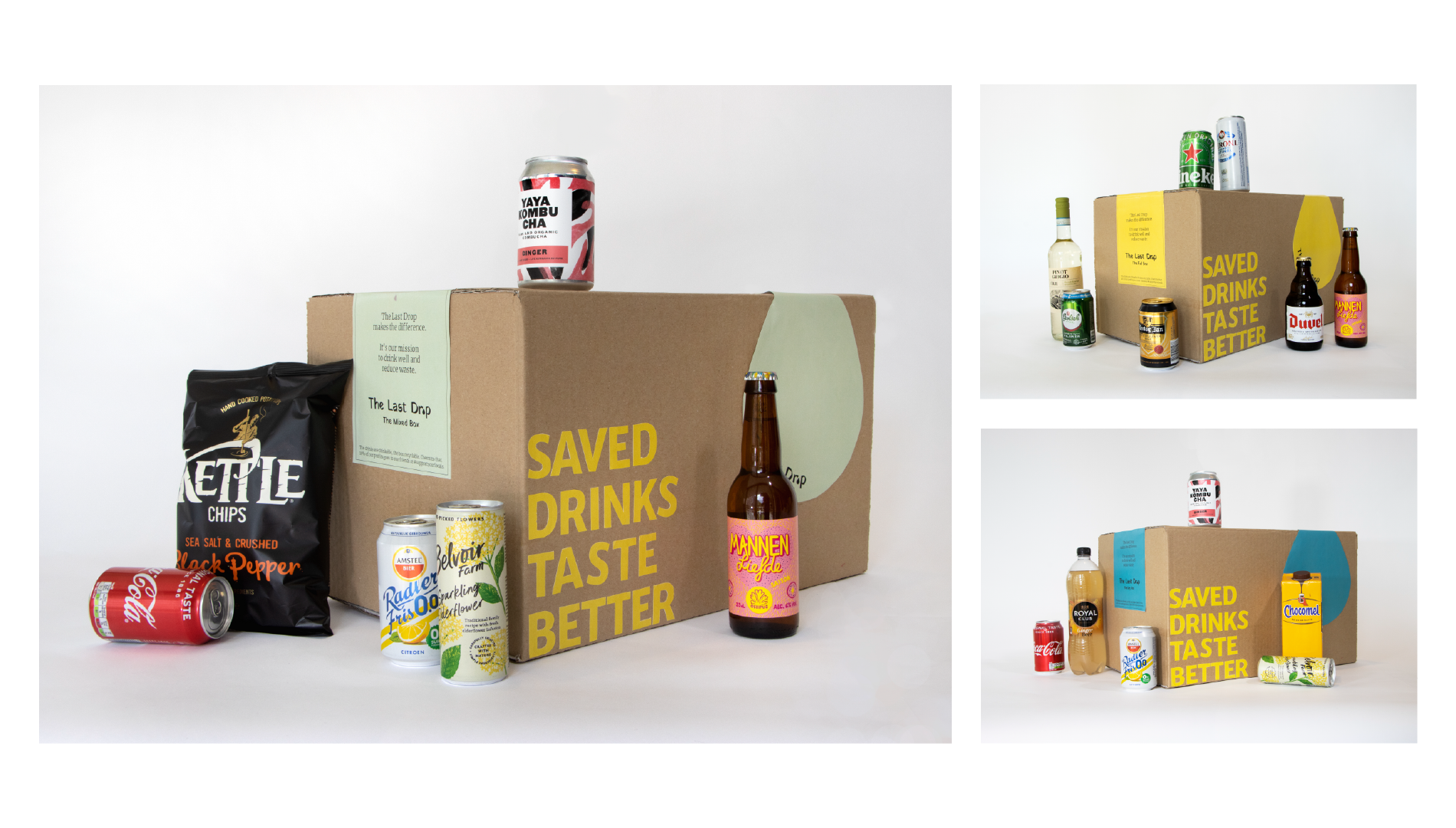 Client:

Lijfering

Team:

Disciplines:

UX/UI, Visual Design

Schoolyear:

2020-2021
Up to 10% of perfect drinks at supermarkets go to waste out of fear of a small number with huge impact: the expiration date. Supermarkets return beverages to the wholesaler months before expiration andthey often end up going down the drain. The Last Drop makes a difference. We offer mystery boxes of those perfectly good drinks to battle beverage waste. One drop at a time.
Beers, chocolate milk, ciders, lemonades... Did you know that 5 to 10 percent of all drinks in the supermarket go to waste before they're sold? Supermarkets return them to wholesalers such as our client Lijfering, two months before expiry so that they don't have to pay to dispose of them themselves. But these drinks are not waste, they are perfectly fine and have not expired yet!
When comparing it to your own fridge, 5 percent of waste might not seem much. But imagine a warehouse of 25,000 drinks. The problem is not only the fact that these drinks are being wasted, but also the energy that went into distilling, packaging and transporting them.
We were challenged by Lijfering to break this cycle: How can we sell rejected products for acceptable prices in a way that is safe, sustainable, surprising and encourages the user to share the experience with others?
We used a Situated Design approach. We placed ourselves inside the problem. Literally, between the shelves of the Lijfering warehouse, we met sales director Fred de Vries. We interviewed bars and breweries - who now face the same growing issue because of the pandemic - to hear about their struggles (a lot) and solutions (not that much).
From Problem to Action!
We experimented with multiple concepts to get rid of the beverages: cooking with the stock, creating challenges around it and even a dating app. Eventually, after lots of trying, ideating and research, we learned that the aspect of mystery was our way to go. What expires depends on what doesn't sell, so we have no control over the type of drinks that are returned to Lijfering. A mystery box is a fun solution, but also practical. Research shows that a certain amount of mystery increases customer curiosity.
In designing the boxes we worked closely with Lijfering. We organised a co-design workshop to learn their values and asked them to critique our designs. Together,we decided to stay close to our sustainable mission: reducing waste.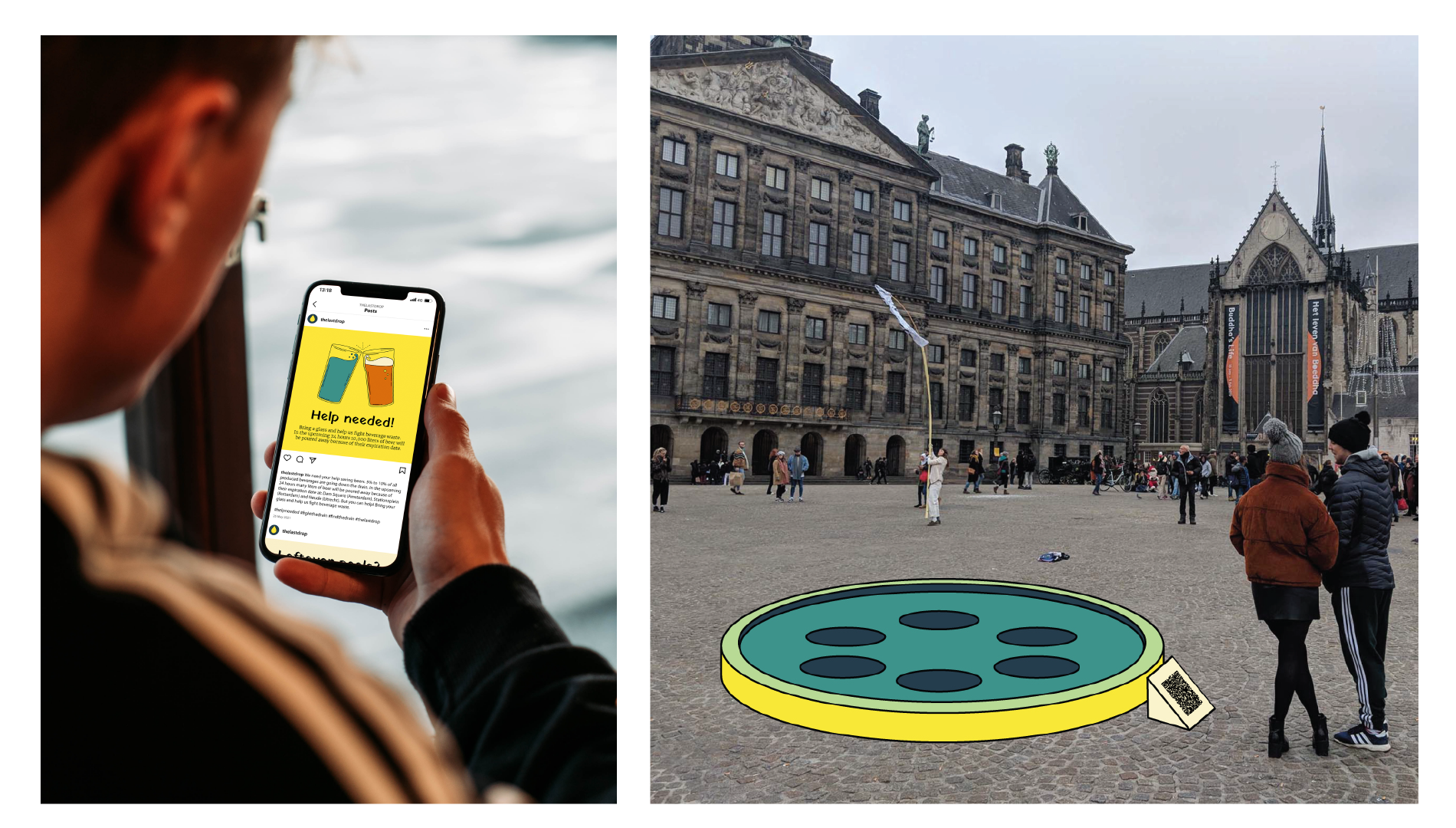 Getting know the client
For this project, we worked with a focus group of twenty-five people who were representative of our target group: 22 to 40 years old, sustainable and urban living people with above average incomes. Through surveys, user testing and consultations, they influenced the drinks selections ("can we get a mixed box?"), packaging, slogans, delivery ("by bike"), colours ,and even the complementary content of our box: an artwork and info on recycling.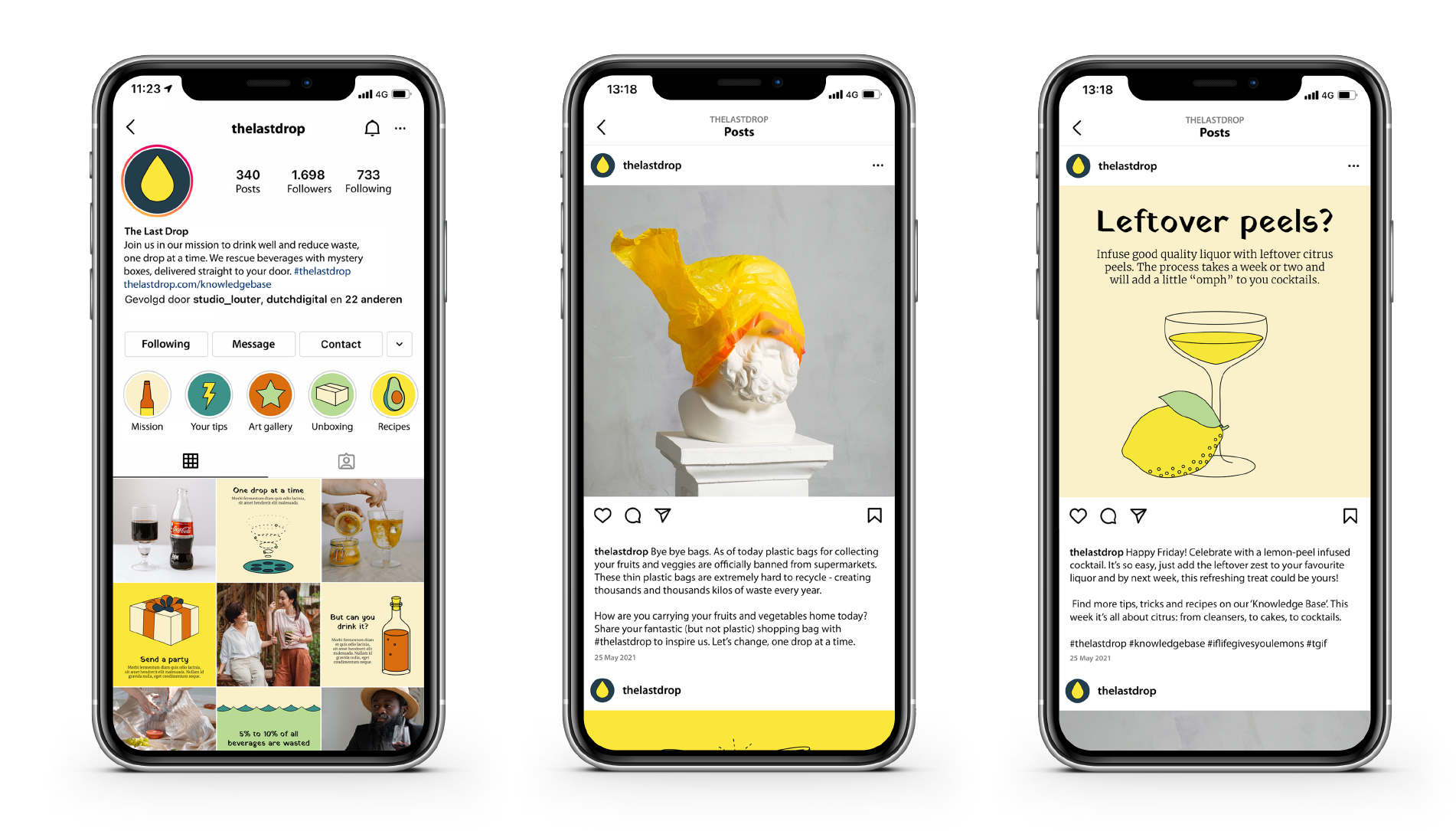 The Last Drop
This all came together in: The Last Drop and our slogan: Saved drinks taste better. The recognizable boxes come in three colours: a yellow alcoholic box; a blue alcohol-free box; and a green mixed box. Packaging is made to size and recyclable.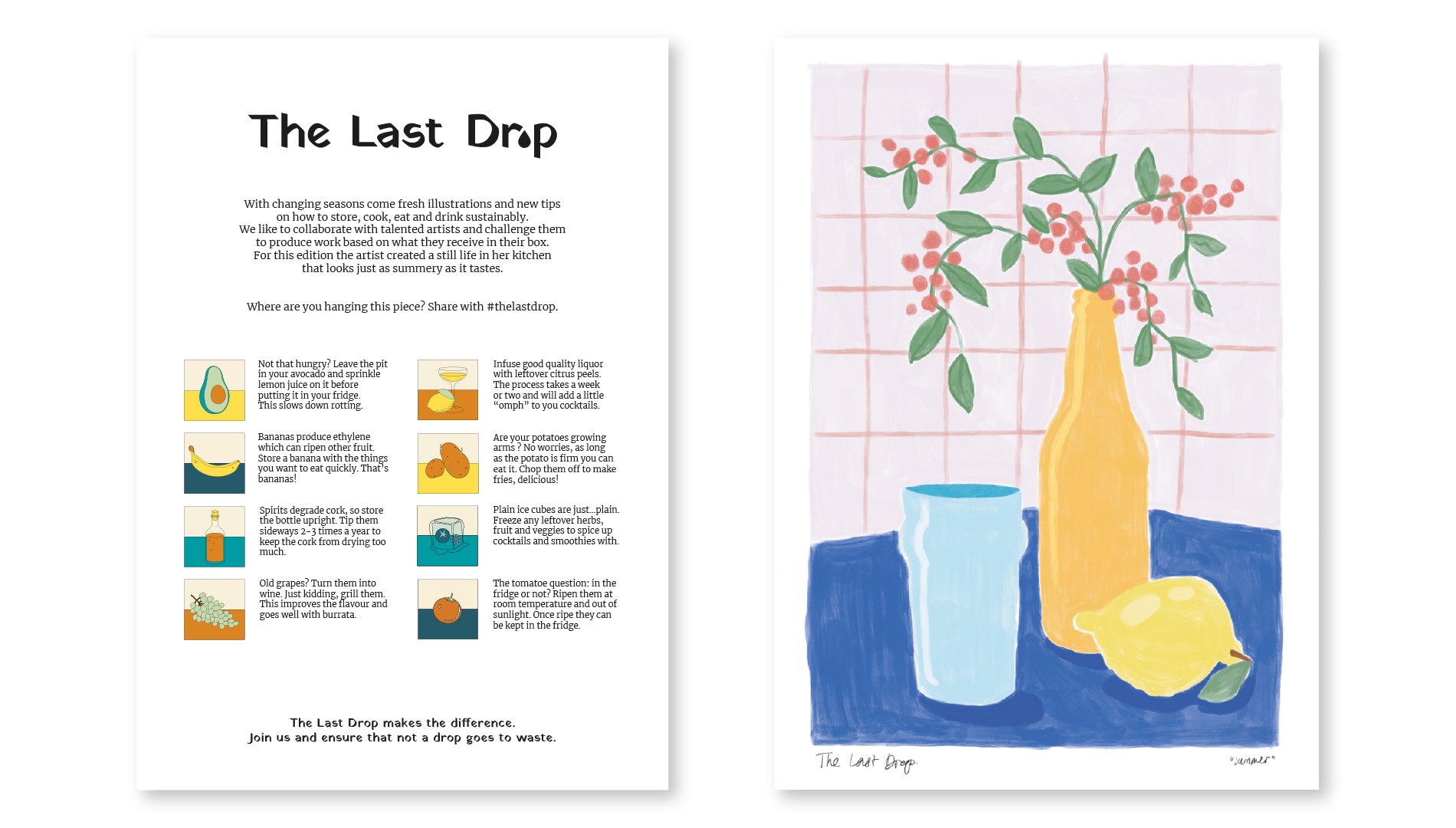 Every box contains a good mix of drinks, and a surprise. From complimentary snacks - that are unwanted too - to an exclusive cocktail. Besides that, every box comes with a limited edition artwork. These original pieces are created by artists and change seasonally. On the backside are tips on reducing your own food and beverage waste.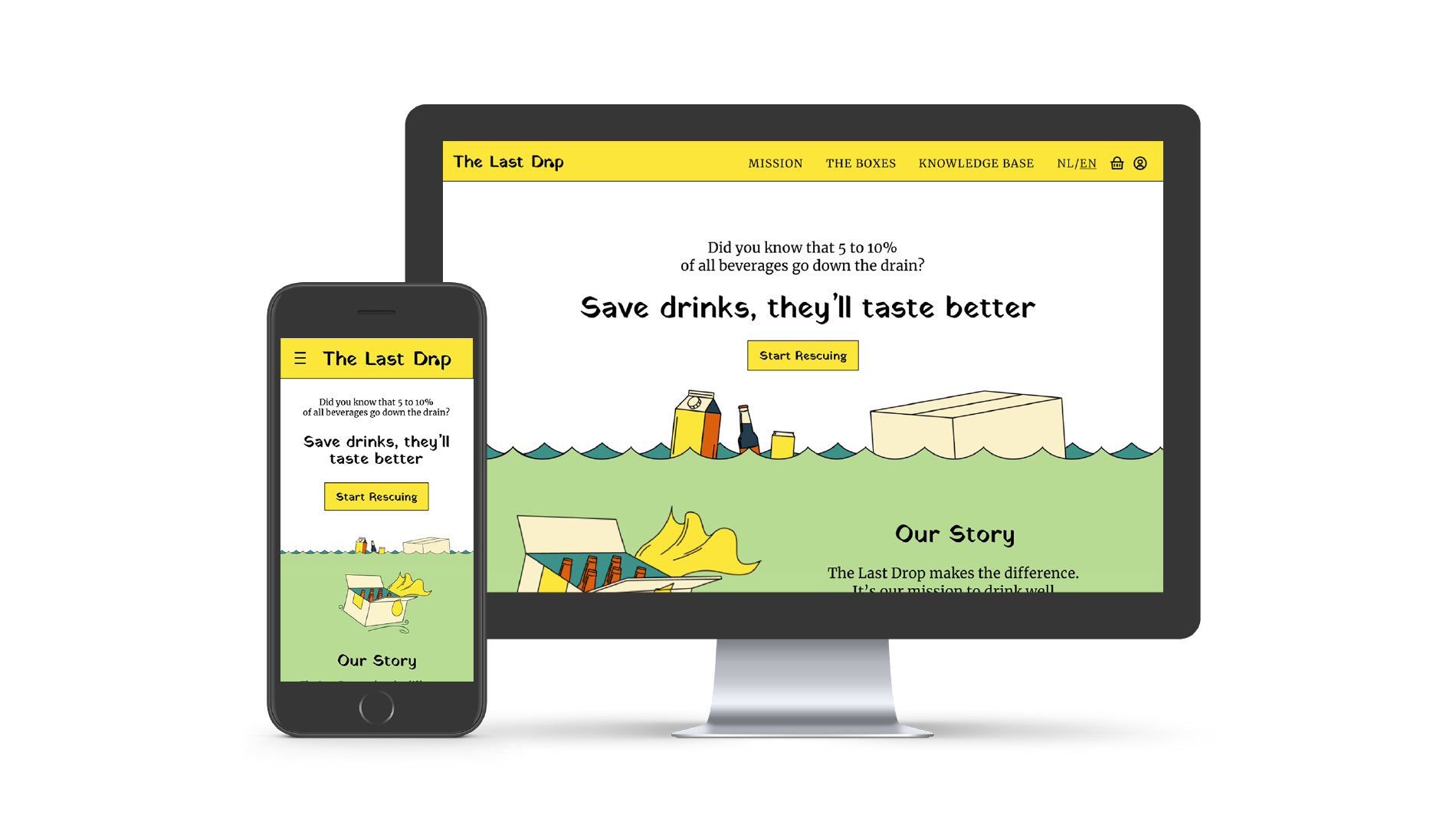 The webshop of The Last Drop provides easy purchasing and gives transparent insights into the story of beverage waste. This is just the beginning of our mission to drink well and reduce waste, but we can't do it alone. We are building a community at #thelastdrop. Together we keep drinks from being poured away. One drop at a time.