Loops
Co-creating a Physical Exercise Tool for Cancer Survivors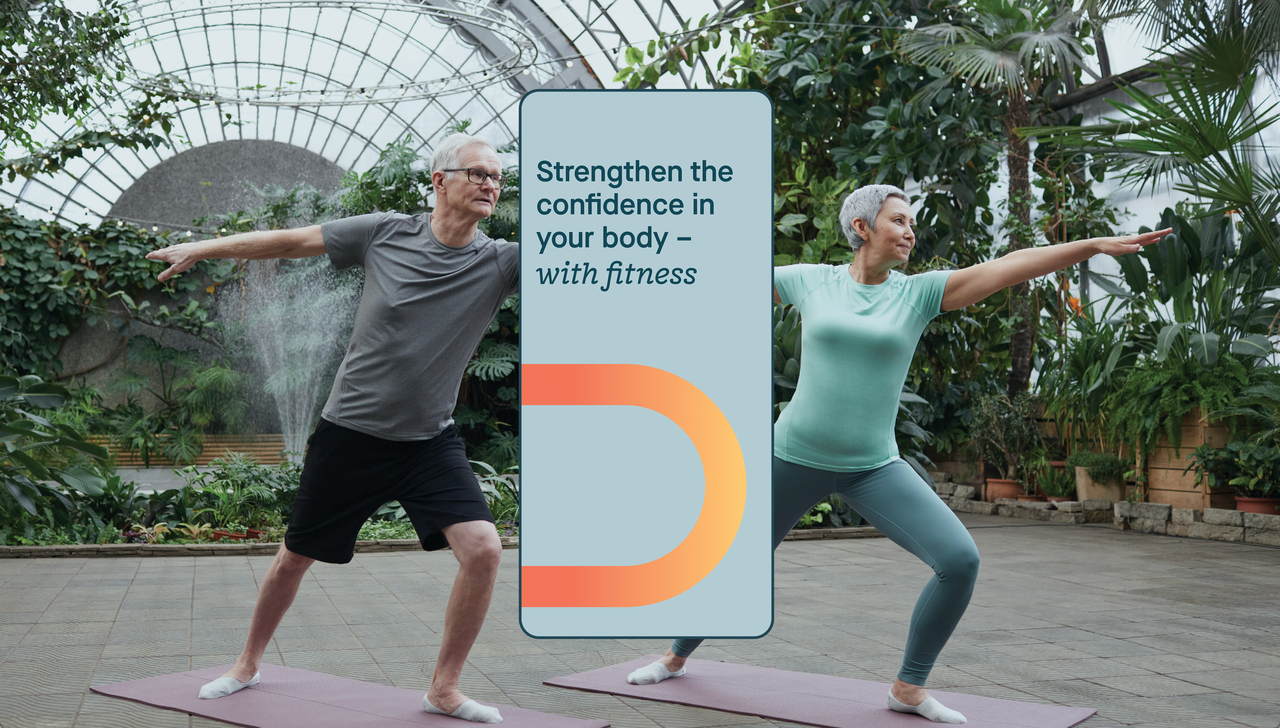 Client:

Netherlands Cancer Institute (NKI)

Team:

Disciplines:

UX/UI, Product Design, Experience Design

Schoolyear:

2021 - 2022
Cancer survivors often struggle with long-term side effects beyond treatment. Exercise has been proven to diminish these difficulties and improve their quality of life. However, working out independently can be challenging – even if the intention and desire is there. Survivors often do not have confidence in their physical abilities, especially without guidance or supervision. Loops helps cancer survivors form healthy habits.
We were challenged to develop an intervention in the physiotherapy treatment period (and beyond) to improve cancer survivors' transition to independence. How can we motivate them to be active again and adhere to an exercise habit? How do we help physical therapists use cognitive techniques to support behaviour change for survivors? We created a hybrid solution for cancer survivors and for their physiotherapists to stimulate physical exercise for a longer period of time.
We took a human-centred approach and involved survivors and physiotherapists in focus groups, co-creation sessions and interviews. By listening to their stories and feedback, we made sure that our solution targeted the users' true needs. We found that there is a lack of support when people transition from treatment in the hospital to being at home. Additionally, physiotherapists do not always get sufficient training on psychological theories which explain why survivors cannot accomplish their goals. This is due to the behaviour-intention gap, which explains why some individuals fail to translate intentions into action.
Loops helps cancer survivors to maintain a certain level of fitness and strengthen their confidence in the body so that they can stay active independently. In the app, they form groups with other individuals who are familiar with the challenges that come after cancer. They reach the collective goal by staying active – visually represented by a loop, which comes from the concept of a relay race.
Virtual Groups
In our research we found that exercising in a group-setting motivates survivors to stay active. Each week, they set activities they want to accomplish individually, and by completing them they contribute to the group goal – without competition. Unlike traditional fitness apps, we wanted to ensure a safe and welcoming space, where the focus is on the individual efforts of group members, rather than how well they perform. To accomplish this, we display the individual contributions in the form of percentages and remove specific details of the activity.
On top of that, they can cheer each other on and get rewarded with inspiring videos from their social circle after completing the loop, which gives them that extra push.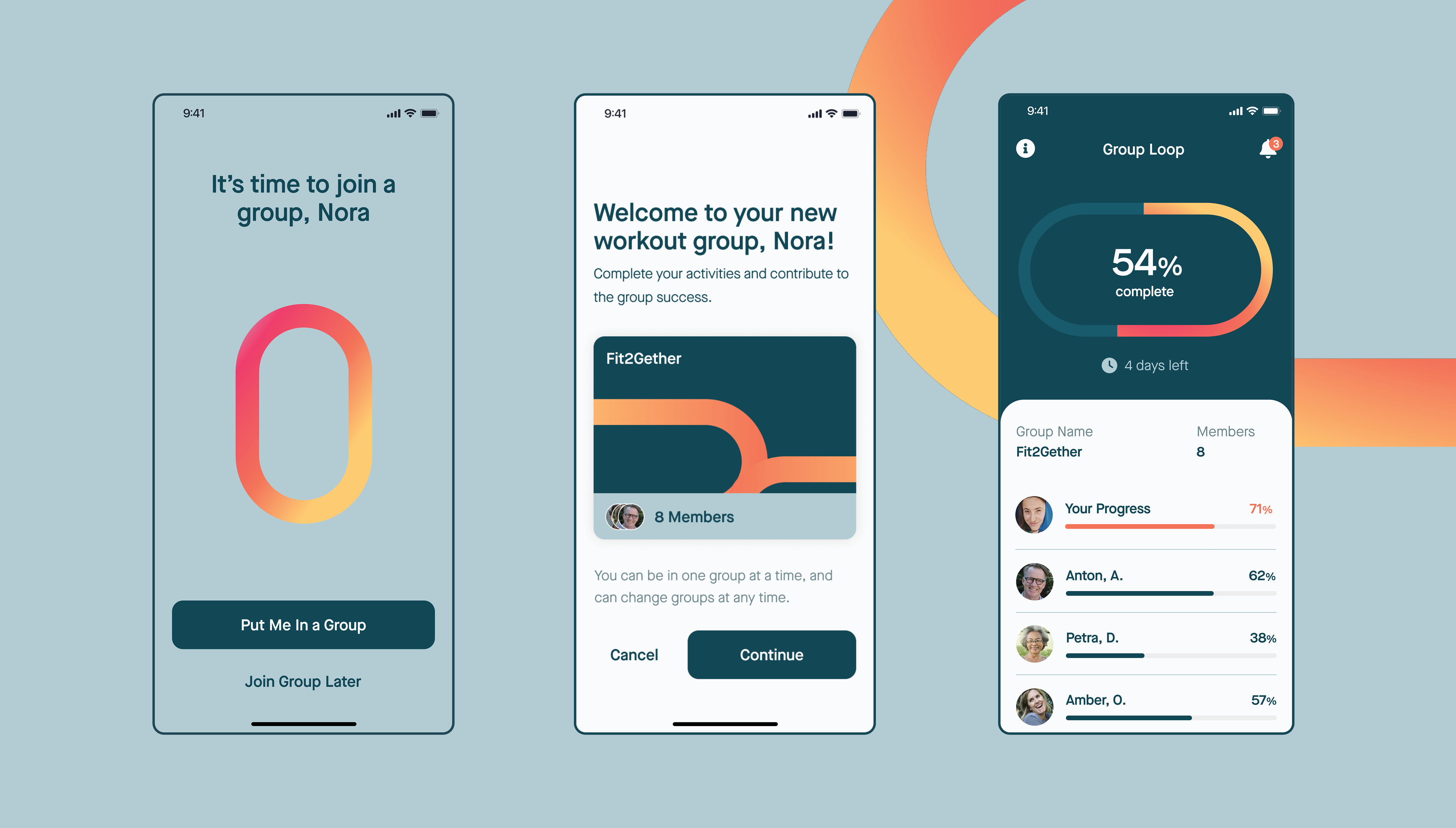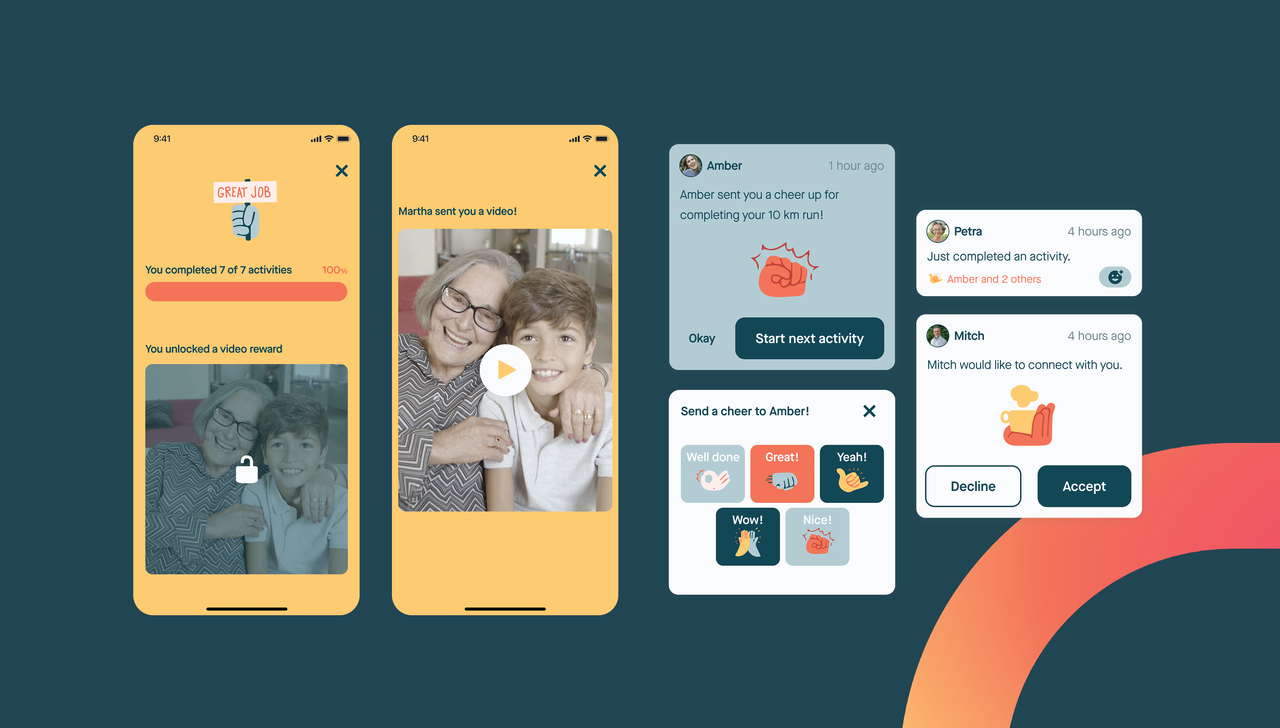 Improving Goal-Setting
According to the self-determination theory, individuals feel most intrinsically motivated when they feel that they have control over their progress. To maintain an active lifestyle in the long run, action planning helps break up a long-term goal into smaller tasks. By setting their own weekly activities, survivors would feel more motivated to complete them, and more confident that they are able to achieve them.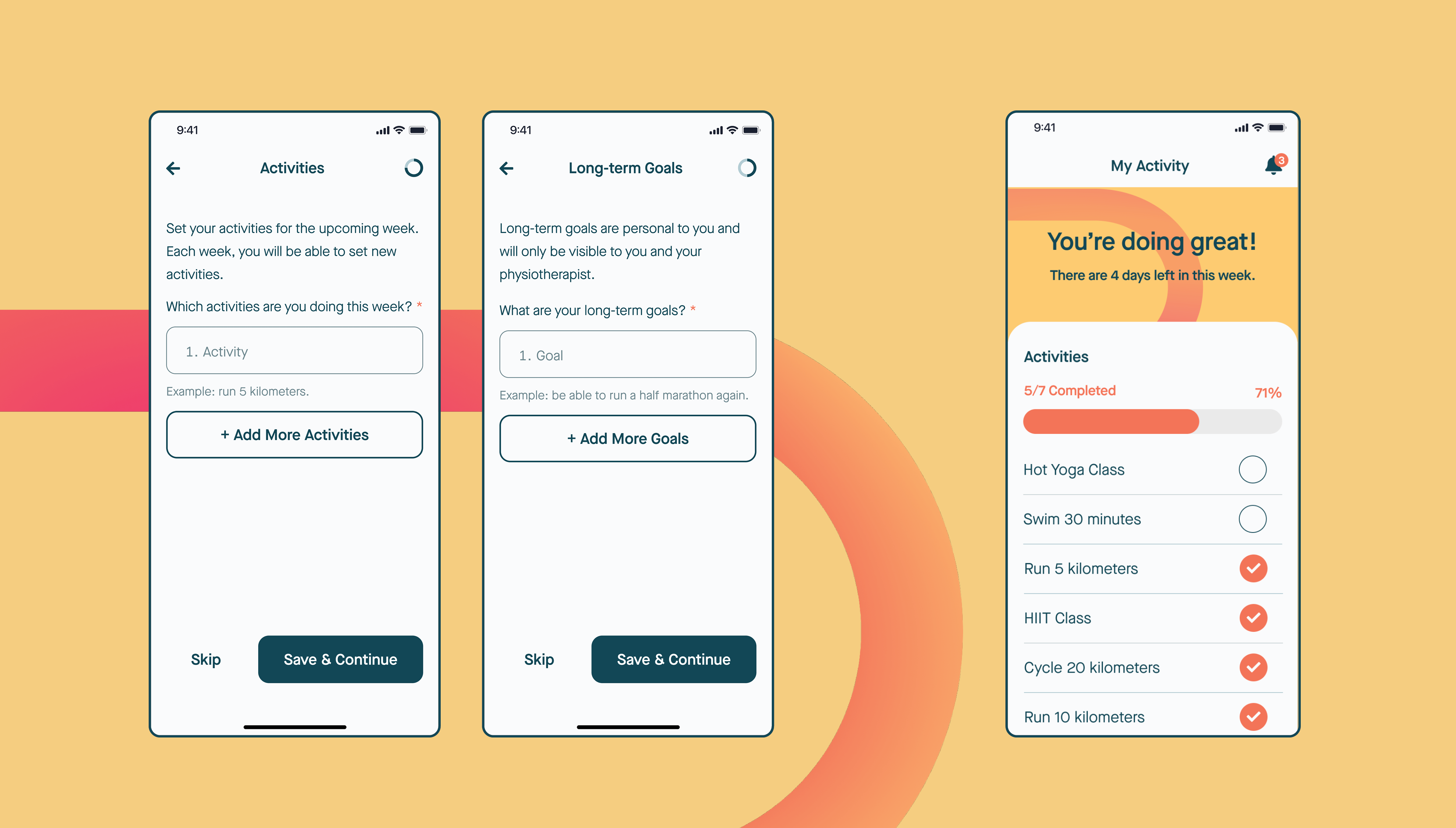 Another element of the theory is that individuals must feel competent enough to achieve the goals they set. Users can monitor the progress they make toward their long-term goals. After each activity, individuals have the opportunity to reflect and rate how they feel. Doing this on a regular basis allows survivors to see how they grow over time. This also helps them refine their goal-setting and set goals that are appropriately challenging that allow for progressive improvement.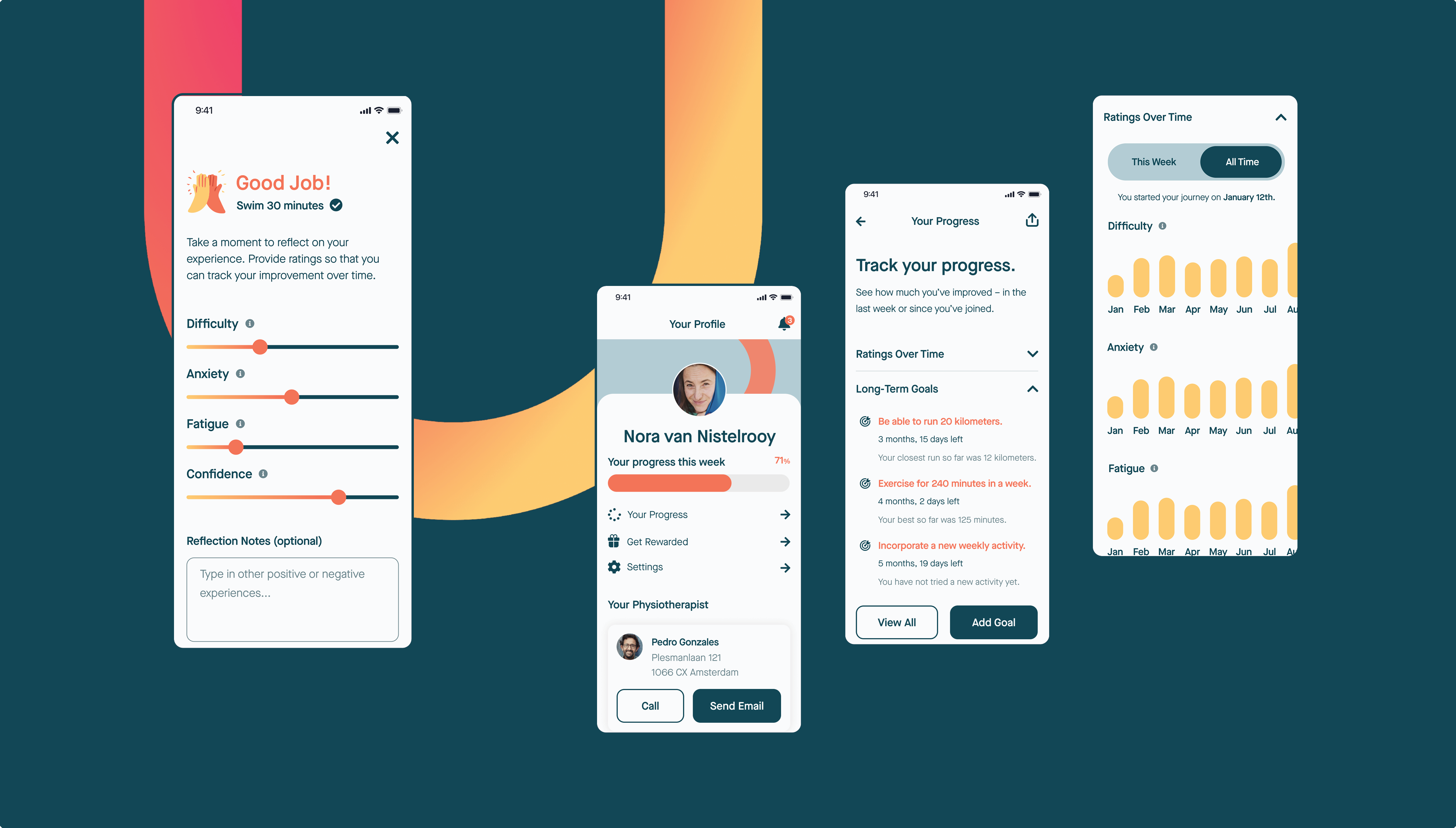 Knowledge Platform
We developed a knowledge platform for physiotherapists to reference, where they can find information about cognitive-behavioral theories and how to implement them into treatment. The platform also explains how Loops fits into the overall solution. Physiotherapists get summaries of their patients' progress emailed to them, so that they can monitor it and give feedback when necessary. This also reassures survivors, and they know that someone is keeping an eye on them.
Future Outlook
What has really inspired us throughout the process is the potential impact this solution can bring to people's lives. We are thankful that we had the opportunity to work on such a vulnerable topic. We are looking into how this concept can be implemented, and we hope that Loops will serve as an engaging tool to enhance recovery and help survivors stay healthy long-term.