Hotbox Plus
Enabling seamless food delivery experiences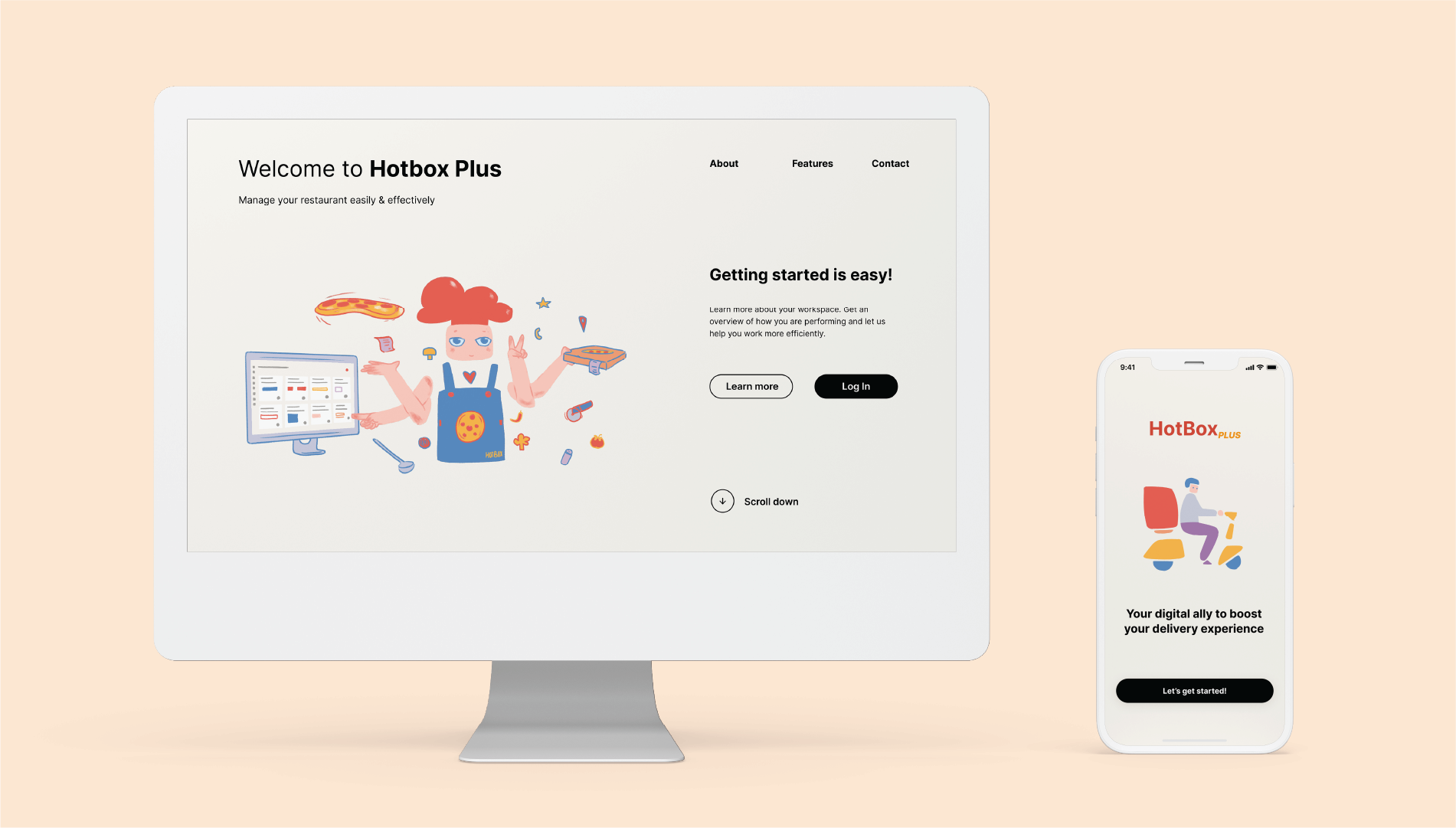 Client:

Innovation Catalyzer

Team:

Disciplines:

Concept, Visual Design, Interaction Design

Schoolyear:

2021 - 2022
In the last few years, the global pandemic has accelerated the growth and expansion of food delivery businesses. This has led to a shift in customer behavior toward the convenience of cooked meals delivered to their doorstep. As a result, there is more pressure to provide high-quality food experiences at home. Restaurant managers usually juggle multiple responsibilities to ensure order preparations, preserving food quality during deliveries or managing riders.
Our client created Hotbox, a ventilated professional oven that can control humidity and temperature between 65 and 85°C. Hotbox ensures warm and high-quality home deliveries without making the food cold or soggy. Because Hotbox allows multiple stops on a single trip, restaurateurs can be considerably more efficient in making higher numbers of quality deliveries, improving their business.
To take advantage of this new possibility, Hotbox has developed a custom IoT board to gather data from sensors (Speed, GPS and Accelerometer). This created a need to organize & make sense of the IoT data in a useful digital application for managers to understand their business efficiency.
Our design challenge was to make sense of the gathered IoT data and depict how it may benefit the key stakeholders (managers, riders and customers) in the system. Learnings from interviews and field research, IoT technology considerations with an in-depth design process gave us insights to make clear design decisions.
We created Hotbox Plus for restaurant managers and riders as we identified them as the key stakeholders in the system. Hotbox Plus app for managers assists them to overcome multiple challenges and efficiently manage their restaurant. This app can be viewed as an insightful restaurant assistant for the managers.
Riders too can benefit from their very own Hotbox Plus app, where they receive a step-by-step itinerary with all delivery addresses and order details at hand. They can also get in touch with customers without compromising their personal data.
Identifying the opportunities
We started the project by gaining insights into working conditions and privacy concerns for the delivery riders. Since the project brief was focused on improving the business efficiency using real-time IoT data, we realized it was important to consider the interests of key stakeholders in the system – restaurant managers, riders and customers.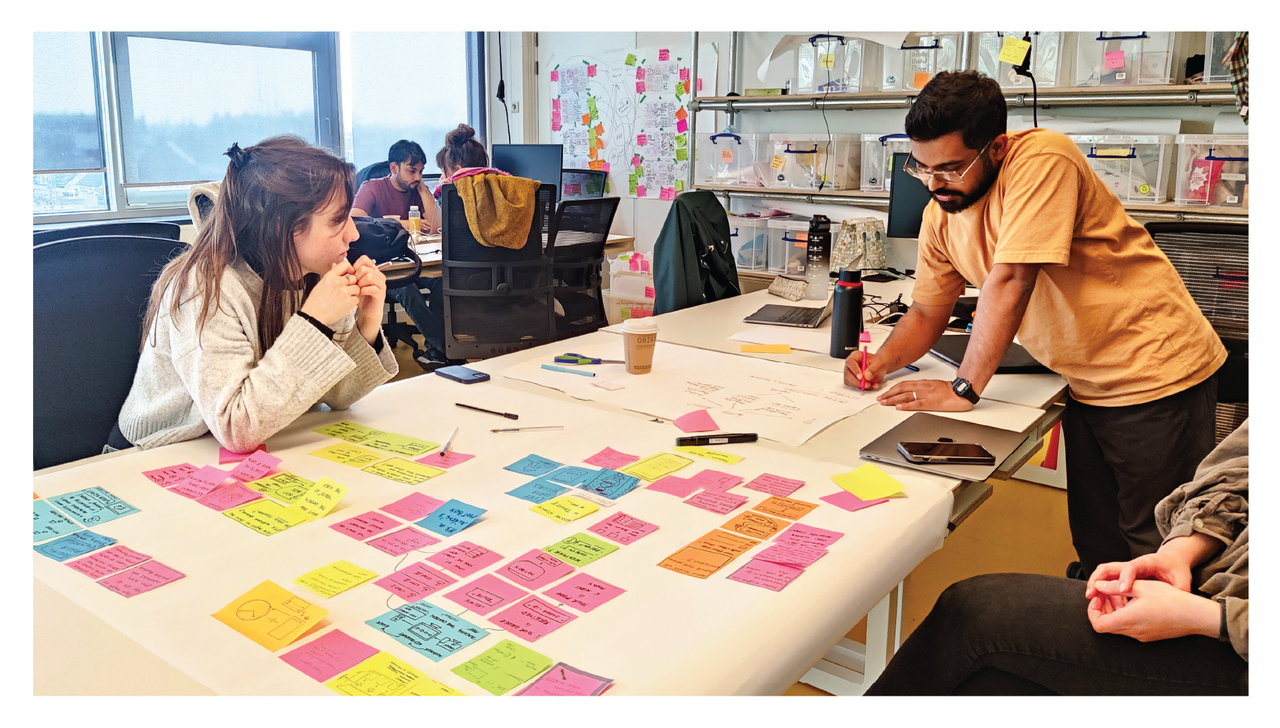 After an exhaustive desk research, we interviewed multiple restaurant managers and riders that gave us deeper insights into their needs and opportunities. We used situated actions to get more clarity on how the restaurant and delivery system works. We tried role playing and Wizard of Oz methodology where each team member role played as a different actor while one-member acted as the backend system relaying messages. This activity was useful to better understand the needs of our stakeholders: the difficulty of riders in finding addresses and how it can affect the drop-off time; the need for riders to have breaks after completing a long route, etc. We also spent a day with a restaurant manager to deep dive into how things work in real-time and pick up on minute details and interactions.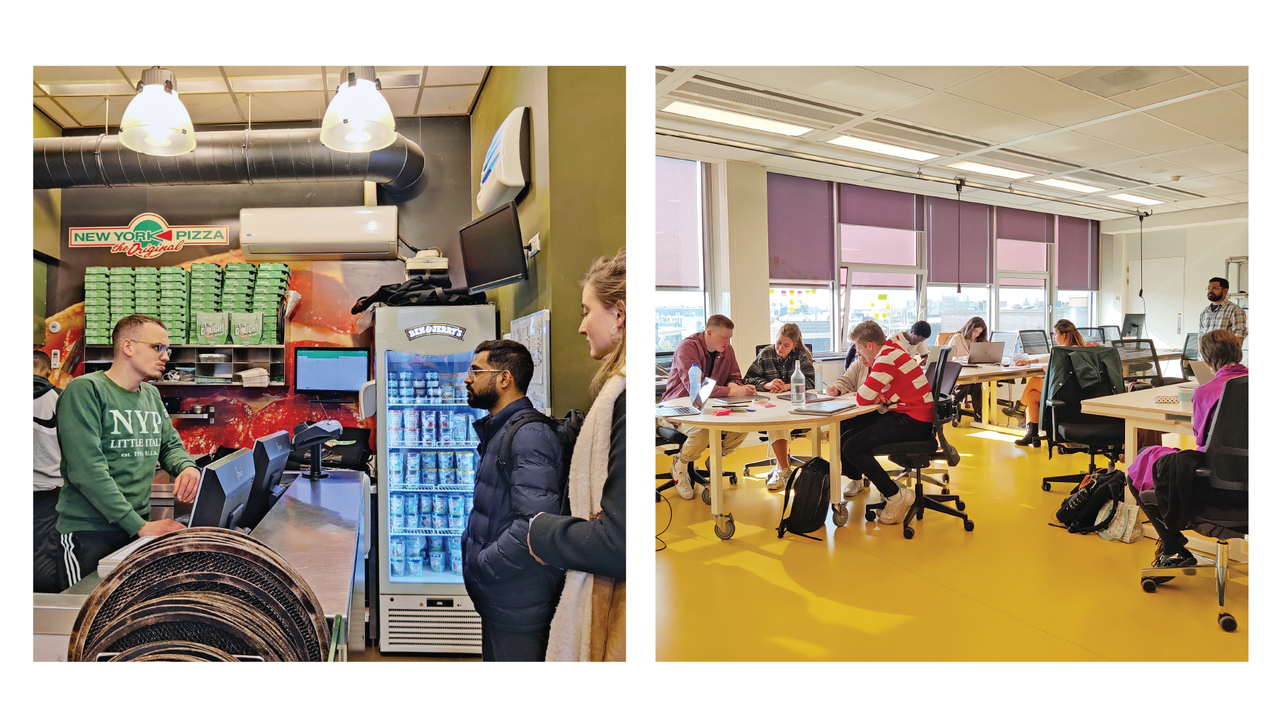 These activities gave us a better understanding of how managers and riders interact in the restaurant and delivery environment. We further analyzed, ideated and devised solutions to assist all the stakeholders in the picture.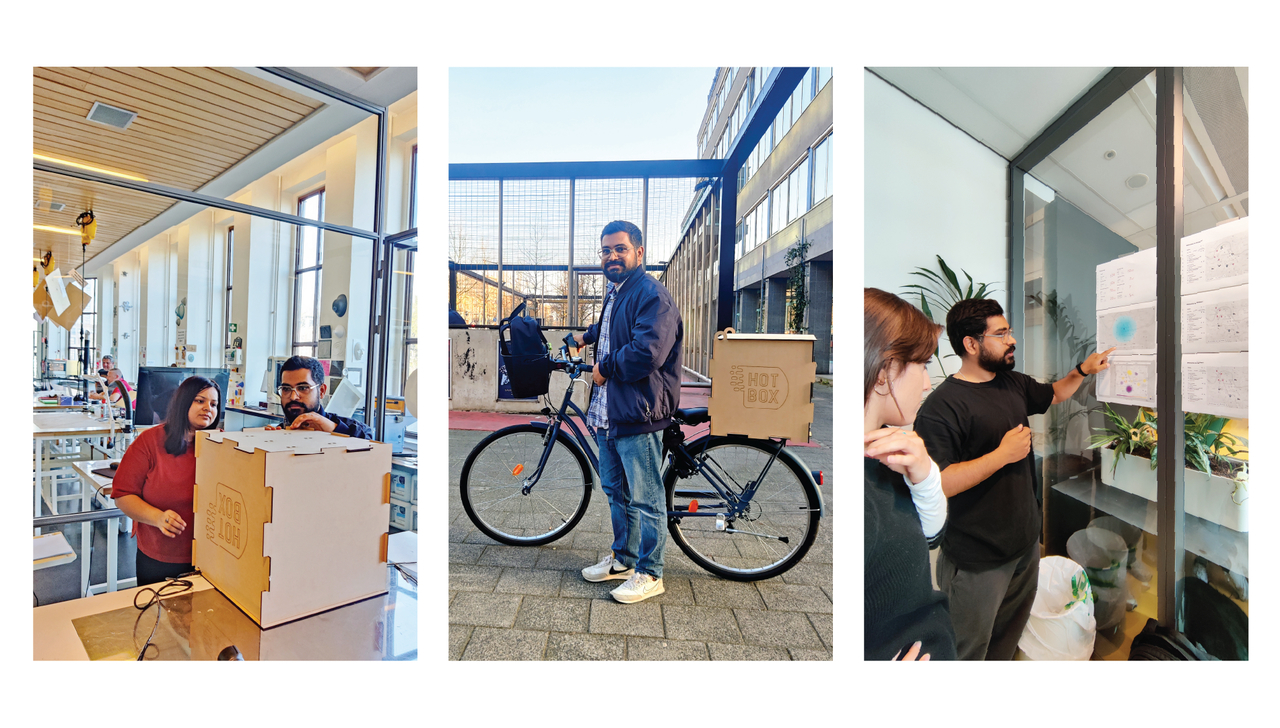 What we created
Currently, restaurant manager apps do not assist clubbing multiple orders or assigning deliveries to riders digitally. Managers club orders manually by looking at the proximate locations and then assign deliveries to the rider arriving first.
Hotbox Plus provides managers a real time status of order locations and delivery movements on the map. Managers can simply accept orders and move them to the kitchen. The App also shows Rider ETA visibility for on-route deliveries, which aids in order preparation and optimizes pick time for upcoming deliveries, which is not the case at present.
Once orders are ready, managers can select various orders and assign them to the approaching rider. The system then suggests a route with multiple deliveries that helps riders to easily discover
locations. In addition, Hotbox plus also has a dashboard that can help managers to understand data easily by providing actionable insights.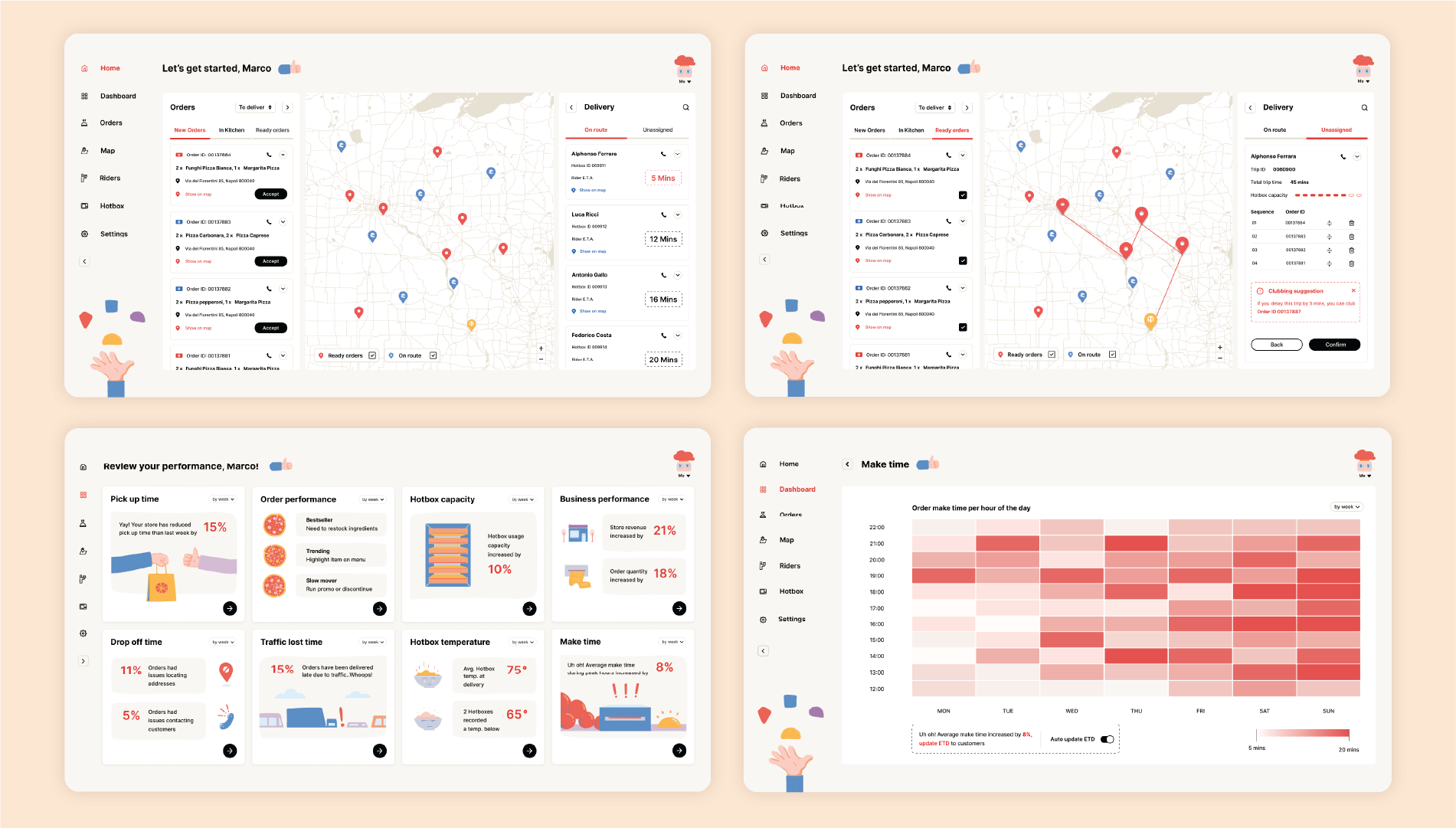 In the Hotbox Plus rider app, riders receive order locations one at a time and make multiple deliveries as routed by managers without relying on their mobile data for communication. This app also notifies riders about bad road conditions in advance and prompts them to take breaks after completing a long route. All communication between actors is relayed through a server so riders or customers don't share their personal information with each other.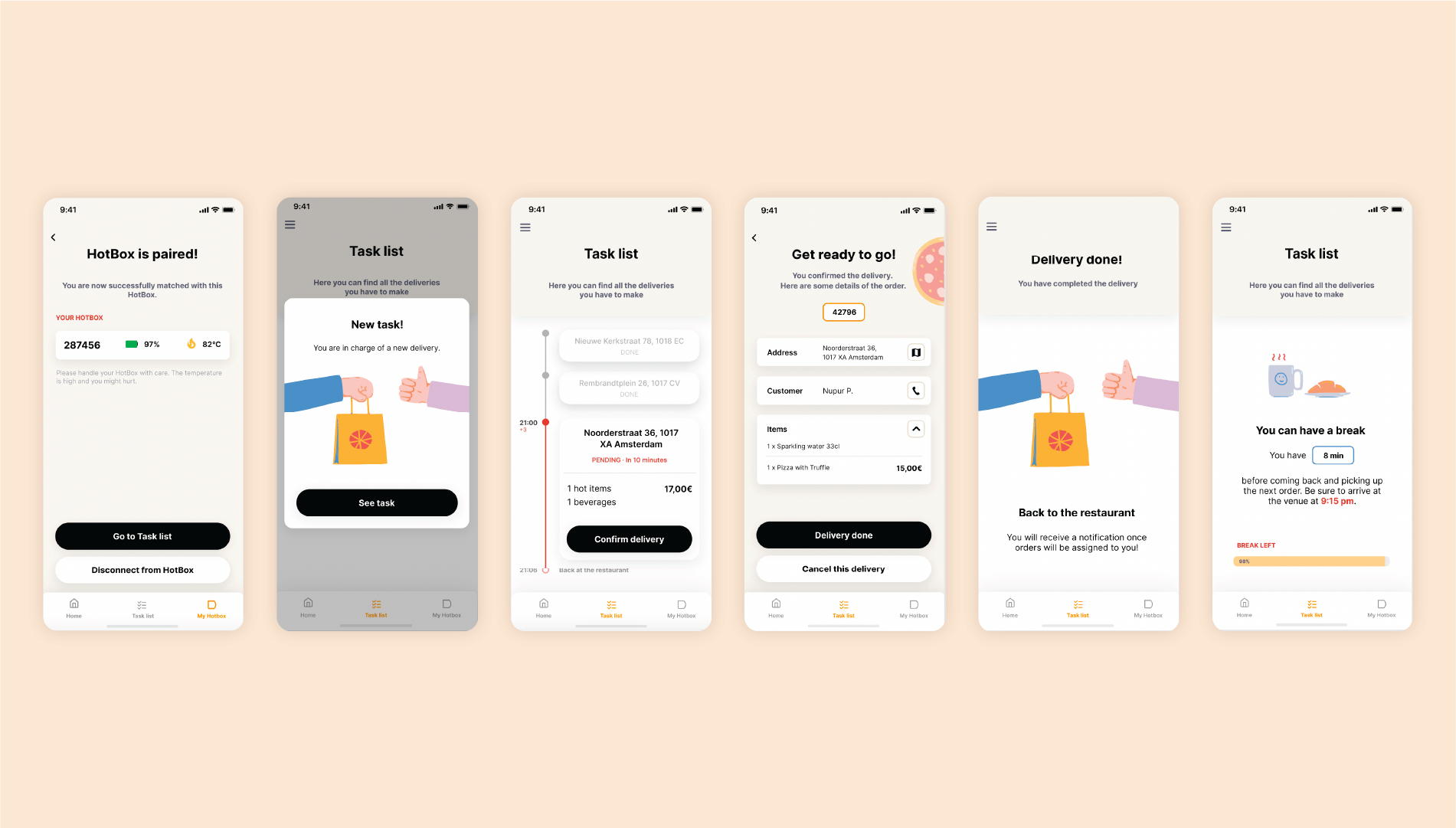 We hope HotBox Plus will enable restaurateurs to manage their restaurant with ease and also assist riders deliver delightful food experiences.