Hidden History
An engaging audio experience that uncovers different perspectives related to the period of Dutch Brazil (1630-1654)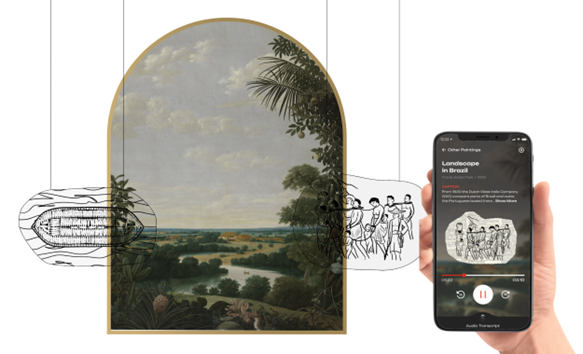 Client:

Morgana Braga, Civic Interaction Design Research Group

Team:

Fatima Tari, MJ, Eva Valentine, Carolina Borges Masuero

Disciplines:

UX/UI, Audio

Schoolyear:

2022 - 2023
The impact of the Dutch Colonization of Brazil (1630-1654) is significant, and the consequences of the events that took place during that period are still evident, both in positive and negative aspects. Yet museums, such as the Rijksmuseum, choose to highlight and celebrate that era solely through an optimistic lens from the Dutch perspective.
They say an image is worth a thousand words, and as true as that may be, it can also pose a problem. Whose reality does an artwork depict? The artist cannot include all memories, stories, and perspectives. Also, who gets to choose which artworks are displayed?
Any form of content creation is intrinsically influenced by the values and biases of the museum staff and curators responsible for it. It is not just about who and what is displayed, but also how it is presented (language, tone, terminology).
The briefing for this project specifically requested a VR solution, citing its immersive qualities and potential to address challenging societal issues.
Design Proposal: Hidden history
Hidden History aims to uncover these hidden truths from within the belly of the beast, the iconic building that celebrates Dutch 17th-century heritage: the Rijksmuseum. Part of the project's challenge was to find the most effective medium for representing different perspectives. Through research, user interviews, and expert advice, the team concluded that VR had limitations. "We believe that VR doesn't offer an optimal shared experience (which could lead to a more impactful experience), and it's also not ideal for vocal narratives. Keeping the perspective of inclusivity, we see VR as a privileged medium, which could result in a smaller audience understanding more of this 'truth.' The intention was to reach those affected by history."

After conducting multiple user tests, the team decided against using AR as well. Users expressed fatigue from holding their mobile devices for longer than 30 seconds at a time. However, they did mention feeling deeply impacted by the audio they listened to. Therefore, an audio experience combined with an app for further educational purposes proved to be the best direction. To ensure accessibility, the audio experience will be available in multiple languages that reflect the histories of those whose stories have been hidden, such as Yoruba, Tikuna, and Portuguese.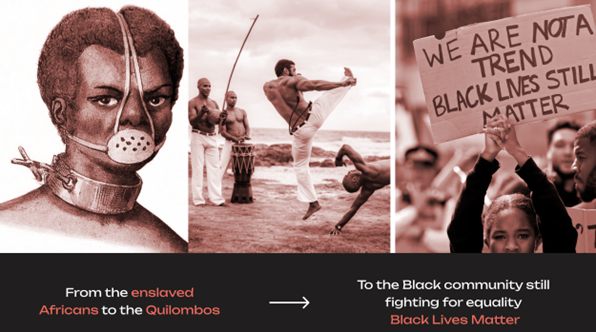 The audio experience focuses on the enduring consequences of colonialism that remain visible in society today. It establishes connections between the past and the present, linking Enslaved Africans with Quilombos and the Black Lives Matter Movement, which advocates for equality and fights against racism. It highlights how the past European exploitation and expropriation of lands and resources from Indigenous people are intertwined with current issues like Amazon deforestation, as these lands and the indigenous way of life no longer serve as natural barriers. While there are many museum exhibitions and installation arts addressing this subject, they often fail to connect the dots for visitors and reveal the consequences of such abstract historical events. The design team behind this project aims to make these connections, hoping that visitors will develop a deeper empathy for the descendants who still experience the repercussions, whether in the form of systemic racism or ancestral trauma.

Let's talk
Recognizing that every story has multiple perspectives, at the end of the experience, museum visitors are invited to share their own stories or provide feedback through an open space on one of the exhibit walls. This space allows them to share their impressions and reflect on the contributions of others. This addition aims to create a moment of reflection and spark conversations among visitors. It is crucial to view such projects not solely as sources of information but as opportunities for shared, intersubjective experiences.

The group is proud of the outcome but believes that with more time, even more could have been accomplished. This includes conducting additional interviews and user testing with individuals connected to that particular period of history to ensure more accurate and truthful storylines.
Also, this has potential to spread to the world the different perspectives related to Dutch Brazil in a broader sense, for example through school events and by the creation of educational materials. The experience has no locational barriers, is accessible to everyone, since the story is presented mainly through audio with captions and since it's possible to access it in the app or on the website anywhere.
Also, this project has the potential to spread different perspectives related to Dutch Brazil on a global scale. For instance, it can be incorporated into school events and educational materials, allowing the stories to reach a wider audience. The experience is not bound by physical location and is accessible to everyone. The story is primarily presented through audio with captions, allowing users to access it through the app or website from anywhere.

Student voice: 'we are not historians'
"The project really took a lot of research. There is so much information, the topic is so big, so complex. All those narratives, topics, hidden stories, and diverse perspectives involving the enslaved Africans, indigenous people, and the Dutch themselves. How can we present different narratives without evoking the anger that this issue often raises? What is the right tone if you want to avoid shaming or preaching? At one point, we had to take a step back. We realized that we had left many crucial stories out! Such as those of women who got raped by the master of the house and gruesome abortions. Yet we decided to focus on the issues that appear more pressing in our present times, like the Black Lives Matter movement. It was both a shock and ironic to realize that, in doing so, we acted like the museum itself."