GreenCampus
A student platform for sustainable initiatives and conversations.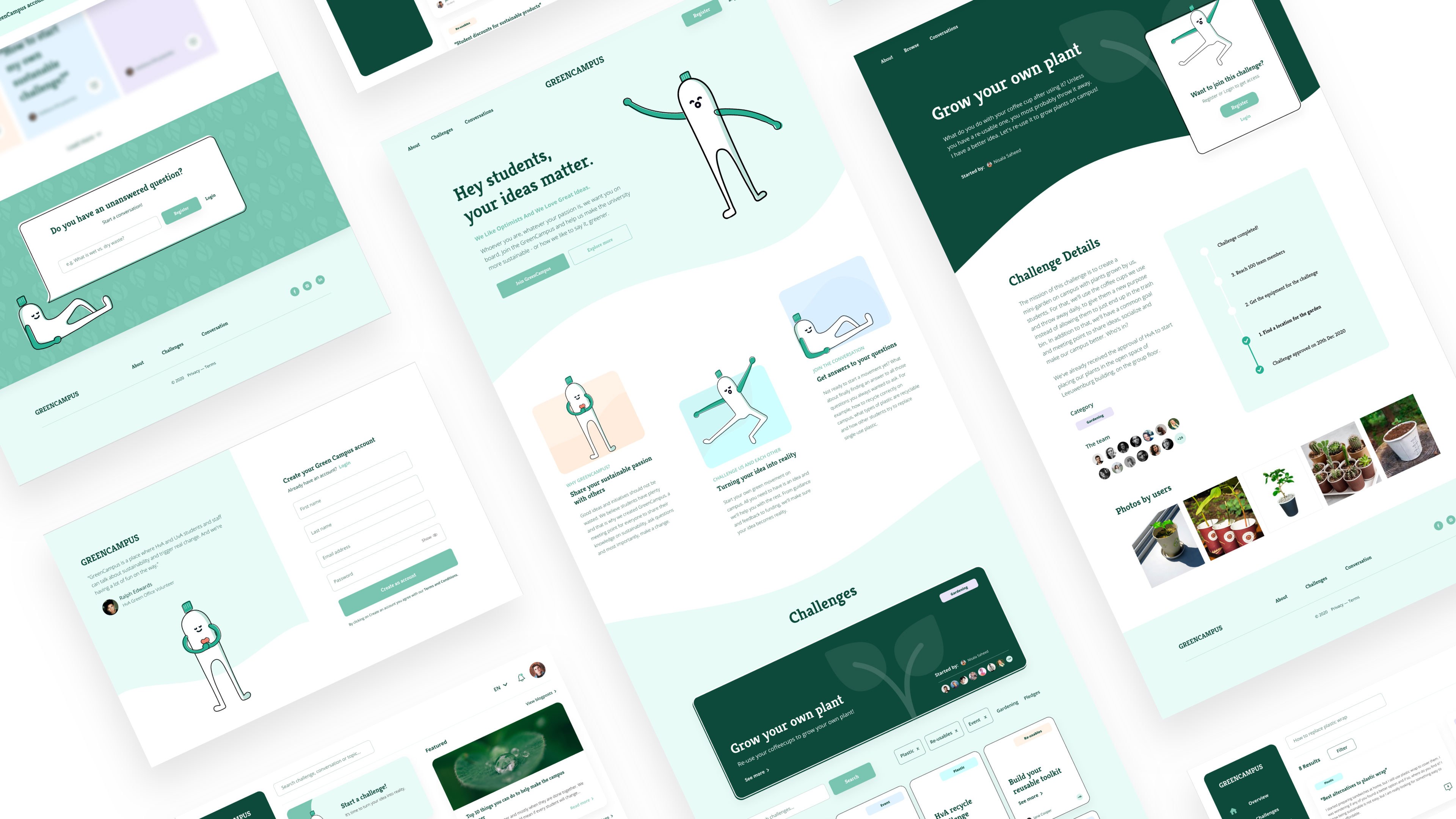 Client:

AUAS

Team:

Disciplines:

Concept, UX/UI

Schoolyear:

2021 - 2022
Our society won't become sustainable through the effort of one person or one organization. It is a common goal that we can only achieve together, hence the high importance of collaboration and knowledge sharing. With this idea in mind, we created a platform that supports collaboration amongst students towards sustainable actions, and empowers them to get their sustainable ideas off the ground.
Sustainability is a complex issue that must be addressed at various scales. Both individual behaviour and the policies that are adopted at an institutional level play an important role. Together with the the City of Amsterdam, the Amsterdam University of Applied Sciences (AUAS) is working towards reaching sustainability goals while offering quality educational experiences for its students. They are looking for ways to activate and connect as many stakeholders as possible so that concerns, issues, and best practices can be shared effectively.
This brought us to our design question:
How might we design a technological intervention that supports community-building at various scales (from single users, to management, to other institutions) and idea- sharing about the topic of sustainability?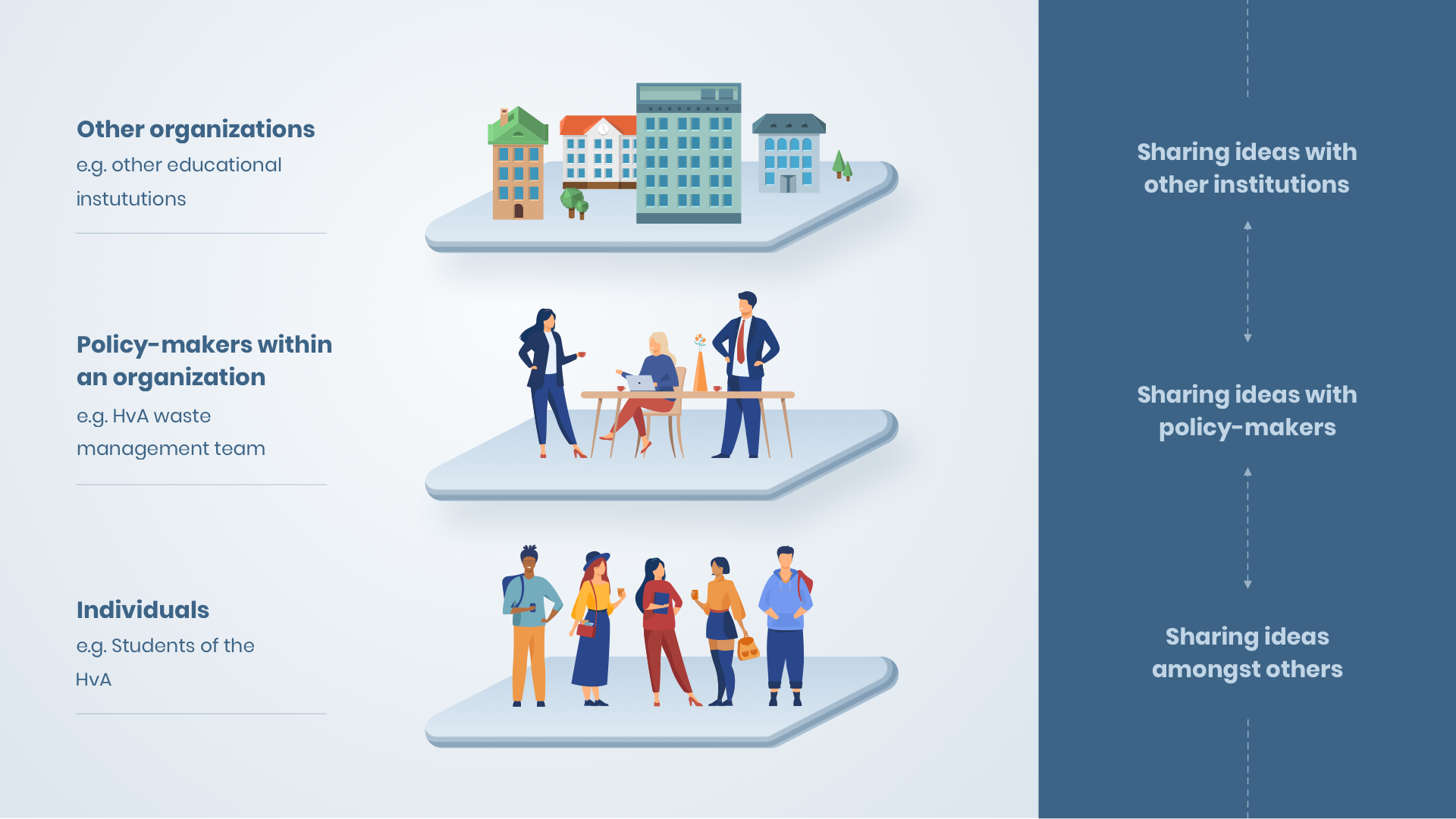 Within AUAS, there are different people working on making the institution more sustainable - including the Waste Management department and the Green Offices. Their work is directly related to the behaviour of those working and studying in campuses. So, we wanted to understand how we could reach those people and get them involved in changing AUAS's sustainability story.

Co-creation
We organized a participatory design workshop with our key stakeholders: our client and two AUAS students. They followed four activities in which they described their motivations for joining a community within the university, and collaboratively created an idea to make the university more sustainable. An important insight we gathered from them is that when joining a community, they clearly need to know what they can contribute and what their role is.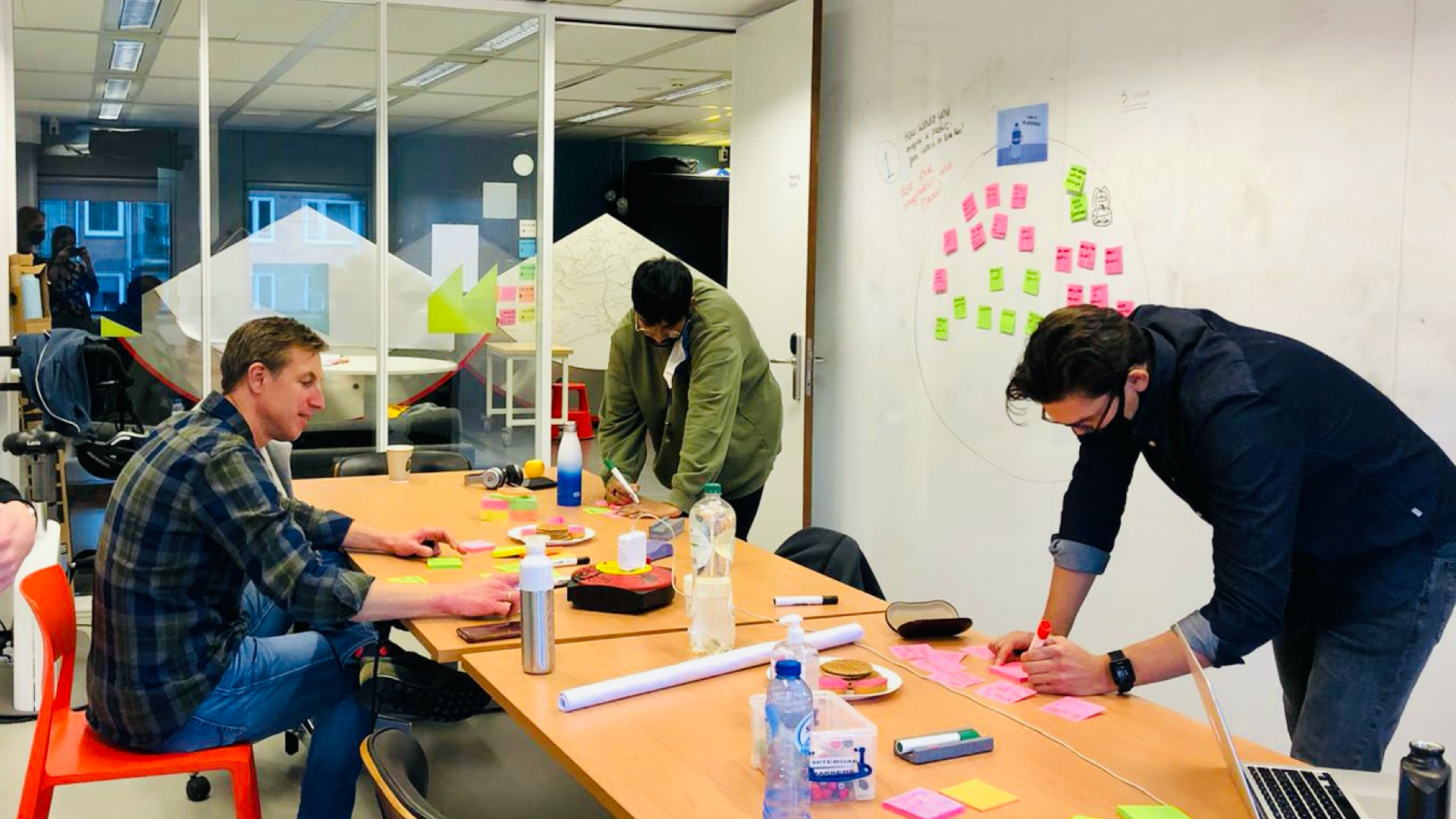 Expert Interview
For our research, we conducted an interview with AUAS Green Office. The Green Office is actively trying to create a community around sustainability, starting campaigns and events to get students to take action. They follow the Sustainable Development Goals and the Doughnut Economy Theory. However, they struggle to include students in this process and get them to take sustainable actions as they are hard to reach. At the same time, students often have great ideas for sustainable initiatives but need help to get these ideas off the ground. We felt the need to create something that would bring students and the Green Office closer together.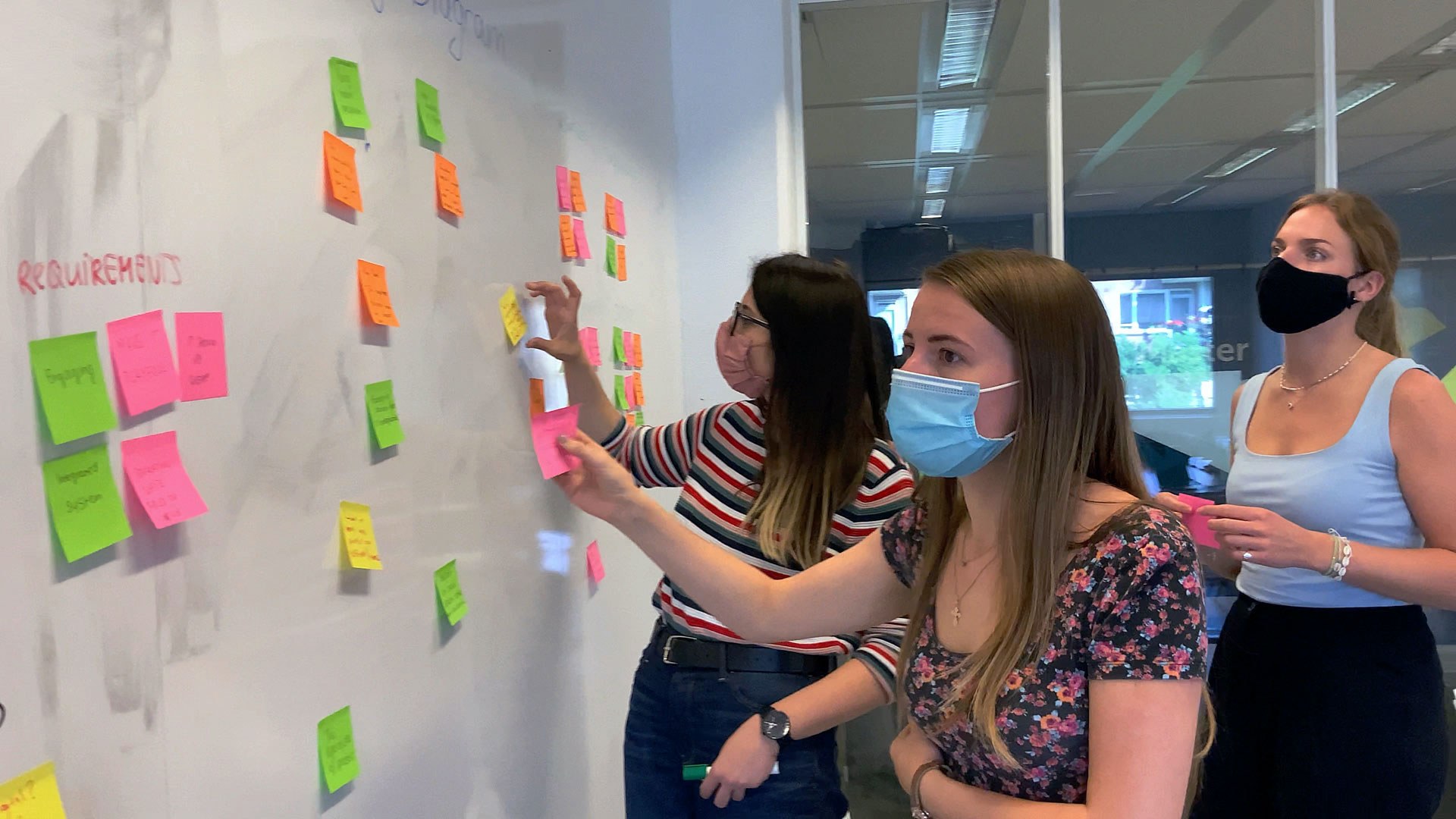 The Platform
As a solution, we designed GreenCampus: an online platform on which students can start sustainable challenges, join other challenges or get knowledgeable about sustainability topics such as waste management and energy. Within the platform we designed two dashboards for two different roles: the student dashboard is meant to give students an overview of their active challenges and statistics. From here, they can also join conversations. The admin dashboard is meant for AUAS and Green Office workers. They can moderate challenges, see the statistics of current challenges or start blogposts.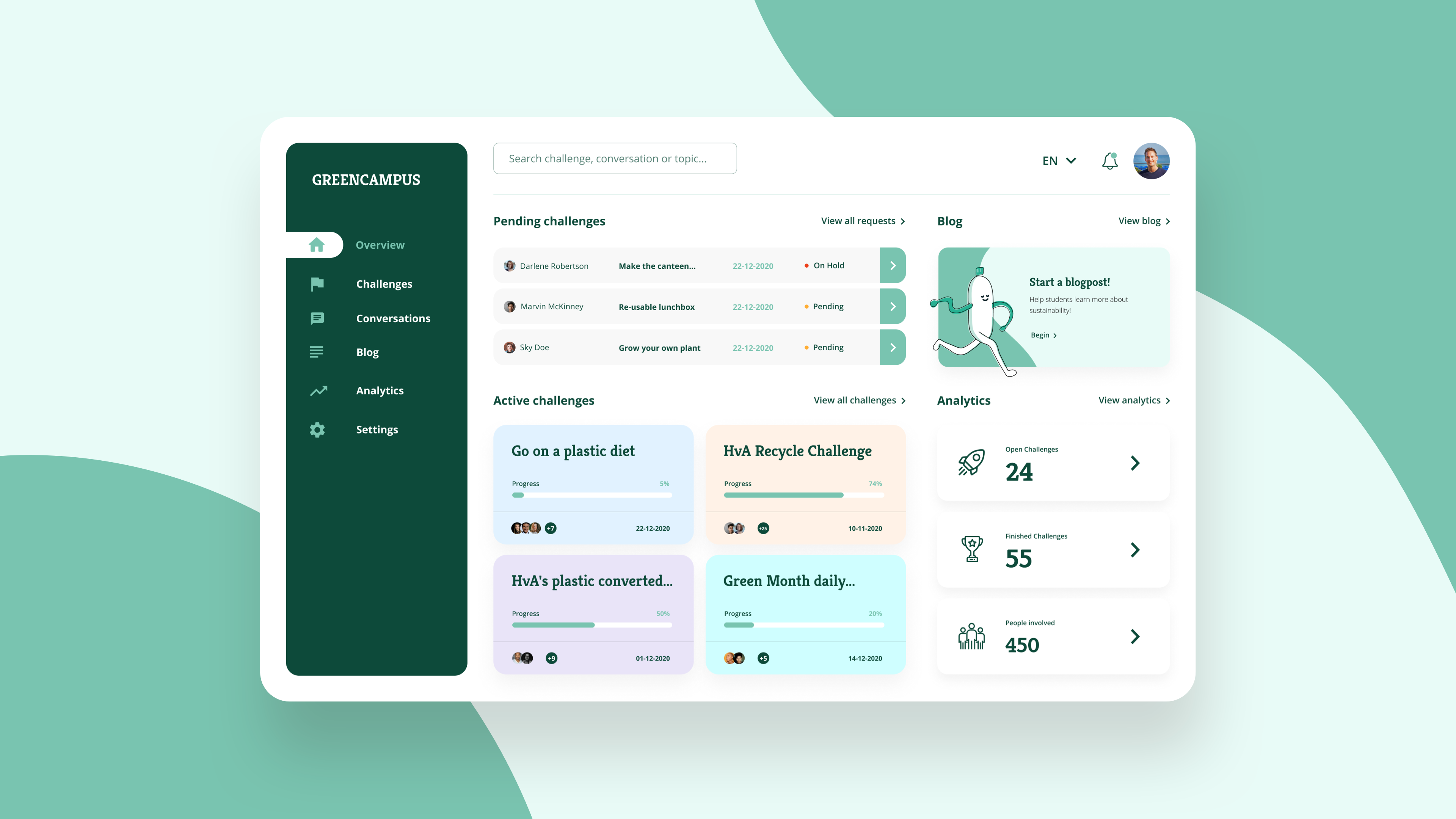 An Awareness Mascot
In casting an androgynous plastic bottle as our main protagonist, we adopt a narrative structure that is akin to the storytelling that is founded in classic stories such as The Seven Samurai, and (to a lesser extent) that of the early Star Wars films.
We frame the story from the perspective of an accessible and relatable character called AP (short for Androgynous Plastic). Through AP, we are able to account for narratives from the 1st person perspective - much as we experience the first Star Wars films through the lenses of C3PO & R2D2
We ground motives surrounding sustainability by personifying the challenge. This is what AP is meant to embody and to symbolize the scale of the uphill struggle of what might seem an insurmountable set of issues.
But we have to start to tell the story somewhere, and so we start from a rich base that is unencumbered by formal structure and can probe concepts and ideas with relative freedom.

AP lives inside of the university and the platform. It is there to be a link between students and sustainability. The main feature of AP is to represent the university's sustainable directions. It will be located at the university building as a projection. Among other features, one of them is showing a QR code that leads students to the platform. Online AP is there to guide students through sustainable initiatives at the university and, most of all, to inspire them.
Is AP supposed to represent the student? Yes and no, but mostly no. We hope AP will share many traits of their intended target audience, but more like, we hope AP will be seen as a guide, a cheerleader, a sounding board, a visible outcome of our doing. In other words, seen as a friend.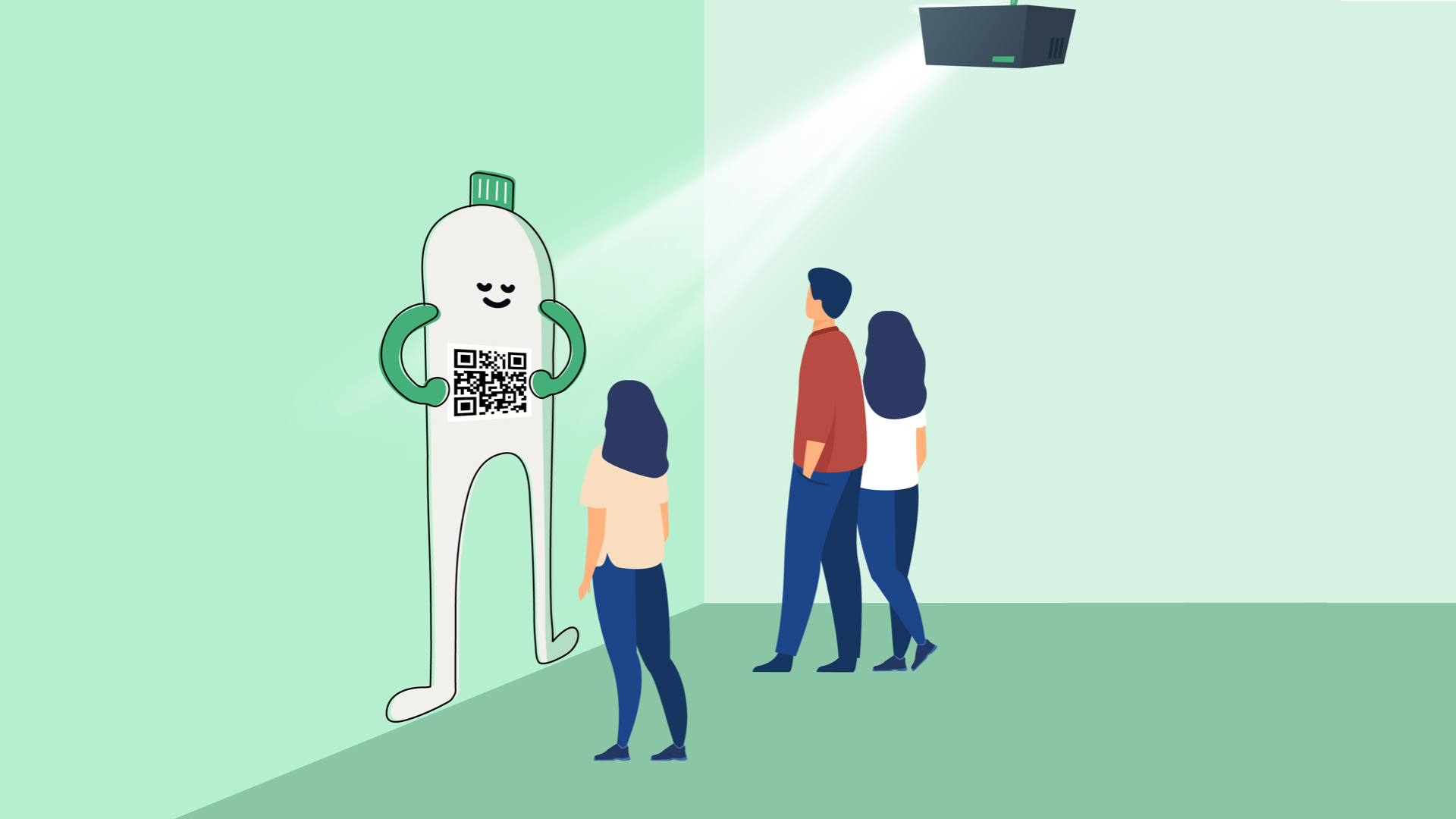 Go Game Changers Award
In January 2021, GreenCampus received a Go Gamechangers Award for the best solution in the category of digitalization. This award is given to the most innovative, daring, kind, special, or brave initiative that has to do with social, ecological, and/or economical sustainability. Our team was chosen among many for bringing innovation that supports the university's sustainable goals.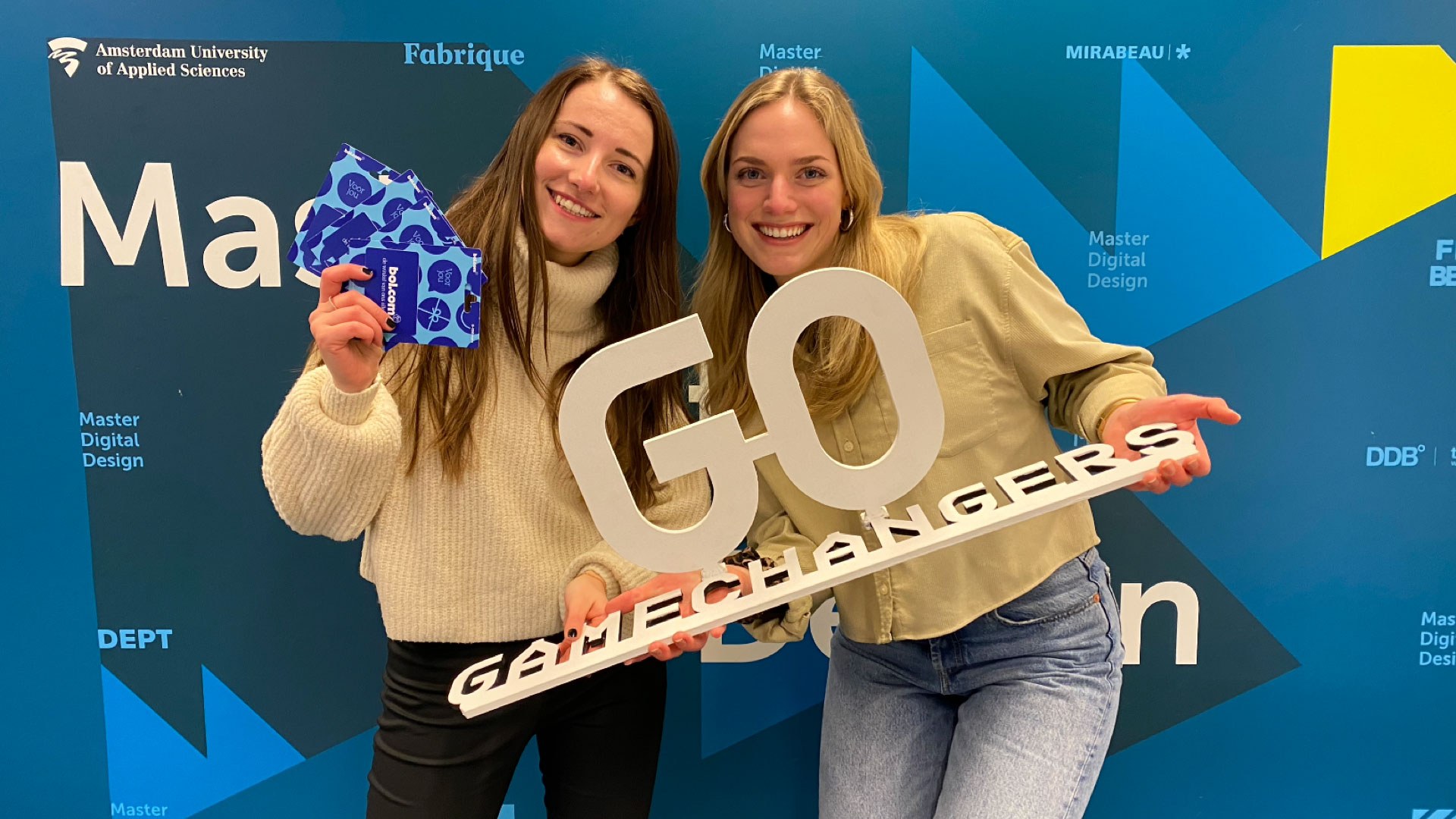 Our goal is to encourage communication around sustainability between students and, at the same time, connect them with the right people to realize their ideas. Through a platform, we aim to connect students with the Green Office, which can guide them through the process of starting sustainable initiatives and provide them with a budget or connections. For AUAS, we aimed to create a system that they can use to manage their sustainable goals.
With this project we hope to set an example for collaboration towards sustainable ideas within institutions. If students and AUAS as an organization can be the role model of sustainability in Amsterdam, this will hopefully spread the word to other organizations in The Netherlands.