Master Digital Design Excels in the Re-accreditation of the Programme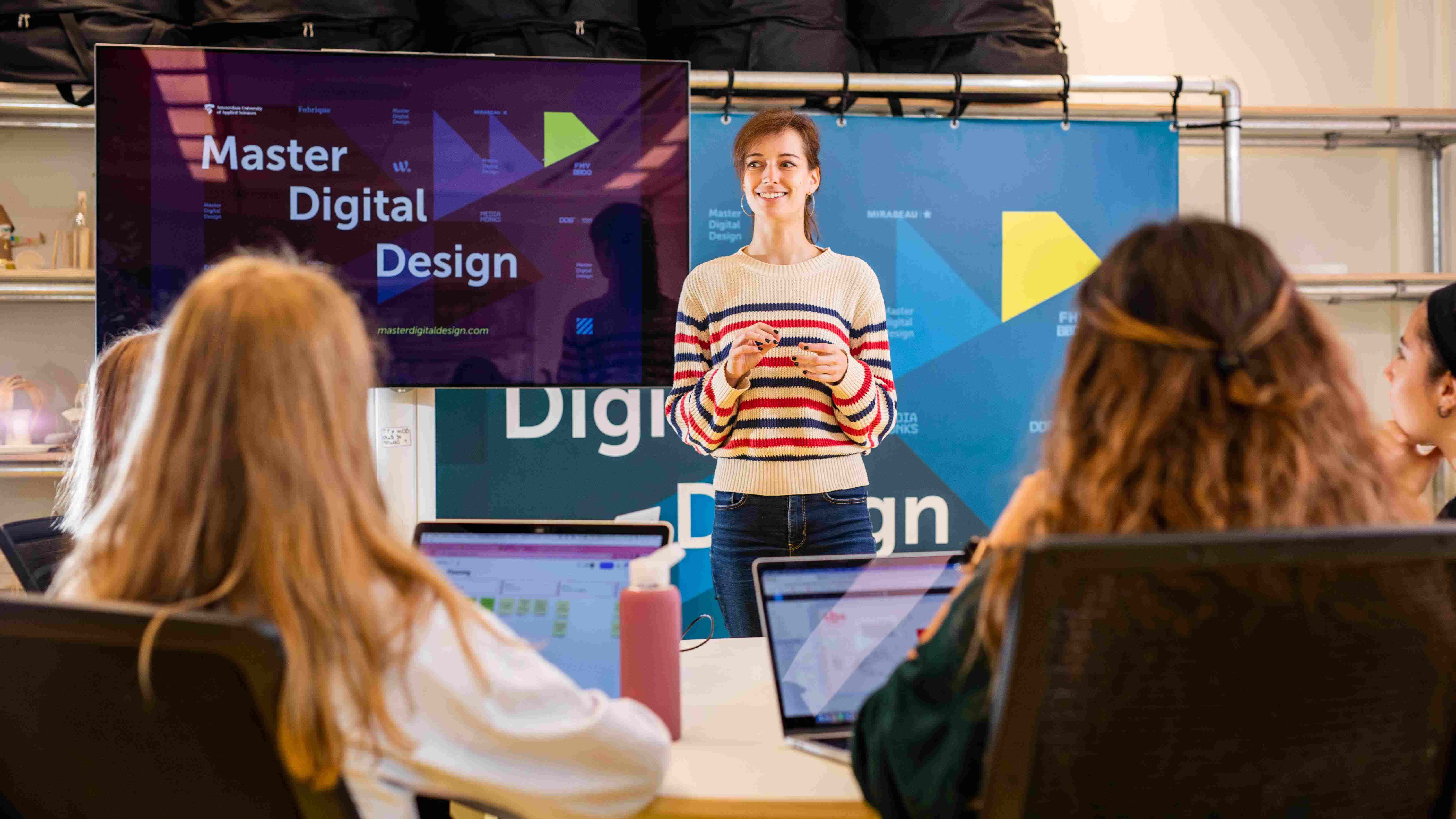 "You have not simply started a master programme but a whole movement," said Martijn Arts (Total Design), one of the members of the re-accreditation commission.
As part of the re-accreditation of the Master Digital Design, a panel of experts came together on 28 February to analyze the trajectory of the programme in the last five years. The commission included Heather Robson (Northumbria University, UK), Imara Felkers (Utrecht School of the Arts), Cecilia Scolaro (foryouandyourcustomers BV), Martijn Arts (Total Design), and Romy Koppert (Umeå University, Sweden).
Inspiring dialogue
The panel spoke to students, alumni, staff, and industry professionals and partners of the programme, includingFabrique, JUST, and Booking.com. The several sessions that took place througout the day focused on experiences andexpectations, educational goals, professional prospectives after completion of the programme, and the philosophy behindthe Master Digital Design. "It was an inspiring conversation and I could see that the commission was keen on providingus with constructive criticism and advice on how to improve certain aspects of the programme," says Head of Programme,Gabriele Ferri.
The beginning of a whole movement
According to Ferri, the master excelled before the re-accreditation commission. The programme was praised on how it is educating a new generation of inter-disciplinary designers, who use their digital design skills to create a positive impact in society. Martijn Arts (Total Design) said: "You have not only started a master programme but a whole movement." He gave as examples the community built around the Master Digital Design and the vision the programme has on ethics anddesign.
According to the commission, one of the main short term priorities is to strenghen the relationship between the programme and its partners, while increasing diversity among students, staff, and type of projects.
On track
"All in all, there was a lot of praise on our presentations and thoughful comments on possible improvements," says Ferri. A succesful re-accrediation of the programme means that it can continue providing official master of science diplomasrecognized in the Netherlands and abroad. Ferri: "This first re-accreditation of the Master Digital Design marks the end of a cycle and the beginning of a new one. We want to continue improving our work. The Master Digital Design has alreadyachieved much but it also has big ambitions for the future. Fortunately, we have a community of lecturers, alumni, talented students, and a great network of partners. We are optimistic about the future."